Argentina Donizetti, Don Pasquale: Soloists, Chorus and Orchestra of Buenos Aires Lírica, Conductor: Juan Casasbellas. Teatro Avenida, Buenos Aires. 12.6.2015. (JSJ)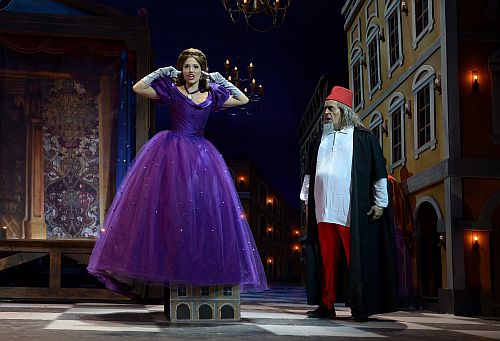 Cast:
Don Pasquale: Hernán Iturralde
Norina: Oriana Favaro
Ernesto: Santiago Ballerini
Malatesta: Homero Velho
Notary: Enzo Romano
Production:
Director: André Heller-Lopes
Sets: Daniela Taiana
Costumes: Sofía Di Nunzio
Lighting: Gonzalo Córdova
Chorus: Juan Casasbellas
Such is the throw of the die of planning by the different companies in Buenos Aires that a production of Donizetti's most popular early buffa L'elisir d'amore should be followed within weeks with one of his last, Don Pasquale – especially when neither are performed all that frequently (from my records only the latter has been put on in the last 6 years, back in 2009).
Don Pasquale, dating from 1843, is very much regarded as both the highpoint and end of opera buffa. Like Verdi's comic Falstaff, which could only have been completed in his later years, Don Pasquale shows the maturity and refinement of style that Donizetti developed during his relatively short but prolific career before his premature death in his 51st year from syphilis.
At its first performance Don Pasquale was an immediate success, due undoubtedly in no small measure to the stature of the singers, being among the most celebrated of the day. Likewise with this new production from Buenos Aires Lírica, in which the singers carried the day.
Don Pasquale is an aged wealthy landowner, who decides to marry to produce an heir after promising to disinherit his nephew Ernesto, who has refused to marry the woman selected for him. To show up Pasquale, his physician, Malatesta, sets up a sham marriage with the young widow Norina – who is in love with Ernesto – who is initially demure but after the 'wedding' becomes so tyrannical Pasquale can't wait to be rid of her.
Brazilian producer André Heller-Lopes decided to set the work in the style of commedia dell'arte, with a town square theatre – the same attractive and Italianate setting serving throughout, except for a change of lighting from day to night. As it was only parts of this 'play' took place in this 'theatre' and much was outside, and there was an ultimately annoying group of extras who also doubled as viewers and/or stagehands.
Other oddities were Ernesto in a bath opening Act 2 – and was that a prostitute whose solace he had been seeking following his decision to move away from Norina? – and having the chorus distributed in the boxes in Act 3 undoubtedly created a lovely effect in the stalls, but in a box and delightful though it was, only the lady present could be heard.
Hernán Iturralde made for an outstanding Pasquale, vocally strong across the range and convincing in his acting. Oriana Favaro is a fine young lyric soprano who also brought excellent acting skills as Norina. Santiago Ballerini was an earnest Ernesto reaching his peak in the third act "Com' é gentil" (with the aforementioned choral accompaniment). Brazilian baritone Homero Velho, making his local debut, acted well but vocally was the weakest of the four with an uneven line, particularly in the opening act. Rounding off the cast, Uruguayan bass Enzo Romano played his small part of the notary with appropriate style.
Juan Casasbellas who normally fronts the chorus was on this occasion in front of the orchestra, providing good balance and tempi. Rounding off the production, the beautiful costumes from Sofía Di Nunzio and well conceived lighting from Gonzalo Córdova.
Jonathan Spencer Jones