United Kingdom Bartok, Strauss, Mahler: Miah Persson (soprano) and Budapest Festival Orchestra, Iván Fischer (conductor), Mozarteum Argentino at Teatro Colón, Buenos Aires. 27.6.2015. (JSJ)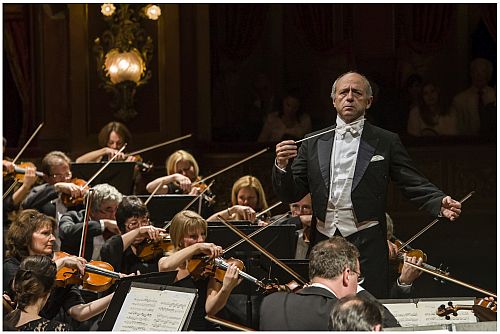 Bartok: Hungarian Sketches, BB103, Sz. 97
Strauss: Vier letze Lieder (Four Last Songs)
Mahler: Symphony No. 4 in G major
The Budapest Festival Orchestra with its founder Iván Fischer is a relatively infrequent visitor to these shores, and having missed their last in 2011, it was a particular pleasure to get a special invitation to this, their fourth concert series for Mozarteum Argentino.
My choice was the second of the two concerts – the first featuring as the main works Prokofiev's 1st Piano Concerto and Brahms' 4th Symphony – with this also including the local premiere of the young Swedish soprano Miah Persson in a must hear programme.
Nor was I in any mistaken. From the first notes of Bartok's five Hungarian Sketches – a set of orchestrations completed in 1931 of piano pieces he had composed some 20 years earlier – Fischer's mastery was clear with his tempi and accenting, contrasting the different moods in these and highlighting the 'folk' elements.
Strauss's Four Last Songs were the last works he completed at the age of 84 – except for one later song – and under Fischer's baton the music, calm in the face of the twilight of life and death that they reflect, flowed exquisitely. Ms Persson, whose only other Straussian role in a wide repertoire appears to be Sophie in Der Rosenkavalier, showed refinement and delicacy of line, without being overshadowed by the orchestra. With performances of these few and far between, they had a particular poignancy.
After these Mahler's 4th Symphony seemed an ideal second-half complement and it is a work that is familiar to both maestro Fischer and the orchestra and Ms Persson – their 2009 Channel recording has been widely acclaimed – and indeed he conducted without a score. Again strong contrasting highlighting the ebb and flow made for an engrossing performance and Ms Persson was appropriately child-like in the "Das himmlische Leben", with Fischer allowing the mood to hold until the last notes had completely died away.
After that performance an encore seemed inappropriate, but one was offered with the orchestra dispensing with their instruments and giving, a capella, Fanny Mendelssohn's song 'Morgengruss'. Novel and well done, if nothing else it was a better choice than the previous evening's tango.
Jonathan Spencer Jones