United States  Donizetti, Don Pasquale: Soloists, Cincinnati Opera, Richard Buckley (conductor), Chuck Hudson (stage director). Cincinnati Music Hall, Cincinnati, OH. 9.7.2015 (RDA)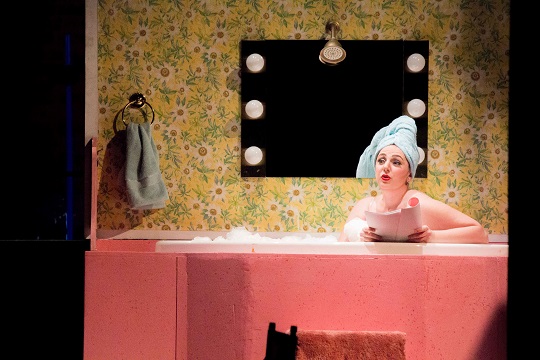 Gaetano Donizetti's 1841 comic opera, Don Pasquale, received a Technicolor makeover in the hyperactive production that opened last night in Cincinnati's Music Hall. Reliably helmed by Richard Buckley in the pit, the show received a modern reimagining  that only remotely honors the text and spirit of Donizetti's original libretto by Giovanni Ruffini . Originally conceived as a satire of the mid-century Italian bourgeoisie whose lives were straight-jacketed by tradition and religion (and of which the title Pasquale is a part), the story is turned into an extended skit about an over-the-hill film actor suffering from terminal black-and-whiteness. It's a stretch, by any standard, and one that only works intermittently in this 1950's setting.
Enter Malatesta, a doctor and an opportunist, who offers Don Pasquale the chance to hook up with Norina, a hopeful starlet in search of stardom and a fat bank account to support her expensive tastes. Little does the Don know that his nephew Ernesto is already in a relationship with the "sister"that Malatesta offers to bring to him.
The plot gets complicated and the tables turned, once Pasquale and Norina are presumably wed. After countless humiliations the marriage is dissolved, culprits are pardoned and, in good-old Italian comic opera fashion, all wrongs are forgiven to the lively lilt of a waltzing finale.
Leading the four-person cast are Turkish bass Burak Bilgili in the title role and Cuban-American soprano Elise Gutierrez as Norina. Korean tenor Ji Min Park is Ernesto, and Russian baritone Alexey Lavrov plays Malatesta. All four are solid singing actors, game for any and all of the silliness that the production concept asks of them.
Of the group, tenor Ji Min Park best nails the style with a flair for bel canto that promises to define him, not as another leggiero, but as a lyric tenor with a nimble voice and an easy top register, ideally suited to the  Bellini-Rossini-Donizetti repertory.
Malatesta is not a career-making role, but baritone Alexei Lavrov makes a nice impression with his elegant singing and his penchant for broad comic acting, even during the ill-advised and ever-so-long Dracula shticks imposed on him by the director.
As the Don, Bilgili is a fine lyric bass-baritone who has been heard to advantage in principal roles with various regional companies, but I fear he is not yet the seasoned buffo actor that this opera requires. That said, he sings with dexterity, including all of the demanding patter passages, and he does not lack authority on stage.
As Norina, soprano Eglise Gutierrez performed at a disadvantage, wearing a brace after suffering from a broken ankle during rehearsals. In this performance she sounded vocally tentative and at times her voice was drowned out in the ensembles.
Kudos to the chorus, with only one memorable singing moment. That said, they have a good time playing an assortment of recognizable Hollywood legends, from Carmen Miranda to Judy Garland.
The show has another performance on Saturday, and I would gladly recommend it to any of the uninitiated who think of opera as a dead art form in no need of resuscitation. This Don Pasquale shows remarkable signs of good health, without any further need of therapy, even after surviving the director's surgical interventions.
Rafael de Acha