United Kingdom Prokofiev, Cinderella: Dancers of Dutch National Ballet and the Royal Ballet Sinfonia / Matthew Rowe (conductor). London Coliseum, London, 8.7.2015. (JPr)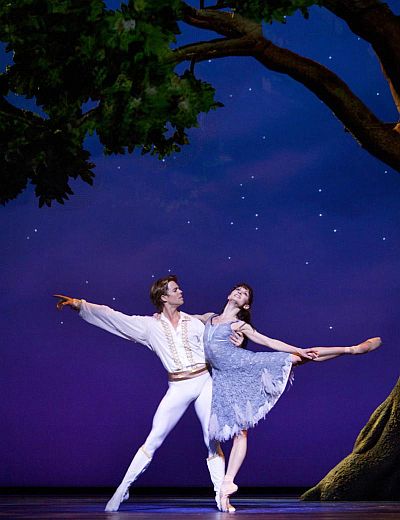 Cast: 
Cinderella: Anna Tsygankova
Prince Guillaume: Matthew Golding
Stepmother Hortensia: Larissa Lezhnina
Stepsister Edwina: Wen Ting Guan
Stepsister Clementine: Nadia Yanowsky
Benjamin: Remi Wörtmeyer
Cinderella's father: Alexander Zhembrovskyy
Cinderella's mother: Erica Horwood
King Albert: Nicolas Rapaic
Queen Charlotte: Louise Vine
Madame Mansard: Jeanette Vondersaar
Four Fates: Roman Artyushkin, James Stout, Rink Sliphorst and Wolfgang Tietze
Production: 
Choreography: Christopher Wheeldon
Libretto: Christopher Wheeldon and Craig Lucas
Sets, Costume and Mask Designer: Julian Crouch
Lighting Designer: Natasha Katz
Graham Watts in his programme note wrote how 'The first subject in Christopher Wheeldon's sightline when commissioned to create a production for San Francisco Ballet was Benjamin Britten's The Prince of the Pagodas … However, the powers-that-be in San Francisco got cold feet about the selling power of both Britten's music and this little-known fairy story about a Salamander prince. They wanted a fairy tale ballet and didn't have a Cinderella in their repertoire. Since Sergei Prokofiev's score had always fascinated Wheeldon, The Prince of the Pagodas quickly gave way to the girl who captivates another prince … Although the initial impetus for the new ballet came from San Francisco, Dutch National Ballet was soon drafted in as co-producer  … The libretto (developed by Craig Lucas) stems from Wheeldon's love of the Brothers Grimm. "I always loved the darker, German interpretation with its focus on the death of Cinderella's mother and the stepmother's subsequent corruption of the father".' Actually in the original Grimm version stepsisters cut off parts of their feet to try and fit into the glass slipper but nobody need have any fears that this Cinderella is as grim as that though in the final act there is an attempt made to force the shoe (not glass of course because this is ballet) on using a mallet!
That one example will give you a strong hint about this production that bends over backwards (almost literally in Wheeldon's gymnastic choreography) to be the antithesis of Frederick Ashton's deeply traditional and romantic staging (review click here)  based on Charles Perrault's eponymous seventeenth-century fairy tale. I write very often about how ballet must not just recreate but renew itself so I must not be churlish about what is called 'reinvention'. Referencing another art form: in 1960 it was famously said about the musical Camelot – which was not a critical success – 'You walk out whistling the scenery'. Ever since then that quip has be used for any show where the success lies mainly in what you are seeing rather than anything else. The same is true for Wheeldon's Cinderella and it is Julian Crouch's sets and costumes you will remember long after you have forgotten the story and the rather prosaic steps.
To be honest the first act will have many who think they know the story rush to read their programme – if they have one – to work out just what was going on. In truth in order to attract an audience from San Francisco and its environs the story has had a blatant Disney makeover. It is technically and scenically adroit right from the opening image of a bright blue sky with a few wisps of white cloud and some darting small birds to near the end when a number of chairs the characters sat on to try on the shoe lift, when vacated, high into the air to frame Cinderella's kitchen. There is much else besides this of course, such as, colourful costumes, magnificent chandeliers, a tree that appears bigger each time until it occupies most of the rear of the stage. At which point it looks like the vivid green logo of the UK's ruling Conservative Party! The tree was supposedly the work of a puppeteer Basil Twist but when it first appears behind Cinderella mother's grave it looks more like a triffid than a tree! Twist was also responsible for the carriage that takes Cinderella to the ball. And here he employs elements of Japanese puppet-theatre to have Cinderella seemingly born aloft with a golden train on a horse-drawn 'carriage' which, in reality, is just four huge green wheels. So as I wrote earlier you must be prepared to forget the story and forget the steps and just wallow in the spectacle that rarely draws breath during 165 minutes, including a couple of intervals. The very young will be confused by what is going on and it all will be too long for them I suspect.
Wheeldon's Cinderella doesn't look that downtrodden and has quite a nice blue dress. The stepsisters are not as grotesque or funny as Ashton's and there is no pumpkin and no clock. There is no fairy godmother – just Four Fates who are given too much to do and are forever interacting with Cinderella to encourage her on her way towards a familiar happy ending. Wheeldon never misses an opportunity for a cheap laugh whether it is about bad breath or smelly feet or a candidate for the shoe missing the necessary leg! There are characters such as 'Big Head', 'Nut Head' and 'Bird Lady' and whilst the guests at the Act II ball might be exotic they are merely caricatures. There is much fun to be had by watching Stepmother Hortensia (Larissa Lezhnina) as someone who enjoys a drink a little too much and gives her husband (Alexander Zhembrovskyy) the slip to chase after the champagne-proffering waiters. This results in her being shown with almighty hangover in Act III and vomiting into her breakfast bowl – but what actually has this to do with the Cinderella story? It has more in common with a British seaside pantomime; Cinderella at Christmas than the Brothers Grimm.
What undermines the whole evening is a lack of genuine emotion and heart. For what little there is Wheeldon seems more interested in his Prince Guillaume's relationship with his friend Benjamin (Remi Wörtmeyer) not that anything that would need to be explained to young children is suggested, as well as, Benjamin's burgeoning love for Stepsister Clementine (Nadia Yanowsky), the more sympathetic and goofier of the two. Undoubtedly Wörtmeyer and Yanowsky had more chemistry than real-life partners Anna Tsygankova and Matthew Golding as Cinderella and Prince Guillaume. After all the backstory padding in Act I it takes an intolerable time for Cinderella and this version of Prince Charming to confirm their love in a significant duet in Act II and for all the narrative thread loose ends to be tied up when they have a climatic – and more expressive – one near the end of Act III. Finally they marry but then are lost in a crowd of well-wishers which leaves the happy couple – again literally – fighting for the spotlight as the curtain comes down. Either something went wrong here or it is rather a strangely low-key ending.
The choreography – that I have not forgotten in all this extravagance – involves a lot of twirling for a well-drilled and committed corps de ballet as the ladies and gentlemen of the court. As with the principals this often involved many lifts, split-legs, sweeping arm movements and deep spinal curves. There was too much repetition in movement and shaping and I longed occasionally for something a little less showy and rather more nuanced. If not that, perhaps someone could have just stood still every so often.
Anna Tsygankova has performed with the Bolshoi Ballet and it showed in her precision and refined technique, but there was also a studied seriousness and lack of spontaneity about her dancing. Everything that was good about Matthew Golding I have commented on before; he is tireless, lithe and athletic with a huge leap, soft landings and is a reasonably reliable partner. I was a little further back than usual but I still did not feel there was any of the charisma the Prince needs – especially in a fun production such as this – radiating out into the theatre. It is extremely brave of Wheeldon to attempt something different but my mind wandered back to 1981 when another American company, Boston Ballet, brought Swan Lake to London with the evil Von Rothbart as a cuddly owl to that year's Nureyev Festival. That great Russian émigré dancer could always transcend such tosh and it is that sort of dancer that Wheeldon's Cinderella really needed – though there are not many like that around these days. Otherwise it might be better to rename this version of the story as 'Searching For Cinders'.
Prokofiev's score has some beautiful melodies that hark back to his earlier more famous music for Romeo and Juliet and would allow for some more lyrical – and slightly less jerky – dancing than Wheeldon gave us but it is its intrinsic acerbic bite and wit that the choreographer really concentrated on. Musical Director of Dutch National Ballet, Matthew Rowe, spurred the valiant Royal Ballet Sinfonia through a fairly pleasant account that never threatened to overwhelm what we were watching.
Jim Pritchard
For more about the Dutch National Ballet visit http://www.operaballet.nl/en/ballet/ballet.
For more about dance at the London Coliseum visit http://www.eno.org/.