United Kingdom Donizetti: Roberto Devereux, Bayerische Staatsoper Orchestra and Chorus, Friedrich Haider (conductor), Nationaltheater, Munich, 15.7.2015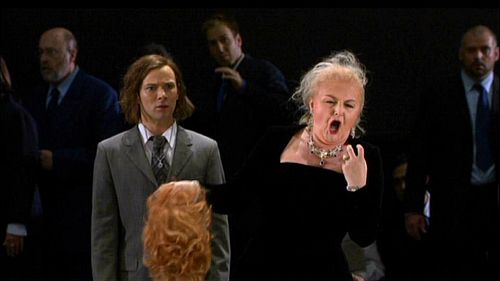 Edita Gruberova is one of the few singers in history with such artistic longevity. She has also been able to manage her career  ̶  at least in the last 20 years  ̶  singing the operas she chooses in a few select theatres. She is not just the protagonist, but the organizer and entrepreneur as well.
There's no doubt that she's a legend. Her legion of fans and admirers enter a state of ecstasy merely from the presence of their idol on stage. For them, her performances are occasions to show their adoration for a true goddess. She is also a vocal miracle. It's not easy to understand how, at almost 69, she can maintain her voice as it is, accompanied by a great singing technique and those top notes that made her famous decades ago, although now, as at the end of the opera yesterday, she has to pay a toll.
I admit without any doubt the greatness of Edita Gruberova, but I have reservations about her choice of repertoire in recent years, particularly with regard to Elisabetta in Roberto Devereux. I once read in a program that this character is the Elektra of bel canto, and there is some truth in it. Obviously, the role belongs to the purest and most difficult belcantismo, and here Edita Gruberova is like a fish in water. However, Elisabetta requires a soprano with a much more dramatic voice than hers.
I remember hearing her Elisabetta at Barcelona's Liceu in the fall of 1990, and her performance last night was a copy of that. Only her power has diminished during this time. In fact, she plays the role of Gruberova more than that of Elisabetta, as happens with most of the parts she sings. Her lack of suitability to this dramatic character is the same as 25 years ago. Veteran opera lovers will remember the great sopranos during the so called "Donizetti Renaissance." Among them a place of honor goes to Leyla Gencer and Montserrat Caballé who, in addition to being great bel canto specialists, had voices perfectly suited to the character of Elisabetta. This is not the case with Edita Gruberova, who is not the Elektra of bel canto (at most, she's Chrysothemis). But none of this matters to her worshipers and, obviously, history repeated itself here.
The staging by Christof Loy was premiered for Edita Gruberova in Munich in 2004;  surprisingly, it was the first performance ever of Roberto Devereux in the Bavarian capital. The production is not very interesting and looks like a concert version in business suits. The action has been moved to the time of Margaret Thatcher in England, who seems to be what Christof Loy has in mind as Elisabetta. There is one set for the entire opera with changing props, and it serves as the Great Hall at Westminster, the Nottingham home and Roberto's prison cell. It's one of the least satisfying works I remember from Mr. Loy.
Friedrich Haider, the ex-husband of Ms. Gruberova, was in the pit, and he made an effective work in the service of the diva. If Donizetti is to succeed, we need conductors who do more than just accompany the singers. The orchestra's performance was far from what we experienced during the previous days, but the chorus was good.
The cast included three of Edita Gruberova's usual colleagues, and the result was fairly mediocre. Russian tenor Alexey Dolgov was a modest Roberto Devereux. His timbre is rather poor in quality which resulted in a monotonous prison aria where he resorted to an outright falsetto in the cabaletta that closes the scene. Italian baritone Franco Vassallo as Nottingham was also monotonous. He simply offered decibels and open sounds, apart from adding high notes here and there (this has been always the strength of his voice). Sonia Ganassi was Sara. After a not-too-convincing Act I, she improved significantly in the last act.
In the secondary characters Francesco Petrozzi was an adequate and vengeful Lord Cecil. Goran Juric was sonorous as Gualtiero Raleigh.
José M. Irurzun