United Kingdom Handel: Xerxes (Serse):  Longborough Festival Opera Young Artists and Orchestra / Jeremy Silver (conductor), Longborough, 25.7.2015. (RJ)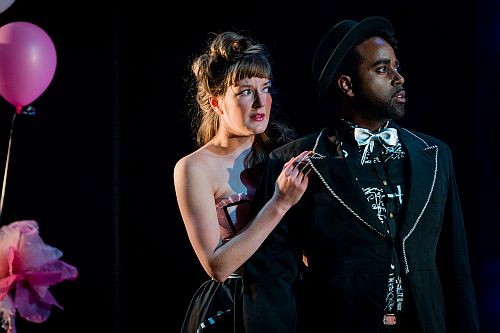 Cast:
Xerxes: Jake Arditti
Arsamene: Tai Olney
Amastre: Lucinda Stuart Grant
Ariodate: John Stainsby
Romilda: Alice Privett
Atalanta: Abbi Temple
Elviro: Matthew Durkan
Chorus: Chiara Vinci, Laurence Panter

Production:
Director: Jenny Miller
Designer: Faye Bradley
Lighting Designer: Anna Sbokou
Assistant Director: Rebecca Hanbury
Choreographer: Michael Spenceley
Répétiteur: Tim Hawken
Orchestra Leader: Sijie Chen
The historical Xerxes led an enormous military expedition to attack the Greeks, only to be defeated in a naval battle at Salamis. However history does not intrude very far into Handel's opera bearing his name and especially not into Jenny Miller"s new production of it.  Last year she moved Rinaldo from the time of the Crusades to a modern circus; here the plains of Asia Minor become a nightclub in which a fourteen piece band in pink waistcoats plays period instruments and the main protagonists pour out their souls on the stage.
After their success last year with Rinaldo it was only sensible that the Young Artist Production team should try their hand at another Handel opera.  I was delighted to see Jake Arditti in the title role again, for not only does he have a  counter-tenor voice to die for, but he acts with total conviction.  Although slight of figure when he dons his dress coat and struts about he has an air of complete authority and will let nothing and nobody stand in his way. How do you get an army across the Hellespont, for example? Easy: you build a pontoon bridge.  Yet affairs of the heart prove trickier:  you can't force a girl who takes your eye to be your girl friend, especially if she is in love with your brother and you already have a fiancée. But Xerxes has a lot to learn in such matters.
A mysterious lady in white enters the night club, and causes something of a stir, especially when she commands a chap to strip off so she can wear his clothes  It soon transpires this is Xerxes' fiancée Amastre, played with considerable sang froid and class by Lucinda Stuart Grant. However, the veneer is soon laid bare  when she discovers her betrothed has another woman in tow. The other woman is Romilda, sung with distinction by Alice Privett, who is not at all interested in Xerxes' advances, since she has a love of her own. This is Arsamene, Xerxes' brother, as it happens. It is unusual to find two counter-tenors of equal stature in the same production, but Tai Olmey as Arsamene is quite wonderful at expressing his affection, frustration at being banished and eventual anger when he suspects Romilda is unfaithful.
If this sounds deadly serious – indeed some characters contemplate suicide – there are a number of comic elements too, notably  Romilda's plain little sister Atalanta, sung by Abbi Temple. She bears a strong resemblance to the Su Pollard chalet maid character in the vintage British sitcom Hi-de-hi!  Atalanta desperately wants a man in her life – any man – and is prepared to stoop to any ruse in order to get one.   Her chance comes when Arsamene's servant Elviro, disguised as a flower girl, gives her a love letter from Arsamene to Romilda.  Atalanta  insists to one and all that the love letter is to her, and that her sister's lover is really in love with her. This news outrages Romilda who accuses Arsamene of deception when she eventually sees him again.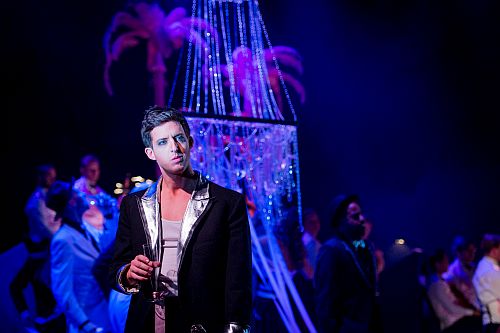 The father of the two girls is Ariodate, whom Xerxes congratulates on building the pontoon bridge. As a reward he promises the general that his daughter Romilda will marry a person of his own blood – meaning himself. Ariodate assumes he is referring to his brother Arsamene and putting on a top hat and gloves makes arrangements for the wedding. When Xerxes learns that  Romilda and Arsamene are wed he goes completely berserk overturning every stick of furniture, every potted plant that stands in  his way. I am delighted to report that all ends happily – even Atalanta seems to get a man.
I fear I have not done justice to the plot which is highly convoluted and full of passion, anger, despair, deception, misunderstandings, love triangles and quadrilaterals. However in the rather showbiz background of the night club scene in which cabaret artistes seem larger than life it does not come over as completely incongruous.  If you are mystified by the plot you do have a  number of splendid Handelian arias to listen to, not least  Xerxes' opening aria Ombra mai fu in which he addresses a tree! Most people would recognise this as Handel's Largo.
As one might expect in a night club, there is a certain amount of dancing going on, more Astaire-Rogers than disco, which is well choreographed by Michael Spenceley. The décor of the night club was not entirely to my taste, too many pink plumes for comfort and I'm not a clubber by nature, but I felt designer Faye Bradley had captured brilliantly the sort of sets found in 1930s musicals. Rebecca Hanbury's black and white costumes tended to show more than they concealed as far as the ladies were concerned- but perhaps I am being prudish, since virtually all the main characters unbosom themselves emotionally in this opera.
The splendidly attired period orchestra directed from the harpsichord by Jeremy Silver offered excellent support and kept the action moving, except when they had to retune. If anyone has the idea of opening a Baroque nightclub or bar, I feel these musicians would be strong contenders to provide entertainment.
Although I say this every year, Longborough Is going from strength to strength, and I can't wait until next summer when Tannhäuser, Jenúfa and Le Nozze di Figaro take to the stage.
Further Performances of Xerxes will be held on  Thursday July 30 at the Britten Theatre, Royal College of Music, London and on Sunday August 2 at St Mary's in the Castle, Hastings. Website: www.lfo.org.uk.