United Kingdom Bizet, Carmen: Soloists, Chorus and Orchestra of English National Opera / Sir Richard Armstrong (conductor). Live relay to cinemas from the London Coliseum, directed by Andy Morahan, seen at Empire Cinemas, Basildon, Essex, 1.7.2015. (JPr)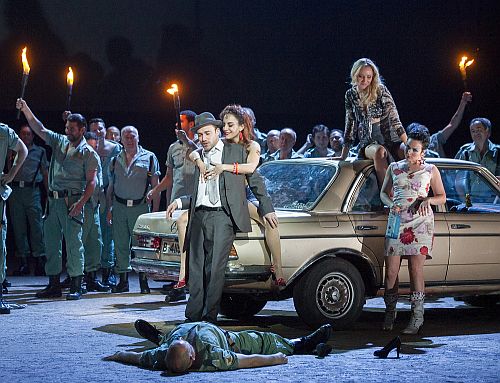 Cast:
Carmen: Justina Gringyte
José: Eric Cutler
Escamillo: Leigh Melrose
Micaëla: Eleanor Dennis
Zuniga: Graeme Danby
Moralès: George Humphreys
Frasquita: Rhian Lois
Mercédès: Clare Presland
Dancairo: Geoffrey Dolton
Remendado: Alun Rhys-Jenkins
Lillas Pastia: Toussaint Meghie
Girl: Sophia Elton
Production:
Director: Calixto Bieito
Revived by Joan Anton Rechi
Set designer: Alfons Flores
Set designs realized by Kieron Docherty
Costumes designer: Mercè Paloma
Lighting designer: Bruno Poet
Lighting revived by Martin Doone
English translation by Christopher Cowell
Two days after the Covent Garden patrons showed their displeasure at an interlude when a female character was sexually assaulted on stage by some sex-starved soldiers (causing one leading critic to conclude his review with 'If this sort of interpretation represents the future of opera, then God help us all!'), I sat in the wonderfully air-conditioned coolness of a cinema auditorium (on the hottest July UK day on record) to see … a female character being sexually assaulted by some sex-starved soldiers! This was not Guillaume Tell (which I will see at Basildon's Empire Cinemas in a few days' time)  but Carmen! On this occasion the brutality did not go as far as Micaëla being stripped naked and raped but she was lucky she wasn't in Calixto Bieito's staging that was first seen at the London Coliseum in 2012. Sensationalist interpretations are nothing new – especially from English National Opera – but perhaps those watching Carmen (another potentially 'pretty' opera) were not expecting chocolate-boxy Swiss mountain vistas and dirndls as those at Covent Garden for Rossini's William Tell apparently were.
In Andy Morahan's close-up work for the cinema the sense of threat from all concerned was palpable, whether lusty squaddies, the gypsies who seem mostly to be sex-workers or their pimps. Everyone is pent-up and looks about to hit someone or something! Some old saloon cars which are a feature of the minimalist stage pictures look battered enough to begin with but come in for some further bashing from an array of fists from time to time as characters want to relieve their frustrations on anything that is nearby, inanimate – or occasionally animate. Therefore, as I have already suggested, nobody is who they 'should' be and are not the usually Spanish stereotypes and so are significantly more true to life: Micaëla may still be a good Catholic girl but is not as virginal as usually shown and is happy to wrap a leg around Don José as she eagerly tries to prise him away from another's clutches; Carmen is no perfumed seductress but looks like a mail-order Russian bride and is a slightly unhinged tart who knows the power she has over men, whilst realising the life she leads will not have a happy ending; Don José isn't the callow easily-led lad who is entranced by Carmen's sexual allure but someone who is obsessive, unstable and aggressive. Only Escamillo the toreador is … well … a toreador, though even he seems to drink excessively – as most of the characters do – to blot out their lives, or in his case, the dangers he must continually face.
Bieito's staging, designed by his regular collaborators Alfons Flores and Mercè Paloma, is visually striking and the stage is rather dark with only a few elements to distinguish the four acts: there is a flagpole and a telephone box in Act I, one car, a folding chair and – for some reason – a fake Christmas tree in Act II, a total of six cars hauntingly overshadowed by the iconic Osborne sherry black bull silhouette in the background for Act III and the latter is 'deconstructed' at the start of Act III where there is just a large circle drawn by Lillas Pastia (Toussaint Meghie) who in this 'interpretation' is something of a ringmaster overseeing proceedings. Almost ever-present is a small girl (Sophia Elton) who might just represent Carmen's lost innocence. The tattooed soldiers notwithstanding everyone else is colourfully dressed and look as though they are ready for the Benidorm nightlife. The chorus is well-handled and even if the performances are a bit larger-than-life – probably reflecting the need to perform to the back row of the vast London Coliseum – they have enough nuance to make the very familiar story unfold with newly-heightened dramatic intent.
English National Opera's straitened circumstances needs no further comment from me at this stage but they have undoubtedly risen to the challenge this season, all they really need to do now is to encourage more home-grown talent: here the leading roles were sung by a Lithuanian and an American. I have to give my usually warning here that I am reviewing what I heard as presented through the loudspeakers and this may not be what the audience in the theatre experienced. For what Bieito gave her to do, young rising star, Justina Gringyte, is excellent as Carmen and there is absolutely no subtlety about this imposing 'ball-breaker'; her slightly nasally sound is not that of a 'traditional' Carmen but she sings with an authority which perfectly matches her striking physical appearance. Eric Cutler has a glorious ringing tone and evoked Bieito's reinvention of Don José as Steinbeck's Lennie Small. Unlike that character this José is barely able to conceal his psychosis and eventually he must murder the person he is infatuated with.
Eleanor Dennis sings from the heart as an unusually assertive Micaëla and nearly everyone else is first-rate, the only disappointment being Leigh Melrose as Escamillo. With the greatest respect to him his voice is what I describe as that of a 'lazy tenor' and his low notes did not sound imposing – or natural – enough for this swaggering role. Sir Richard Armstrong – making a welcome return to ENO – led an emotionally charged and compelling orchestral performance.
Two small criticisms to finish: shorn of superfluous dialogue Christopher Cowell's English translation seemed perfectly adequate but the emotional rawness of the acting is sometimes lost with the refined accents encountered through the speech and the singing. And please – please – AltiveMedia (who present these operas in cinemas for ENO) do find someone to introduce the performances for a few minutes to explain the plot and the characters to people who might be seeing these operas for the first time … or at the very least show something about this on the screen.
Jim Pritchard
For further information about all ENO's future performances next season and their cinema broadcasts visit www.eno.org.