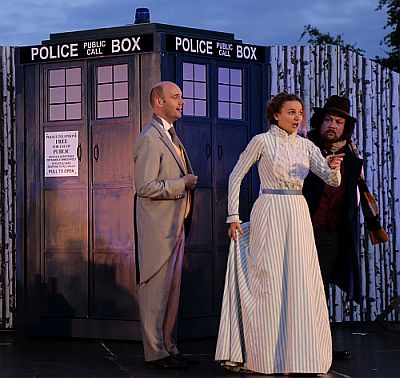 United Kingdom  Antonio Salieri, Trofonio's Cave (La Grotta di Trofonio): Bampton Classical Opera / Paul Wingfield (conductor), Deanery Gardens, Bampton, Oxfordshire, 17.7.2015. (RJ)
Libretto by Giambattista Casti
English Translation by Gilly French and Jeremy Gray
Cast:
Aristone: James Harrison (baritone)
Dori, his fun-loving daughter; Aolfe O'Sullivan (soprano)
Ofelia, his more serious daughter: Anna Starushkeviych (mezzo-soprano)
Artemidoro, a philosophical young man in love with Ofelia: Christopher Turner (tenor)
Plistene, in love with Dori: Nicholas Merryweather (baritone)
Trofonio, a magician: Matthew Stiff (bass)
Ladies' Maid: Triona Adams
Production:
Director/Designer: Jeremy Gray
Assistant Director: Triona Adams
Costumes: Vikki Medhurst
Répétiteur: Marek Ruszczynski

Where would Mozart be without Salieri? These thoughts passed through my mind as I watched Bampton Opera's performance of the latter's La Grotta di Tronfonio. Composed in 1785 it pre-dates Figaro, Così, Don Giovanni and The Magic Flute, and one can't help feeling that the younger composer must have drawn inspiration from Salieri's story line and music. In his opera characters embark on a journey involving transformations which ultimately lead them to a better understanding of themselves. Does this sound familiar?
We know that there was a performance of an opera entitled The Cave of Trophonius in London in 1791 but, according to Jeremy Gray,  most of the music  was by Stephen Storace, whose sister Nancy was one of the leading singers of the time. So this performance at Bampton could well be the first ever UK performance of the Salieri version; given its vitality and melodic invention  one wonders why we in Britain have had to wait so long to hear it.
The opera starts so promisingly. James Harrison as Aristone is everything a good father should be: he is delighted with the prospect of his twin daughters' forthcoming marriages, approves of their fiancés and considers each couple is well suited. Ofelia is a blue-stocking and portrayed by the oh-so-serious Ukrainian mezzo Anna Starushkevych. Her lover Artemidoro is played by the bookish Christopher Turner who likes nothing better than to engage in philosophical discussion. At the other end of the spectrum is the fun-loving daughter Dori played with plenty of Irish spirit by Aolfe O'Sullivan. Her suitor Plistene, sung by Nicholas Merryweather, is a bit of a lad who bounds on to the stage and makes fun of his more serious contemporaries.
But just as they are about to ride off into the sunset to live happily ever after the young men encounter a magician in the woods who lives not in a cave as such,  but in a Tardis straight from an episode of Dr Who. Indeed, Matthew Stiff as Trofonio assumes the guise of the good doctor and demonstrates how by passing in through one door of the police box and out the other a person can be completely transformed.  Enter Artemidoro communing with nature who in his search of enlightenment enters the Tardis, at the magician's behest, only to emerge through the other door as a 1960s-style hippy.  Meanwhile Plistene is strolling though the countryside in search not of knowledge, but of nymphs to play around with; he too accepts Trofono's invitation  to enter the Tardis only to emerge as a studious chap in a tie and green cardigan who praises Plato. The total changes in character unnerve the girls who disown their lovers –  to the consternation of the hitherto unflappable Aristone.
More transformations occur in the final act when Tronfonio decides to find out if his magical powers apply to women. Ofelia emerges from the Tardis as a party-going girl in a lurid orange miniskirt to sing the catchy aria 'La ra la lee' (which Nancy Storace made famous in the late eighteenth century) and insists that 'Life is for living, not hiding away'.  Dori turns into even more of a frump than her sister had been. Normality returns by the end of the opera, but lessons are  certainly learned along the way.
I found Trofonio's Cave a revelation, and not only because of the zany production  and the witty modern translation which fitted the music so perfectly.  The music is magnificent with not a duff aria, duet or trio during the whole evening. The quintets and sextets which constitute the finales seemed as good and imaginatively thought out as any in The Marriage of Figaro and Don Giovanni. Moreover all the singers have their place in the limelight, as it were, starting with Ofelia's  serene aria 'The fire of Love'  and Aristone's philosophical explanation of why his daughters are so different in character – 'Let us consider the source of a river'. Plistene's cavatina praising Plato 'Teacher and leader, hear me ' gave the audience a chance to hear Nicholas Merryweather's fine baritone voice. Matthew Stiff is an excellent Trofonio, especially when rejoicing in his magic powers in the cavatina 'This enchanted habitation will be praised with acclamation' – a slightly Gilbert and Sullivanesque touch here, perhaps?
There is real anxiety in Dori's reaction to Plistine's change of character 'Having secured a lover, I'd not intended that madness so soon would have to end it'. Christopher Turner's' relief was palpable in Artemidoro's aria 'A dream … am I still dreaming'  as he is changed back into the scholar he used to be – though I have to admit I preferred his antics as a hippy complete with shades, which were a real hoot.  (Singer wishing to showcase their talents should note what a splendid opportunity Salieri offers four of the cast to play two very different characters.)  This is comic opera, but the people in it are not cardboard cut-outs;  all six singers made their roles eminently believable as they faced up to a succession of crises.
I have never attended an open aid opera performance before and was rather concerned that the audience would not be able to hear the words especially in a breeze. However, the sound was not a problem thanks to a large hedge behind the stage and the Deanery building behind the audience which reflected the sound.  Also each of the singers projected their voices  and articulated the words well; the singing was uniformly excellent.  I sympathised with the plight of the conductor Paul Wingfield who had to conduct his orchestra in a tent with his back to the stage but there were no missed entries and the whole musical effect could not be faulted. Mr Wingield has learned his trade on the Jette Parker Young Artists scheme and on the strength of his endeavours at Bampton, Covent Garden should soon be calling on him to do them a few favours in their main house.
This is Bampton Classi al Opera's 23rd season and the instigators Jeremy Gray and Gilly French deserve our hearty congratulations for bringing neglected, but worthy, operas of the past to the attention of the public and making such a success of them. I only wish that other opera companies in the country would show a greater sense of adventure and give Carmen, Tosca, Don Giovanni and La Traviata a rest for a few years. Having heard one Salieri opera, I'd like to hear some more.
There are further performances of Trofonio's Cave at Westonbirt, Gloucestershire on 31st August and St John's, Smith Square on 15th September. See www.bamptonopera.org
Roger Jones