The Tallis Scholars' 2000th Concert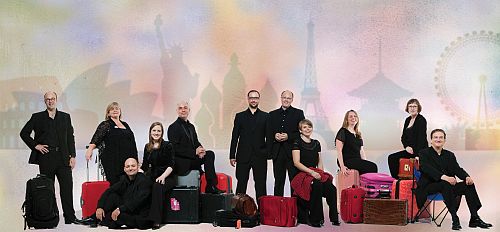 In September Peter Phillips and The Tallis Scholars will achieve an extraordinary milestone when they give their 2000th concert.
The concert will take place on 21 September 2015 at St John's Smith Square, the same venue at which the group gave their very first London concert, on 25 September 1976. That was the first of 197 Tallis Scholars concerts in London.
The Tallis Scholars gave their first concert, in Oxford, on 3 November 1973 and by any standards it's an amazing achievement to have given close to 2000 concerts in the intervening period. If anything, the pace has picked up over the years. The 1000th concert was given in New York in December 1998 – twenty-five years after the first concert; the next 1000 concerts will have been given in a period just short of 17 years.
  Just as remarkable is the fact that nearly 70% of the group's concerts have taken place outside the UK, making Peter Phillips and his singers notable cultural ambassadors for Great Britain.
The programme for the 2000th concert includes music by Byrd and John Taverner as well as Ave dei patris filia by Gabriel Jackson, which was first performed at the ensemble's 40th anniversary concert in 2013. The centre piece of the programme will be Missa Cantate by John Sheppard.
Peter Phillips says of this programme: "To celebrate The Tallis Scholars' 2000th concert I decided to go for one of the most exciting – and least performed – of all the big Tudor Mass settings; the Missa Cantate by John Sheppard. The very title – Cantate: Sing! – gives the clue.  In the second half we reprise a work which Gabriel Jackson wrote for our 40th anniversary. This again is a shout of praise.  We end with Tribue domine, the piece by William Byrd we have performed most often over the years."
This landmark concert will launch the 2015 London International A Cappella Choir Competition, which runs from 22 to 26 September.  Once again, Peter Phillips will be chairing an international jury including Lionel Meunier. Sixteen choirs will compete over four evening concerts for a place in the Grand Finale on 26 September.
Watch out also for a special release from Gimell Records to celebrate The Tallis Scholars' 2000th concert.  A 2-CD set, entitled Perfect Polyphony will be released on 28 August. Peter Phillips has chosen his favourite recordings of Renaissance Polyphony including the Missa Papae Marcelli by Palestrina and the Missa Ave maris stella by Josquin. There are four settings of the Lamentations of Jeremiah; two by Tallis and one each by Brumel and Ferrabosco. The specially-priced set also features music by Browne, Gesualdo, Gombert, Isaac, Mouton and Victoria.
Tickets for The Tallis Scholars' 2000th concert are available from 6 July. To book call 0207 222 1061. Or book online: www.sjss.org.uk
John Quinn