Roderic Dunnett interviews owner-producer Christopher Gilmour and conductor Oliver Gilmour.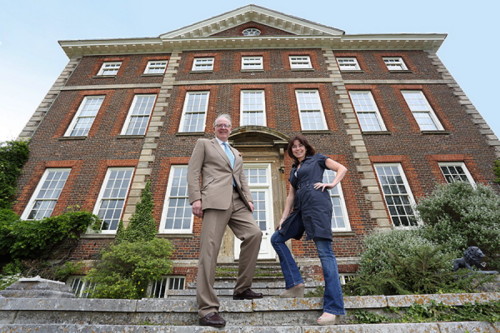 Let's face it: country house opera has proved one of the art scene's great success stories of the last few decades. In the wake of 1930s Glyndebourne, we have had Leonard Ingrams' Garsington, Wasfi Kani's Grange Park (hitherto the three 'G's), plus Oxfordshire's Bampton Classical Opera, Martin and Lizzie Graham's Longborough Festival, David Ross's Nevill Holt; and even farm opera – Jeffery Lockett's Clonter. Each has its own unique feel; each has achieved excellence in its different ways – repertoire, casting, idyllic location, desirable picnic areas, imaginative meals provision.
The latest such delight can be found at Christopher Gilmour's gorgeous Jacobean (virtually Queen Anne) pile, Winslow Hall in Buckinghamshire, not far from Aylesbury. Roger Jones welcomed this new, or revived, company's opening Figaro at Winslow in 2012 (https://seenandheard-international.com/stowe-opera-on-the-move-to-winslow/). Robert Thicknesse of Opera Now added his own applause. It seemed well worth a look at how things are faring.
To recap, Winslow is, says its present owner, Christopher Gilmour, 'the only house outside London itself designed and built by Sir Christopher Wren (1632-1723)'. The Times has called it, rightly, ''The Rolls-Royce of English domestic architecture… as handsomely detailed as Wren's Royal Hospital at Chelsea." It thus has a unique cachet.
Gilmour, a celebrated entrepreneur and restaurateur, vastly enlivened and helped up standards on the central London restaurant scene. In 1991 Gilmour opened an elegant American-style diner, Christopher's (www.christophersgrill.com/), in Wellington Street, Covent Garden, serving late nights and thus catering for the post-opera crowd – before opening another, Gilmour's, in Park Walk, just off the Fulham Road, between Old Church St. and Fulham Broadway.
Gilmour has a love of music born in childhood and a special feel for opera. 'I used to go to the Royal Opera House a lot, it was one of my great pleasures; my passions are Mozart, Verdi and Puccini. I played opera recordings at Christopher's: that was one of our recognised features: not in the dining area, but on the way up. It's a fabulous Grade II listed building (large enough to have been one a casino), and one of the treats for lunchtime or evening diners, I like to think, has been hearing opera played on the staircase, which is a wonderful creation, as you make your way from the Martini Bar up to the Dining Room.
Eton-educated Gilmour is a son of former Conservative cabinet minister Sir Ian Gilmour (1926-2007), a one nation Tory, member of Ted Heath's cabinet and shadow cabinet and one of Margaret Thatcher's 'wets', who also had a distinguished period as editor of The Spectator.
How come the transition from restaurateur to operateur? Gilmour and his Australian wife, Mardi, purchased the Wren building, sorely in need of some love and attention, in 2010 for £2.25 million. 'A good friend, Tom Cross Brown, a retired banker who used regularly to dine at the restaurant, knowing of my passion for opera, alerted me that the house was on the market, and mentioned that Stowe Opera, run with famous success by Robert Secret, and its faithful audiences were looking for a new home; he thought it would be a fabulous place for an opera festival.
'It was at a time when Tony and Cherie Blair were looking for somewhere to buy. However they then declined and looked elsewhere, possibly to the relief of some townsfolk!'
'So the opera idea was born before Christopher had even bought Winslow Hall,' confirms his conductor brother, Oliver Gilmour. Robert Secret had had quite notable success in building up an audience at nearby Stowe, conducting acclaimed productions of Rusalka, Don Carlo, Il Trovatore and much more. 'And then, regrettably, Stowe School, which had hosted the event for many seasons in its Roxburgh Theatre on the edge of its Capability Brown landscaped gardens, suddenly pulled down the curtain, pleading building work and hustling a deserving opera company out of its essential home base.'
It was after a gap, in late summer 2012, that the Gilmours' Winslow Hall Opera opened its doors. It cast itself then, provisionally, as ('formerly Stowe Opera'): 'Our aim,' says Christopher, 'was to build on what Robert had achieved and hopefully take it to a next stage. We still have aspirations to become 'opera's fourth G'. Secret conducted the first Marriage of Figaro at Winslow in 2012, which received high acclaim, and then revived with the singer-director Yvonne Fontane a variant of her pretty spicy Stowe production of Carmen. Winslow Hall Opera, it seemed, was on the way.
The conductor of last year's glorious Lucia di Lammermoor was Oliver Gilmour, Christopher's brother, who trained in Vienna.  'It was a quite extraordinary musical world to grow up in, where one could see Karajan in action or Bernstein at the Muziekverein'.
Oliver Gilmour (www.olivergilmour.com) – whose ultimate heroes included two of the true immortal greats among conductors, Carlos Kleiber and Carlo Maria Giulini – built up an impressive curriculum vitae as an opera and orchestral conductor. As well as earning a reputation when touring the Far East, in May 2008, he was invited by the United Nations to become the first foreign conductor to perform in Baghdad since the Western Powers' invasion, directing Iraq's National Symphony Orchestra. More recently he initiated 'Dubrovnik Summer Opera', in a bold bid to bring opera back into the historic city after a 40 year hiatus punctuated by the 1991-5 Serb (Yugoslav)-Croat war.
One of his most interesting roles was as Music Director for some years at Rousse (Ruse), one of the top opera houses in Bulgaria.'It sits south of the Danube, just a stone's throw from Romania on the other side.' It was a valuable chance to intensify his already enhanced knowledge of the repertoire. Italian opera occupies a major role in eastern Europe. So besides numerous other operas, he conducted Verdi: both Il Trovatore, a particular favourite, and La Traviata, which he will conduct for Winslow Hall this summer (starting midway through this week). In nurturing and bringing on the Sofia Symphony Orchestra as its Music Director he also conducted a vast range of mainstream orchestral repertoire.
'I was very much minded to do Il Trovatore at Winslow this summer', Oliver says. 'Three of our stars from last year were keen to sing again, and we were keen to have them. They'd proved our acclaimed 'golden cast' in Lucia. But Manrico (in Trovatore) would not have been an ideal role for our tenor, Pablo Bemsch (a former Covent Garden Jette Parker trainee, who was a considerable hit as Edgardo in the Walter Scott-based opera). So we settled on La Traviata as more appropriate.' They have brought back the Greek Australian soprano Elena Xanthoudakis (Melbourne having the third largest Greek community in the world, of a more than two million Greek diaspora) as the doomed Violetta; and in a shrewd bit of casting, Oliver has engaged sought-after British baritone Quentin Hayes to sing the older Germont.
The press response to Lucia di Lammermoor could not have been more gratifying. "Full marks – a triumph, almost without qualification." wrote Michael Tanner in The Spectator; "The three principal singers are outstanding.'' ''The Mad Scene was genuinely harrowing……Elena Xanthoudakis's clear lyric sound has striking immediacy….,' observed Opera Magazine. "Her Edgardo, the Argentinian tenor Pablo Bemsch, sang with consistent style and beauty and unforced pathos….His gentle, almost studious stage persona contrasted with the splendidly saturnine Enrico of Vasile Chisiu, powering through his lines with mellow vibrant tone."
Under the heading "Newcomer Shines in a Crowded Field", The Daily Telegraph's Rupert Christiansen commented, "I was surprised and delighted by the quality of the Winslow Hall performance of Donizetti's Lucia di Lammermoor – not an easy opera to pull off by any means…….I enjoyed the performance enormously: what a wonderfully rich and involving opera Lucia is.' Praise does not come much higher than this, or from more prestigious sources.
This year the prospects look appetising. Dissatisfied with the old marquee tent which housed audience and stage alike previously, Christopher Gilmour has located an alternative which he hoped will prove tangibly more satisfactory. One thing that will not change or diminish, Oliver points out, is the acoustic. 'It seems to work remarkably well, to the benefit of stage and performers, and the orchestra as well, which gives off a very full and satisfying sound. It may be,' Chirstopher adds,' that people are right when they say one of the key ingredients is the wall of the house, which abuts the tent and almost certainly has a bearing to our advantage. Most importantly, the audience is the major beneficiary.'
It's the whole experience which counts at these country house opera events. Pleasingly, Winslow Hall has been drawing praise and satisfaction here, too.
"The visitor experience is endearingly friendly, and the marquee provided an unexpectedly good acoustic environment," wrote Christiansen. "Winslow Hall provides a less manicured – and more genial – experience than Glyndebourne or Garsington," observed Opera Magazine, astutely.
Who comes? It's quite an informed savvy audience that Winslow Hall seems to draw,' Oliver notes (as was doubtless the case with Stowe Opera). 'They're really discerning, they know what they like. That includes the repertoire, they recognise it or know it well, and perhaps above all they are pleased with the talented casts we are amassing.'
He too hopes they will be able to build on Stowe Opera's achievements, which were admittedly considerable. Verdi's Don Carlo is one long term aspiration, 'although amassing a satisfactory chorus would be one hurdle to cross.' Secret's production at Stowe, with the likes of Charles Johnston and a memorable Grand Inquisitor from Richard Wiegold, was one of its hits, despite the chorus being (as I remember) a bit thin on the ground.
If the Gilmours are to further 'advance the (already impressive) standard' of Stowe Opera, it will have to be on one or two grounds: ensuring a rewarding acoustic; upping seating comfort ('The tent, one major concern, has been addressed: with the previous one in a storm it sounded at one point as if the orchestra was out of tune! and the seats were less satisfactory, somewhat uncomfortable. It was a bit too ramshackle'); English surtitles need addressing and maybe rendering the existing dining spots in the grounds more decorative. As one commentator noted, "The ticket desk suggests a village fete, you need to pop across to the pub for a cup of tea, and the garden, with its canvas gazebos (picnic hampers can be ordered), is more shabby chic than Sissinghurst." Perhaps this may prompt some adjustments.
But surely more central is the quality and 'feel' of the orchestra: 'Ours is a young orchestra,' Christopher points out: 'largely up and coming; whereas Stowe went more for a local orchestra of teachers and those from other professions. 'I think this could make a material difference,' says Oliver: 'the youngsters have a commitment, an involvement and a vitality that immediately becomes apparent at our London rehearsals. They play like heroes, are very much in synch, and are exciting and stimulating to work with.
'They are also eager to learn, they have an appetite, which is especially gratifying. For us, it's a cogent way of offering opportunity to the young while putting something back. 'Last year's orchestra was not the Royal Opera House orchestra, but year on year I feel it is a much improved ensemble, or has the potential to be so,' Gilmour comments.
As one of the best known and popular operas in the canon – far better known than Lucia – La Traviata should surely serve well to draw in enthusiastic audiences to Winslow this fortnight. The first part of the week is pretty much cheek-by-jowl, 'but the latter part of the run still needs to sell a fair few seats'.
Christopher, described as a 'resting' restaurateur, is modestly elated by the high praise his new venture has received.  'I'm kind of the whole organisation beforehand: backroom boy, promoter, producer, box office, gardener – the lot. Thankfully I'm terrifically supported by my wife, Mardi. Gradually more people have come forward to help, and that makes a difference.  'I do feel it's worked, absolutely,' he says. 'Moreover what's happened so far, and the positive response received from public and critics, gives me confidence to go with it again.'
Verdi's La Traviata opens at Winslow Hall Opera, Buckinghamshire, MK18 3HL on Wednesday 8 July at 6.00 p.m. Further performances: Friday 10 July, Sunday 12 July, Wednesday 15 July, Friday 17 July, Sunday 19 July. Weekdays at 6.00 (90 minute supper interval); Sundays at 3.00 (30 minute interval, gardens open from midday for picnics).