Argentina Mozart, Le nozze di Figaro: Soloists, Chorus and Orchestra of Juventus Lyrica, Hernán Schvartzman (conductor), Teatro Avenida, Buenos Aires. 10.7.2015. (JSJ)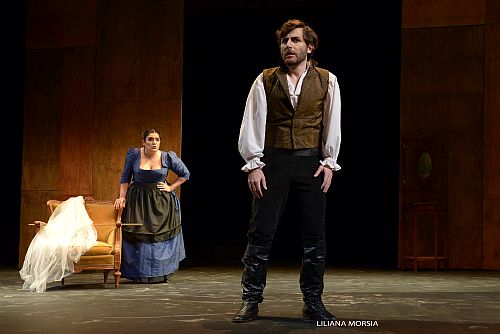 Cast:
Figaro: Juan Salvador Trupia y Rodríguez
Susanna: María Goso / Sabrina Cirera
Rosina: Oriana Favaro
Count: Fernando GrassiCherubino: Cecilia Pastawski / Rocío Arbizu
Bartolo / Antonio: Walter Schwarz / Felipe Cudina Begovic
Marcellina: María Cecilia Pérez San Martín / Sabrina Cirera
Don Basilio / Don Curzio: Norberto Lara / Pablo Urban
Barbarina: Julieta Fernández Alfaro / Natalia Salardino
Production:
Director/costumes: María Jaunarena
Sets/lighting: Gonzalo Córdova
Chorus: Hernán Sánchez Arteaga
Mozart's Le nozze di Figaro is a pivotal work in more ways than one – being the first of the famous Mozart, Da Ponte collaborations (followed by Don Giovanni and Cosi fan tutte) and the second of the Beaumarchais plays (after the Barber of Seville, put into opera first by Paisiello but immortalized by Rossini), cutting through the social mores of the day.
Although one of the operas I have seen the most, the prospect of another production is always exciting, and this new production from Juventus Lyrica didn't disappoint. Against a quite modest scenic background from Gonzalo Córdova, María Jaunarena drew out an engaging performance with a young feel from the young cast, unlike the heavily bewigged productions that tend to give a sense of age to the performers. There were many easy laughs with over-acting, which tends to pall after a while, but the audience clearly enjoyed it and were engaged.
Juan Salvador Trupia y Rodríguez, who last appeared in the company's earlier production this year of Andrea Chénier, made a stylish Figaro. The Spanish baritone who is a member of the Colón chorus is expressive and moves as well as he sings. His Susanna, María Goso – a first timer for me – is fresh voiced and a no nonsense partner.
Cecilia Pastawski was a delight as Cherubino and her two arias "Non só più" and "Voi che sapete" were sing with depth and passion.
Oriana Favaro was appropriately delicate as the countess, Rosina, and imbued the character with the right degree of melancholy – but I wonder if (in reality) she would have been as quite familiar as she was with Susanna, or for that matter Figaro with her or the count, soundly played by Fernando Grassi. But that is the big challenge facing the director and my preference is for a more subtly played out exchanges.
Walter Schwarz in the two roles of Bartolo and Antonio the gardener, María Cecilia Pérez San Martín as Marcellina, Norberto Lara as Don Basilio and Don Curzio, and Julieta Fernández Alfaro as Barbarina all filled their roles effectively, as did the Juventus Lyrica chorus trained by Hernán Sánchez Arteaga.
This is now the third (and last) of the Da Ponte works that Hernán Schvartzman has conducted for Juventus Lyrica and he extracted good playing from the orchestra, although at times with tempi on the slow side. He also had disruptions – the pit serving as Cherubino's garden escape route in the second act and the orchestra moving to the back of the stage as a backdrop for the wedding scene at the end of the third act – a novel touch that was achieved with no musical disruption!
Jonathan Spencer Jones