Germany  Bayreuth Festival 2015 [3] Wagner, Der fliegende Holländer: Soloists, Chorus and Orchestra of the Bayreuth Festival. / Axel Kober (conductor). Festspielhaus, Bayreuth, 3.8.2015. (JPr)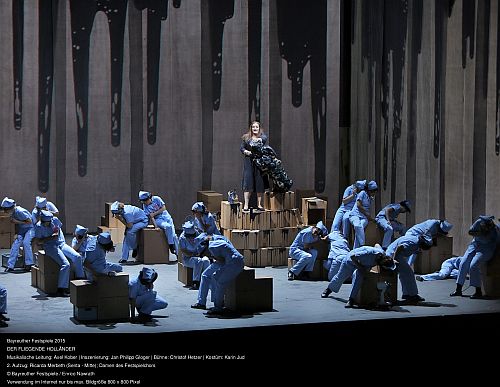 Cast:
Daland: Kwangchul Youn
Senta: Ricarda Merbeth
Erik: Tomislav Mužek
Mary: Christa Mayer
Der Steuermann: Benjamin Bruns
Der Holländer: Samuel Youn
Production:
Director: Jan Philipp Gloger
Sets: Christof Hetzer
Costumes: Karin Jud
Lighting: Urs Schönebaum
Video: Martin Eidenberger
Chorus Director: Eberhard Friedrich
This year Der fliegende Holländer was rather like the out-of-step middle movement in a three-movement symphony coming as it would for me between Tristan und Isolde – which was much better than many expected – and the sublime Lohengrin that would follow the next evening.
Before elaborating on that I would like to reflect on my 'recreation' of Wagner's original journey from Munich to Bayreuth which he chose as the place to perform the Ring. Travelling by bus on the first weekend of Germany's summer holidays it seemed a long – a very long – way. It must be remembered however that Wagner wished to escape the intrigues of King Ludwig II's courtiers and also to prevent his young admirer from staging his Ring operas against his wishes. Richard Wagner visited Bayreuth on the 17th April 1870 because he was aware of its famous baroque Margrave Opera House. Although that subsequently was found to be unsuitable for his works for a number of reasons he conceived the idea of constructing his own festival hall – the Festspielhaus – in Bayreuth. The city fathers supported Wagner's project and made some undeveloped land, the Grüner Hügel ('Green Hill'), on the edge of town available to him. At the same time Wagner acquired a property at the Hofgarten to build his own house, Wahnfried (which this summer has reopened after a period of renovation). For Wagner his new theatre was at Germany's geographical heart and people from all over Europe could make their pilgrimage to what the composer considered would be the fountain of their spiritual rebirth. During a much delayed bus journey never has my annual retreat to Bavaria seemed more of a crusade and I had even greater admiration for those visiting the theatre for the first time after it eventually officially opened on 13th August 1876.
Jan Philipp Gloger's revisionist Der fliegende Holländer began in 2012 and from the start was mired in the controversy over tattoos (of all things!) on the original Dutchman – Evgeny Nikitin – who had to leave the production. Though by the time I saw it that year the incident had generally been forgotten, many members of the audience still took part in a storm of booing to voice their displeasure at the new staging. Bayreuth is (in)famous for how a scandal one year becomes a success the next. Reports suggests this is the case this summer for Frank Castorf's – previously much disparaged – Ring which is now in its third year! By 2013 when I saw this Holländer again there was no dissent and just thunderous applause. It was the same again this summer but it would be great to have a time machine and see if a performance like this at Bayreuth would have been received so enthusiastically about 20 years ago. I doubt it.
At its première everything was splattered by blood-like red paint, now there are huge inky streaks down the real walls from time-to-time and Senta splashes some black paint around. As you will undoubtedly know if you are reading this, the Dutchman is cursed, cannot die and is condemned to sail endlessly on the world's oceans seeking redemption by a woman who will love him and remain true and faithful unto death. Jan Philipp Gloger envisions this as a parable of today's high-tech world with its rampant consumerism, the search for a profit at all costs and where everything – including love – has its price. As the curtains open there is no sea, storms or ships but just Christof Hetzer's installation filling the stage displaying digital streams of data which crisscross the stage. Daland, a factory owner, and his very eager bookkeeper, the Steersman, are for some reason in a small rowing boat amongst all this. The Dutchman and his crew – although appearing to be human – have always seemed to be to appear as if there have some cybernetic implants connecting them to that 'data network' and so are part of a collective or hive. I am probably reading more into all this than there is but I suspect the Dutchman can only be released from his curse by successfully 'assimilating' with a human woman who truly loves him. Until he finds her he remains a lonely figure with more money than is good for him which he wheels along in his carry on luggage. He is just seeking his next big buzz; he has all the drugs and women his money can buy but there is no redemption for him, nor can he kill himself.
This is Wagner's one-act version and we soon see Daland's production lines of women checking and packing electric fans. His daughter, Senta, dreams of escaping her boring life. She creates a fantasy Dutchman figure – and later a large pair of wings so she can become his 'angel' – from bits and pieces of cardboard off the factory floor. Her on-and-off boyfriend, Erik, is the maintenance man on hand for any quick repair needed. The announcement of their men's' apparent return from a sales trip only makes the women work even harder to reach their target of boxes shipped. The 'sailors' are business-suited executives bringing their wives and girlfriends to the launch of this new product. The Steersman is in charge of the balance sheet and oversees the party that will soon be invaded by the Dutchman's cohort.
When the Dutchman and Senta first meet they submit to what destiny has in store for them both. For him the only way to disconnect himself from the 'global market' is to burn all his money. With a seemingly ill-matched couple having fallen in love, there is the familiar rom-com staple of the obligatory argument when the Dutchman misinterprets Senta's pity for Erik as affection and believes he has lost all hope of redemption. They are united once more as Senta finally makes her vow to be his and stabs herself. They are last seen embracing on the top of a small ziggurat of boxes. The curtains then briefly close but soon open again to reveal how no opportunity has been lost to cash in on the grief of others and a final tableau shows the factory hard at work producing commemorative figures of the tragic couple as everyone last saw them!
It was a good performance whilst not being anywhere near the best Der fliegende Holländer I am ever likely to see. Samuel Youn is a fine singer but his Dutchman has never convinced me that he is Wagner's cursed, despairing, and ghostly figure. Of course his rather passive – slightly robotic – demeanour might be what Gloger's conception wants from him. Nevertheless, it might be interesting to see what another singer – John Lundgren – might bring to this role next year. Ricarda Merbeth was singing more carefully than before and also this year I did not believe as much in her psychotic obsession for the Dutchman. Also returning were Christa Mayer who was in sumptuous voice as Mary the wonderfully officious factory manager; Tomislav Mužek used his subtly lyric tenor to great effect and was good as the hapless Erik; best of all the performers was Benjamin Bruns as the eager-to-please – and particularly comic – Steersman. He sang with a sweetly refined tone and seemed to have more energy than some of his colleagues. Completing the cast was Kwangchul Youn as Daland: he is another very reliable Wagnerian who, whilst undoubtedly paternal, is not an extrovert enough performer for such an avaricious character as Daland (Peter Rose will sing the role next year).
I had previously heard Christian Thielemann – probably the world's greatest living Wagner interpreter – conducting this Holländer and wrote how 'it was just a little bland and needed more drama regardless of how superbly detailed, transparent and natural it all sounded'. I cannot think of anything different to say about this performance that was conducted by Axel Kober. As always it was impeccably played by the orchestra and was good but not great and symptomatic of a performance that you would expect to hear equalled – and even possibly bettered – at any number of opera houses throughout the world. My final words must be for the truly magnificent – and genuinely incomparable – chorus who excelled again here and undoubtedly make any pilgrimage to Bayreuth truly worthwhile.
Jim Pritchard
Look on this site for other recent reviews from the 2015 Bayreuth Festival and for more about the Bayreuth Festival visit http://www.bayreuther-festspiele.de/.