United Kingdom Prom 39: Mozart,  Die Entführung aus dem Serail: Soloists, Glyndebourne Festival Chorus, Orchestra of the Age of Enlightenment, Robin Ticciati (conductor) – Royal Albert Hall, London, 14.08.2015 (MMB)
Mozart – Die Entführung aus dem Serail K384 – Singspiel in three acts, libretto by Christoph Friedrich Bretzner, adapted by Johann Gottlieb Stephanie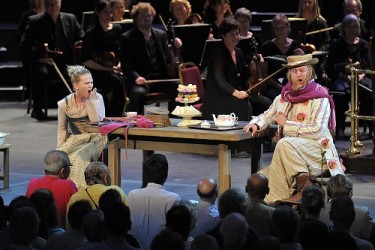 Belmonte – Edgaras Montvidas (tenor)
Konstanze – Sally Matthews (soprano)
Blonde – Mari Eriksmoen (soprano)
Pedrillo – Brenden Patrick Gunnell (tenor)
Osmin – Tobias Kehrer (bass)
Pasha Selim – Frank Saurel (spoken role)
Klaas – Jonas Cradock (spoken role)
Ian Rutherford (stage director)
Semi-staging, sung and spoken in German, based on the production by Sir David McVicar
As in the programme notes to this Prom, I am going to mention the story often told about the first night of Die Entführung aus dem Serail in Vienna on 16th July 1782. It is said that Emperor Joseph II told Mozart after the premiere "Too beautiful for our ears, my dear Mozart, and an awful lot of notes" or something similar, to which Mozart replied "Exactly as many as are necessary, Your Majesty". Nobody is certain if the story is true but it is generally accepted as such mainly because of Mozart's self-assured, spirited answer. It fits with what we know of his personality. Whether the episode really happened is not important but it illustrates rather well Mozart's genius and the fact that as a composer he was far ahead of his time.
Die Entführung is musically very rich and not only because of the colourful Turkish elements that Mozart introduced. His sense of the dramatic is present throughout and of course it doesn't "have too many notes" but the music describes the characters' personalities and feelings as well the words do – or better, in my opinion. This is something that Mozart excelled at and arguably the reason why his operas – especially from Idomeneo onwards, his first masterpiece – are so extraordinary and still popular today.
Directors often want to do something different not only with Mozart's operas but also with many operas from the Baroque and the Classical Period as they patronisingly fear modern day audiences wouldn't otherwise be able to relate to the old pieces. So, the stories are often transported to a more recent period, with contemporary values and costumes, and usually a message that they believe is relevant to modern day audiences. Sometimes directors succeed, as in Glyndebourne's production of Rameau's Hippolyte et Aricie from the 2013 Festival; other times they succeed only partially at the expense of important features of the opera being missed or becoming out of place, as was the case with the Glyndebourne production of Mozart's Le nozze di Figaro, revived during the 2013 Festival; or sadly and more often than not, they fail. I could think of a long list of failures across several of the greatest opera houses in the world but they're just too many to mention here.
For all these reasons, I did wonder what Glyndebourne would do with Die Entführung. For a change, it was a production in period costume, putting the music first and true to what appear to have been the composer's intentions. As such, I thought this production by David McVicar was a real breath of fresh air. At the Proms we were treated to a semi-staging (with the cast in costume and some props to help it along) cleverly put together by Ian Rutherford. As I've said once or twice before, the Royal Albert Hall is not a good venue for Mozart's music or for staging of opera. It is far too large and the acoustics are relatively poor. Classical singers sing of course without microphones and so, as it was a semi-staging, the cast was acting (not just singing forward as in a concert performance) and moved around a bit as in any normal staged production. Whenever the singers were not singing forwards or had their backs to one side of the auditorium, the voices appeared to fade and it was difficult for that particular part of the audience to hear them, let alone understand the words. It is no fault of the singers and simply the nature of the place but it impacted the enjoyment. The other thing was the "whispering" of pages being turned as the action progressed. The BBC might consider having surtitles for the next season. While it is very nice to be able to buy the libretto and follow the action, line by line, it can interfere with or distract from the music.
Having said all that, last evening's performance of Die Entführung was still exceptionally enjoyable. Robin Ticciati's reading of Mozart's score was honest, clear and faithful to the composer, leading the always outstanding Orchestra of the Age of Enlightenment into a very period authentic performance of the music, displaying remarkable quality throughout and overcoming the disadvantages of the Hall. To me, they were the real stars of the show. Mozart's music is naturally brilliant but, with their obvious enthusiasm and joy in playing it, they made it positively shine. They were magnificent which doesn't mean the cast wasn't worthy. On the contrary, it was a rather excellent cast and especially Sally Matthews as Konstanze and Tobias Kehrer as Osmin stood out.
Kehrer has the advantage of being a native German speaker (he was born in Dessau and studied in Berlin) and it shows, particularly in the dialogue parts. German is natural to him so it flows and the colours and nuances of the language never disappear, enhancing the singing. Additionally, he is a very good actor, with great comic timing, making his Osmin rather believable. He also has a very warm, sonorous bass that he easily projected to the far corners of the auditorium, making him one of the few members of the cast who could always be heard even when his back was turned to the audience. Sally Matthews gave a gutsy, convincing performance as Konstanze. She has a richly warm soprano tone, with firm high notes and excellent projection; her diction is very clear and her German pronunciation was very near perfection. Her rendition of the fiendishly difficult (and long), famous aria Martern aller Arten in Act II was breath-taking, winning her a roar of bravos and well-deserved wild applause from the audience.
Mari Eriksmoen was a sassy, funny, cheeky and brave Blonde and her singing was very pleasing. Lithuanian tenor Edgaras Montvidas was an excellent Belmonte. He has a handsome figure, with an attractive stage presence and was very convincing as the young, good-looking lover. His tone is a little metallic but he has assured high notes and a soft, clean legato, so important in a Mozart role. The only thing I didn't like so much (but perhaps it's just me) was that he produces the goods in force, his singing is not seamless and one notices the difficulty of the piece and the effort he's putting into it most of the time. Pedrillo was sung by American tenor Brenden Patrick Gunnell. He is a good actor with an outstanding sense for comedy and an agreeable voice but he appeared to struggle with German, mostly when speaking. His sung German was considerably better and clearer than the spoken. In the dialogues, particularly when he had a relatively long speech, he was often incomprehensible. German doesn't seem to come naturally to him and he just tried to get through the spoken words too quickly, sounding muddled and forcing me (a fluent German speaker) to look at the libretto in order to understand what he was actually saying. I suppose for an overwhelmingly British audience, who probably doesn't understand German anyway, it wasn't a problem but for me, it became a little annoying.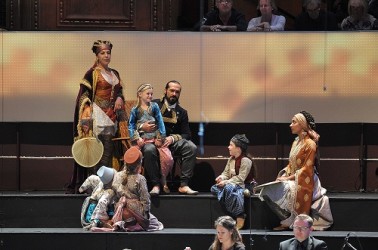 Finally, we come to the spoken roles. There are two in this opera, as the piece isn't really an opera but a Singspiel, a genre popular in Germany, literally translated as a "singing play", which means that yes, it is an opera but it also has roles that are just spoken. One of the spoken roles in Die Entführung is very small – that is the role of Klaas, a Dutch sea-captain who has only a couple of lines. It was played well enough by Jonas Cradock. The other role that of Pasha Selim is the lead role, a key part, as he is the character who carries the action. At the Proms it was performed by the Frenchman, Franck Saurel. He is a remarkable actor and was very convincing in expressing the turmoil of feelings he has for Konstanze. The duality between his position of power and the decent man that he truly is came across exceptionally well. His passion for Konstanze was palpable. His struggle between using force to relieve that passion and respecting her because he truly loves her was felt throughout and was particularly effective in scene 3 of Act II where he confronts Konstanze and she sings the powerful Martern aller Arten. Additionally, Saurel has a very charismatic stage presence, an impressively athletic physique and a grave, manly voice which all suited and enhanced the character. The downside was his German language. While he spoke clearly and pronounced the words well, he wasn't able to get rid of his French accent completely. It wasn't strong but it was noticeable and, to my mind, it took away some of the impact of his final speech when he shows kindness instead of vengeance to the son of his archenemy (Belmonte's father). Nevertheless, he was still a believable, majestic Selim.
On the whole, I very much enjoyed this semi-staging of this year's Glyndebourne Festival production. It made for a very entertaining and musically satisfying evening at the Proms but I can't help thinking how much more beautiful and powerful a performance it must have been at the Glyndebourne auditorium.
Margarida Mota-Bull