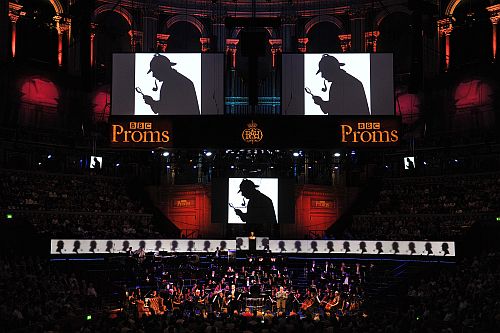 Prom 41: Sherlock Holmes a Musical Mind: Mark Sweet and Mark Gatiss (presenters), Jack Liebeck (violin), Christine Rice (mezzo-soprano), Stile Antico, BBC Concert Orchestra/Barry Wordsworth (conductor), Royal Albert Hall, London, 16.8.2015. (JPr)
Themes and incidental music for Sherlock Holmes in Film and TV by Hans Zimmer, Patrick Gowers, Frank Skinner, Miklós Rózsa, David Arnold and Michael Price

Lassus – Osculetur me & Super flumina Babylonis
Rossini – 'Una voce poco fa' (The Barber of Seville)
Tchaikovsky – 'Ah, Tanya, Tanya' (Eugene Onegin)
Paganini – Violin Concerto No.2 – 'La campanella' (3rd movement)
Wagner – The Ride of the Valkyries (Die Walküre)
People were coming up to me before this Prom asking me how many other ones I had been to this season. Actually this was my first one … and the first one in my diary as soon as this year's season was announced! A glance at my reviews for Seen and Heard will reveal some of my eclectic interests and amongst them has been a lifelong interest in all things concerning Sir Arthur Conan Doyle's famous consulting detective from 221B Baker Street, Sherlock Holmes and his friend and biographer, Dr Watson. As it said in the admirably informative printed programme this Prom was to 'celebrate the crime-fighting violin virtuoso and explore the musical mind of one of London's icons'.
I know that many around me in a not entirely full Royal Albert Hall had only one question in their 'mind': would Benedict Cumberbatch, star of the BBC series Sherlock, be present to welcome us to this celebration of the character he, as well as, creators Mark Gatiss and Steven Moffat have brought into our high-tech contemporary world since 2010? With a one-off Christmas special looming when 'their' Holmes returns to the world of Doyle's original stories I thought the BBC missed a publicity trick by not having Cumberbatch there – on a day off from playing the Prince of Denmark at the Barbican – either in person or on film. However he was nowhere to be seen though Mark Gatiss – who also plays Sherlock's brother, Mycroft, in the worldwide hit TV show – was one of the presenters and the afternoon was an endearingly quaint reflection on the 'real' Holmes with snatches of music from some of his screen incarnations and music that he might have enjoyed listening to. It was so divorced from the BBC's own show that femme fatale Irene Adler (Watson recounts 'To Sherlock Holmes she is always the woman') was described throughout as an opera singer and not the dominatrix Gatiss's co-collaborator Steven Moffatt turned her into!
Another possible question was 'Who is your favourite Holmes?' According to Gatiss it was Jeremy Brett who played him for Granada TV from 1984 to 1994 and he said 'It was a remarkable performance from a remarkable man. He had a kind of manic energy and it really drove him mad … of course all Sherlock Holmeses go mad eventually but he started quite early! But it's what makes him so definitive for an entire generation.' (For what it is worth I much preferred Peter Cushing and the even better Douglas Wilmer who is still with us at the age of 95.) Although David Arnold and Michael Price's score for Sherlock is schizophrenic, cosmopolitan and ideal for London in the twenty-first century it was clear that Brett might have had all the best tunes. Patrick Gower composed most of them and as performed by violinist Jack Liebeck 'Baker Street Reunion' was especially poignant and plaintive and his cue for 'Irene Adler' was deeply romantic which was not a surprise considering how very much it owed to the Prelude to Tristan und Isolde!
From what we heard, in the cinema Holmes has been less well-served by Hans Zimmer's rather more raucous and somewhat generic scores for Robert Downey Jr's comic book incarnation for Guy Ritchie's pair of films a few years ago. This paled in comparison with the marvellous Miklós Rózsa's Main Titles from Billy Wilder's 1970 The Private Life of Sherlock Holmes – one of my favourite films of all time – with has a superbly nuanced, moody, and misogynistic Holmes from Robert Stephens. Matthew Sweet, who also provided the programme notes, described it as 'Probably the most bewitching Sherlock Holmes film ever made' and outlined the plot as 'involving a knot of German spies and the Loch Ness Monster' and forgot the six missing people of very small stature! Rózsa's sweeping romanticism is a nostalgic hark-back to Hollywood's golden age and I know it so well that I could appreciate even more here the consummate playing throughout this Prom of the BBC Concert Orchestra under the vastly experienced Barry Wordsworth.
Mentioning Germans, the orchestra also made a selection of music by Frank Skinner (a former dance band leader) for the 1942 film Sherlock Holmes and The Voice of Terror – when Basil Rathbone's updated Holmes fights the Nazis – sound more resplendent than it might otherwise have been. Its final theme was also stunningly stirring and doom-laden and was the perfect backdrop to Gatiss and Sweet's splendid recreation of the wonderful ending to that wartime patriotic film when Rathbone intones Holmes's elegiac monologue from his final case His Last Bow (published in 1917 but set in 1914 on the eve of the First World War) 'There's an east wind coming …'.  After a rather infantile opening from presenter Matthew Sweet he went on to prove his Sherlock Holmes credentials and both he and Mark Gatiss proved to be pleasant company as this event unfolded. They were helped by screens showing memory-jogging vintage film posters and stills as well as original illustrations from the Sherlock Holmes stories.
I could have done with more film and TV music if there was enough available as most of the rest of what we heard seemed to be there just to fill up a two-hour slot with little evidence from Doyle to support its inclusion. That Irene Adler was a contralto and may have sung some Rossini or Tchaikovsky seemed a bit odd – to say the least – regardless of how splendid Christine Rice was in filling the vast auditorium with her sumptuous rich mezzo voice and her emotional engagement as always with what she was singing. The Ride of the Valkyries was included just because Holmes happened to mention about going to 'a Wagner Night at Covent Garden'. Paganini is discussed in one of the stories so the third movement from his Second Violin Concerto was a better idea and it received a compelling and virtuosic performance from Jack Liebeck. Even more appropriate were the two motets by a relatively obscure sixteenth-century composer Orlande de Lassus which were sung with eloquent refinement by Stile Antico: at the end of one of his cases Watson writes, 'he returned refreshed to his monograph upon the Polyphonic Motets of Lassus, which he had printed for private circulation, and is said by experts to be the last word upon the subject'.
My last word should be about what Sir Henry Wood would have made of all this looking down as he was with his bust adorned with a deerstalker … apparently Sir Arthur Conan Doyle's only previous connection with the Royal Albert Hall was when he judged a bodybuilding contest there in 1901!
Jim Pritchard
Hear this and other Proms on the iPlayer for 30 days after the event via the BBC Proms website www.bbc.co.uk/proms or download for 30 days via the free iPlayer Radio app.
For more information about the 2015 BBC Proms season visit www.bbc.co.uk/proms.