United Kingdom BBC Prom 60 –  Schoenberg, Cowell and Mahler: Jeremy Denk (piano), San Francisco Symphony Orchestra / Michael Tilson Thomas (conductor), Royal Albert Hall, London, 30.8.2015. (JPr)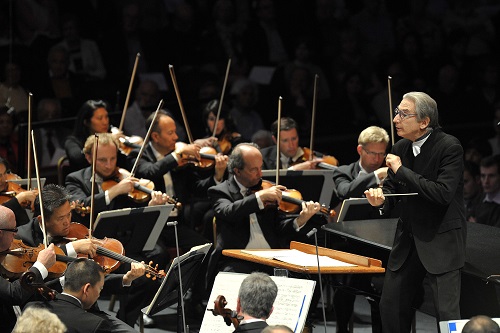 Schoenberg:  Theme and Variations Op.43b
Henry Cowell: Piano Concerto
Mahler:  Symphony No.1 in D major
Celebrating 20 years as the orchestra's musical director Michael Tilson Thomas brought the San Francisco Symphony back to the BBC Proms for the first time for almost a decade. Initially I thought they were playing it rather safe with an unadventurous programme of music including a piece by an American 'Maverick' composer, Henry Cowell (1897-1965) and some very familiar Mahler … but by the end they had won me over. It wasn't the quixotic Cowell's 1938 Piano Concerto or Schoenberg's easily forgettable 1943 tonal(!) Theme and Variations Op.43b but probably one of the best accounts of a Mahler symphony I have heard in the Royal Albert Hall. It was certainly the best Mahler One I have sat through there … and up near the top of the list of the best I have heard live anywhere!
At last Stephen Johnson's programme note has acknowledged that 'There are shrill echoes of Jewish Klezmer music (traditionally associated with weddings)' in the First Symphony's third movement – he must have read my comment on something he wrote previously when I reviewed Bernard Haitink conducting this same work recently! With his Jewish heritage and as a grandson of Yiddish Theatre performers Michael Tilson Thomas knows what this traditional music should sound like and never have moments of that third movement seemed  more to foreshadow his later famous statement to his wife, Alma, that 'I am thrice homeless, as a native of Bohemia in Austria, as an Austrian among Germans, and as a Jew throughout the world. Everywhere an intruder, never welcomed.'
'Sheen' is often a word used to particularly describe the sound of the San Francisco Symphony but by the end of Mahler's First Symphony it was for me like being enveloped in a cosy warm blanket in front of a welcoming open fire on a cold winter's evening. The orchestra who are on a European Festivals Tour were recently in Edinburgh (review) and they played the short first half of this concert as if they were already homesick. Schoenberg must have written better music than his Themes and Variations Op.43b which he developed from a composition for a college band soon after his arrival in the USA as a refugee. Performances of this are rare and it was receiving its first outing at the Proms.
Schoenberg himself described it as 'not one of my main works, as everybody can see, because it is not a composition with 12 tones.' It begins with a march-like theme in G minor which after about a minute is followed by six small-scale variations each with much intricate counterpoint and other writhing neoclassical detail. The seventh variation is the Finale which wraps things up by reviewing what has gone before and ends in an empathic blaze of G major. Although very interesting because I was hearing it for the first time – and played with considerable accomplishment by all sections of the orchestra – it outstayed its welcome even at only 13 minutes in duration!
I could say much the same about the equally short Cowell Piano Concerto famous for its tone-clusters where the soloist attacks the keyboard with his elbows and forearms. This – not surprisingly – was also having its first performance at the Proms. There's a lot going on in the music during its very compressed three-movement span and it was interesting to a small degree but not a piece I need to hear twice despite Jeremy Denk attacking the piano with great gusto. Although there wasn't much time for reverie I began to hear the sort of sounds I had heard earlier in the Life Story Prom where music was the soundtrack for some animal antics. I became lost in thought over what animals this piano concerto could be used for. A much more creditable showcase for Denk's virtuosity was his encore, The Alcotts from Charles Ives, another 'Maverick'. This is the third movement of his 1919 Concord Sonata and includes the motif from Beethoven's Fifth Symphony and other familiar quotes. It was intimate and ruminative and the polar opposite of the Cowell piece that preceded it … and all the better for it! The applause this received was much warmer than for the concerto and (again) deservedly so.
After the interval it was near-perfection and totally justified the San Francisco Symphony's unalloyed reputation for Mahler. Michael Tilson Thomas and his orchestra had so tamed the Royal Albert Hall's infamous acoustics that the Symphony's soft beginning (which Mahler called 'a sound of nature') was as if the music was being (re)born for each one of us at the start of Mahler's autobiographical journey through his symphonies. The music emerged from hushed strings and the sounds of cuckoos from the woodwind, and then marched forth with allusions to the composer's vocal music. First we heard 'Ging heut' Morgen übers Feld' from Lieder eines fahrenden Gesellen, then 'Der Trompeter von Säckingen' and 'Hans und Grete'. Later there was Mahler's use of 'Frère Jacques' (known in the German speaking world as 'Brother Martin') in the third movement. It began with Scott Pingel's mournful double bass solo before the sombre music unwound through the entire orchestra until interrupted by a grotesque dance with all that Klezmer music with which Mahler alludes to his Jewish roots.
Mahler once revealed how the Symphony was inspired by a love affair that ended badly and with MTT conducting (the orchestra also call him that apparently) it was deeply romantic and had a grandeur missing in more ironic approaches. There was a sense of 'life goes on' – which is all the more appropriate considering what Mahler followed this First Symphony with! MTT has a deep respect and affection for the music and he gave us transparent textures and an unidiosyncratic account of the score. It all built up a head of steam through the first three movements to make the finale as epic as it must be when played like this. Here the stirring brass chorale with its heroic final bars seemed the anticipated exultant celebration of the triumph of life over death that everything which preceded it was leading us up to. I never doubted it could fail in such safe hands as MTT and with such a wonderful orchestra as the San Francisco Symphony, it didn't, and nobody present at that moment would have wanted it – or themselves – to be anywhere else.
Jim Pritchard
Hear this and other Proms on the iPlayer for 30 days after the event via the BBC Proms website www.bbc.co.uk/proms or download for 30 days via the free iPlayer Radio app.
For more information about the 2015 BBC Proms season visit www.bbc.co.uk/proms.