Sweden Hector Berlioz, Beatrice and Benedict: Soloists, Läckö Slottsorkester, chorus and ensemble, Simon Phipps (conductor), Läckö Castle, 31.7.2015 (NS)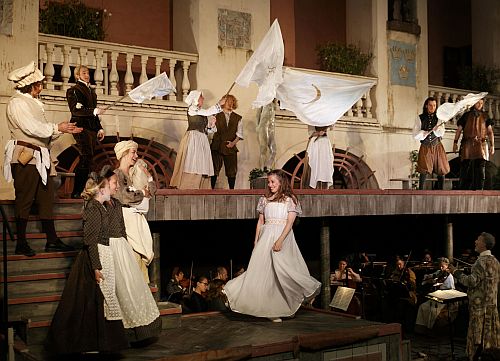 Cast:
Beatrice, cousin of Hero: Mette Bjærang
Benedict, officer, friend of Claudio: Karl Rombo
Hero, Leonato's daughter: Magdalena Risberg
Claudio, officer, engaged to Hero: Thomas Sepp
Leonato, Governor of Sicily: Mats Jäderlund
Don Pedro, general: Staffan Liljas
Ursule, in service with Leonato: Maria Streijffert
Somarone, a music master: Linus Börjesson
Chorus (singing roles): Mette af Klint, Johanna Wallroth, Agnes Duvander, Jenny Hertzman, Frida Josefin Österberg, Amanda Karlsson, Jonatan Lönnqvist, Nils Hübinette, Anders Rimpi, Erik Rosenius, David Berggren.
Ensemble (silent roles): Rebecka Wallroth, Astri Söderholm, Siri Söderholm, Svante Rombo, Gunnar Rytterås.
Production:
Läckö Slottsopera
Conductor: Simon Phipps
Director: Catarina Gnosspelius
Costume design: Anna Kjellsdotter
Makeup design: Terésia Frisk
Lighting design: Markus Granqvist
Set design: Simon Irvine, Jan Borén
Conductor's assistant and arranger: Johan Larsson
Swedish translation: Catarina Gnosspelius
Läckö Slottsopera drew their three-year Shakespeare birthday celebration to a close with the Swedish premiere of Berlioz' Beatrice and Benedict. As in the two previous productions of A Midsummer Night's Dream and Falstaff this production revels in the playfulness of Shakespeare's comedies and Berlioz' delightful opera (all the more remarkable for being composed when he was in severe pain from chronic illness). 153 years after the world premiere Läckö's team (this time with Catarina Gnosspelius as director rather than producer) have again made a hit. Their bold repertoire choice has been amply justified by this rewarding production.
Simon Phipps and his musicians were in costume and enjoyed their interaction with the onstage characters (the badinage between the entertaining Somarone and the oboist was especially amusing), but they really excelled with their instrumental playing. The soft section early in the overture was played with real tenderness, while the terrific opening chorus was accompanied with real Berliozian rhythm and brio. The chorus were also stunningly beautiful in their offstage singing just before the wedding scene in Act 2, singing in the outer courtyard and letting their song waft to the audience with perfect balance.
The chorus deserves special mention not only for their singing but also for their wonderful characterisation. The chorus and silent ensemble members were each members of Leonato's household given individual life by Ms Gnosspelius direction. This really gave the production an extra dimension, particularly when Frida Josefin Österberg's Laundress and her son (Svante Rombo) have a wordless but deeply emotional reunion with her husband (Gunnar Rytterås) who has returned wounded from the victorious war. That this scene took place during Hero's first aria gave extra poignancy.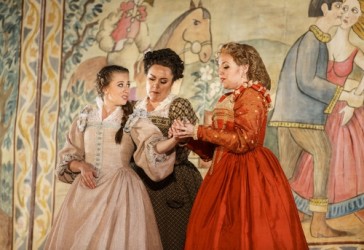 Magdalena Risberg made a lovely Hero, with excellent diction and a beautiful silvery soprano voice that she deployed with virtuosic technique in her first aria. Her phrasing floated beautifully and she communicated her characters' emotions with great effect. Ursule (Maria Streijffert) provided a mature counterpart to Hero's youthful voice with her rich, dark contralto; their nocturne was simply heavenly, with their voices blending exquisitely.
Beatrice (Mette Bjærang) had a luscious golden mezzo that fitted the role perfectly. Her sarcastic barbs directed at Benedict were very believable, and her Act 2 aria where she realises she loves him was thrilling, showing a new, more sensual, aspect to her voice. Her voice also blended beautifully in the trio with Hero and Ursule.
Thomas Sepp made a believable Claudio and had an attractively warm baritone. He also got the relationship between Claudio and Benedict just right: his lyrical recommendation of marriage has a touch of humour that tells us that this subject has come up before between the two friends.
Karl Rambo's Benedict showed superb comic acting, especially in the spoken scene where the other men start to trick him that Beatrice is in love with him. The combination of his physical antics and the barely supressed laughter of Claudio, Leonato and Don Pedro had the audience in stitches. His bright and well-focussed tenor was versatile, equally at home in Benedict's cut and thrust with Beatrice and in his more introspective arias.
This was a performance full of infectious gaiety. Catarina Gnosspelius' lively translation of the libretto deserves a mention, along with direction that combined a focus on storytelling with sensitivity to the special atmosphere of Läckö Castle. The balcony and windows were used imaginatively and part of the garden moved in to the inner courtyard (thanks to the castle's head gardener Simon Irvine) for a lovely Act 1 set. Jan Borén's colourful paintings provided a warm and festive backdrop for the second act. All this came together with the superb musicianship of the entire cast and orchestra to produce a very special occasion. As Benedict remarks in Shakespeare's Much Ado About Nothing, "Is it not strange that sheep's guts should hale souls out of men's bodies?"
Niklas Smith