United Kingdom Debussy, Mozart,l Shostakovich: Elizabeth Leonskaja (piano), Royal Phiilharmonic Orchestra / Charles Dutoit (conductor), Royal Albert Hall, London, 19.8.2015. (GD)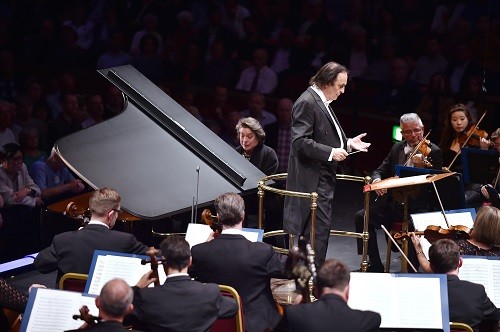 Debussy, Orch. Henri  Busser:  Petite Suite
Mozart:  Piano Concerto No, 22 in E flat Major, K 482
Shostakovich:  Symphony No. 15 in A major
Anyone doing a comparative review of recorded versions of K 482 would have there work cut out, in 'historic' recordings alone, there are performances from such luminaries as Schnabel and Bruno Walter, Badura-Skoda and Furtwängler, Annie Fischer and Klemperer, Richter and Britten, Serkin and Casals. Perhaps it was the wonderful scoring, especially from the clarinets (replacing oboes), and enhanced parts for horns, and trumpets and drums, which Mozart added later, which drew these fabled performers, especially  conductors, to this work? Apart from a wide range of fine modern performances (including those in 'period style), K482 is (rather strangely) not so frequently performed today as would be expected. So, with this in mind, I was looking forward to tonight's Prom rendition with much anticipation.
As with the later great Piano Concerto in C major (K 503), K 482 opens with an E flat commanding bravura  coup d'archet for tutti orchestra in E flat with Olympian sounding trumpets and drums. Dutoit played this opening very accurately and clearly, but I really did want more  in terms of majestic power; trumpets and drums here  and thoughout the whole performance were peculiarly held back. But on the plus side we heard some beautifully crafted woodwind interweaving, in a serenade like fashion, with the elaborate solo and orchestral textures; no fewer than seven beautifully wrought melodic ideas here in the first movement, variously developing from the opening, and other themes. The extraordinary dialectic between impressive symphonic development and the world of domestic serenade was all well realised here. I also found admirable the way Leonskaja avoided too much of her own imprint, playing mostly in conversational style with the orchestra. Of course, in the cadenza by Benjamin Britten (Mozart leaving no clues at all) she had the opportunity to elaborate on previous thematic material with some tantalising pre-figurations of the last movement with its 'hunting' tone. Richter, after playing this cadenza with Britten, went on to play it in later performances. But I was left wondering whether this very long invention had more to  do with Britten's skills of invention than anything to do with Mozart?
The C minor Andante had to be enchored at the first performance (1785 with Mozart playing and directing), Mozart mentions this in a letter to his father, but he seems to have found it in no way unusual. It certainly would be unusual today! The movement unfolds in exquisite variation form. For Einstein it was 'a combination of song and variations'. Its mood of melancholy and mourning gives way to a sense of consolation, as heard in some Mozart's sublime operatic arias. Again there was beautiful phrasing from Dutoit, especially again in the woodwinds, and Leonkaja played with a pleasing sense of dialogue. But for a movement marked Andante I would have welcomed more of a sense of onward motion. Nothing sagged, and everything held together, but sometimes it sounded more like an Adagio!  The finale 'hunting' movement, with its beautifully contrasted A flat minuet (Andantino cantabile remembered from K 271 written 9 years earlier) was well integrated, with great delicacy and cantabile from the strings. But overall I wanted more sparkle, more of that sense of  opera buffa heard particularly in 'Figaro' premiered in Vienna a year later. Dutoit used a scaled down string section but I wish he had deployed antiphonal violins, a sine qua non in Mozart.
As an encore Leonskaja gave us an absolutely inspired rendition of Chopin's D–flat major Nocturne No. 8 (Op 27 No. 2). It was a performance that exuded a wonderfully resonant glow, while at the same time delighting in Chopin's most intimate, and intricate filigree of contrasting themes and counter-themes. It left me hoping to hear Leonskaja in the complete Chopin nocturnes, either in performance or on CD.
The last symphony of Shostakovich is full of allusions: allusions to his own works, especially the satirical Ninth Symphony, and also the Fifth, Sixth and Seventh symphonies. And there are references and quotes from Glinka, Tchaikovsky  Mahler,  Rossini and especially Wagner from the Ring and Tristan und Isolde. These references are most skilfully woven into a symphonic structure that never sounds anything other than Shostakovich.
There are also literary allusions at play. The original idea came from an ironic and bizarre story by Chekhov. The composer tells us that he imagined the opening movement as a toyshop at night where the toys come to life after the shopkeeper has left. This has a distinctly Hoffmannesque feel, but it also has been used in other literature and cinema taking on associations with malevolence and terror.
Not that Shostakovich meant this work to be any kind of 'horror' symphony. On the contrary, and especially in the play of all kinds of percussion  (no fewer than 14 percussion instruments) a lighter mood is suggested. But on the other hand death is a prevailing theme of the symphony – what the composer called the Death-Song – from the references to Wagner's Die Walküre (Wotan's death pronunciation in the second act, and Siegfried's funeral music). The references from Tristan are more to do with love. But 'love' in Tristan really conflates with death.  Dutoit and the RPO  in brilliant form caught these parodies, ironies with great conviction. The first quotation of the Rossini Galop  theme from the William Tell Overture had a real rhythmic bounce which made the banality of its sudden intrusion all the more telling. Also Dutoit gave the twelve tone canonic rows, in the first movement, a sense of astringency, but also of lightness – another paradox. On the evidence of tonight's playing the RPO under Dutoit is surely more than equal to the best of London's top orchestras.
Dutoit maintained an essential underlying pulse in the second movement with its sombre brass chorales and  lamenting cello solo, with an ominous lamenting chorale theme from a solo trombone. The huge build up over the opening bleak theme had all the impact one could wish for. But in the last analysis I missed some of the sheer terror heard in the superb Mravinsky version from a live Leningrad performance in 1976. This was no doubt also to do with Mravinsky's very Russian sound, particularly in the brass with their grainy raw edge and in their snake-like growling ostinato figurations.  Critics (especially English critics) tend to hate this Russian sound. But I believe this is the very sound the composer wanted, especially in this symphony. The scherzo third movement was again very well played and contoured. But I missed that last ounce of sardonic, even black humour, especially in the trombones descending glissando in which we hear Shostakovich's signature theme DSCH.
In the finale Dutoit managed the transition in the strings from the opening Tristan theme to the consoling lyrical major key theme with great sensitivity, particularly in matters of phrasing. The prominent oboe theme in the succeeding Allegretto, intoning a song by Glinka, was again beautifully phrased and played, but I felt that Dutoit held on to such passages, underlining their ravishing lyricism, but also introducing a static quality and losing  the sense of movement implicit in the score. But  in the already mentioned Mravinsky live recording this all flows spontaneously, with an inevitable sense of an unfolding drama. But those ravishing sequences almost persuaded me against any such criticism!  The last catastrophic climax, with quasi references to the 'invasion' sequence in the first movement of the 'Leningrad' Symphony, came across with considerable power,  the repeated ground bass clearly audible.  It was all very impressive, and the long, mysterious coda, with its pedal point on the strings ( described by one commentator as a 'musica  angelica') and the tick tock of a clock sounding over the array of percussion was expertly conducted and played. The last harmonic shift to A major giving way to a D with a last allusion to the Tristan motive sounded clear and inevitable. The coda's return to the toy shop sounds of the first movement leave us with a kind of question mark. Are the moving toys, puppets inviting us to play with them? Or are their strange 'unheimlich' sound-world meant to haunt us?
The concert opened with a charming rendition of Debusssy's Petite Suite composed between 1886 and 1889 for piano with four hands. Debussy's friend Henri Busser orchestrated it in 1907. Busser's orchestration is so idiomatic that it could have been by the composer himself. It is full of enchanting melodies and rousing rhythmic dance inventions that could only come from a French composer. It is very surprising that it is so rarely played; there are only a few recordings of it. The Martinon recording sounding the most authentically French. But Dutoit and the RPO ran it close tonight. Indeed it is remarkable how French sounding the RPO can sound under Dutoit, who is of course a master exponent of French music, although born in Lausanne Switzerland ( where French is the spoken language) he spent much of his formative years either in France, or with French musicians like Charles Munch and French inspired Ernest Ansermet.  . Dutoit caught this French flavour to perfection in the opening 'En bateau' with its 'rippling arpeggios' and poetic flute figurations. Also the ' Menuet' with its antique inflections and constrasting of A minor and D minor. And the concluding 'Ballet' with its exuberant 2/4 and 3/8 dance rhythms, juxtaposed with waltz themes.
Geoff Diggines