United Kingdom Prom 34. Britten, Korngold and Prokofiev: Nicola Benedetti (violin), Bournemouth Symphony Orchestra, Kirill Karabits (conductor), Royal Albert Hall, London, 10.8.2015 (AS)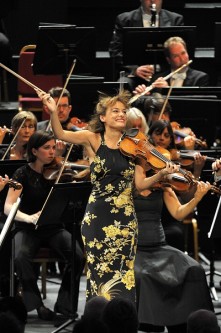 Britten: Peter Grimes – Four Sea Interludes
Korngold: Violin Concerto in D, Op. 35
Prokofiev: Symphony No. 5 in B flat, Op. 100
Britten's Four Sea Interludes could be perhaps considered as another of the composer's guides to the orchestra, apart from his Opus 34, which was written a year or so later, since the work provides a good opportunity for all sections to shine. We don't hear the Bournemouth orchestra in London very much these days, and so it was good to experience its fine playing in this piece, with warm sounding strings, firm brass chording and stylish woodwind. Kirill Karabits directed a searching account of the four episodes that make up this satisfying concert piece. His conducting was in turn potently atmospheric and highly dramatic.
 It scarcely seems 18 years since Gil Shaham played a very fine first-ever Prom performance of the Korngold Violin Concerto, with the Bournemouth Symphony directed by the late and much-lamented Yakov Kreizberg. The orchestra has recently made a much-praised and publicised recording of the work for Decca with Nicola Benedetti and another Russian conductor, Karabits, in fact, and so now we could hear those self-same artists present the work in live performance. It's a piece that seems to fit Benedetti's playing personality very well. She brings out the work's long, highly romantic melodic lines adroitly, but always in a way that never veers towards sentimentality. It's not a concerto that should be taken too seriously, perhaps, for its film music origins are all too obvious; it's best to lean back and just enjoy the luscious sounds. In this performance we could hear clearly how Korngold loves to feature the piquant sounds of xylophone and celesta, sometimes in tandem.
 We are used to hearing fairly blunt, straight down the line presentations of Prokofiev's Fifth Symphony, but Karabits's approach was a little different. At once in the first movement it was evident that he was looking more inwardly into the music, searching for lyrical elements and drawing out contrasts of mood. This was an intriguing interpretative slant, but perhaps it made the movement sound a little more episodic than usual. Nor was the playing quite so assured as it had been in the Britten and Korngold, which was strange, considering how well versed this ensemble is in the music of Prokofiev through its performances and recordings for Onyx Classics, including a recent release of this very symphony (review).
 Artists vary in their response to unwanted applause between movements of a work. Benedetti had turned her back on the audience ever so slightly after the first movement of the Korngold. When applause broke out at the end of the Prokofiev's first movement, Karabits responded by driving straight into the second amid the clapping. This meant that the first few notes of the vigorously played Allegro marcato were unclear, but his tactic ensured silence after that movement and again after the third. In that third-movement Adagio Karabits continued his expressive, softer than usual approach, to good effect in this case, and also in the final Allegro giocoso, though here the music's structure seemed a little looser than normal and sharp orchestral attack was a little lacking. But it was an intriguing slant on the great symphony as a whole.
 Alan Sanders