United States Mozart, Opening-Night Program Mostly Mozart Festival  (Repeat of Tuesday Concert), Emanuel Ax (piano), Erin Morley (soprano), Mostly Mozart Festival Orchestra, Louis Langrée (conductor), Avery Fisher Hall, Lincoln Center, New York, 29.7.2015 (SSM)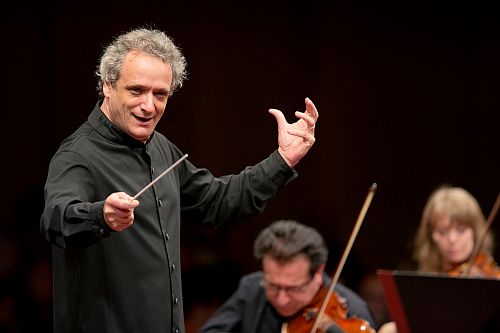 Mozart: Overture to Der Schauspieldirektor ("The Impresario")
Piano Concerto No. 14 in E-flat major, K.449 ( with Mozart's cadenza.)
"Vorrei spiegarvi, oh Dio!"
"No, che non sei capace"
Symphony No. 34 in C major, K.338 with original Menuetto (fragment)
Although this year's Mostly Mozart Festival has its share of non-Mozart events and composers, it is a nod to its history that the opening concert was all Mozart. The two main non-Mozart events this year are the premier of composer-in-residence,  George Benjamin's opera, Written on Skin; and in the Festival's closing concert, Haydn's Creation. In previous years, a composer was often highlighted such as Beethoven, Schubert or Haydn. Some years a theme was used to distinguish one Festival from another. The 2012 theme, for example, revolved around composers whose works were influenced by or featured bird songs. Loudly played in the lobby, the tweets and chirps became obnoxious when mid-Festival they began to accompany you to the rest rooms. In the past few years the Festival's opening concerts have been what they should be: mostly Mozart.
This year the Festival is presenting a particularly fine array of Mozart's works, a smorgasbord of the varied styles in which he was proficient. Mozart was just about the last composer to totally master all the musical forms available to him. Beethoven and Schubert missed the mark with their failed operas. Chopin was uncomfortable in writing for any other than instrument than the piano. Schumann and Brahms too had difficulties writing vocal music for the opera although they were both profound composers of lieder.
This appreciation of the breadth and depth of Mozart's music is why the Festival has survived long enough to celebrate next year its 50th season.
The overture to "The Impresario" is as lithe and effervescent as any of Mozart's opera  overtures and similar in its goodwill and humor to The Marriage of Figaro completed in the same year. This five-minute overture written nearly in sonata-form, is followed by singspielen and four arias; and the whole work almost could have been added to the program finishing as it does in under a half-hour. If it had been continued there would have been an additional advantage: having Erin Morley, who starred last year in "The Impresario" at the Santa Fe Opera.
Emanuel Ax has always been disarmingly self-effacing and his performance here captured the calmness of what is often considered the first of the Mozart's great piano concerti. I would agree upon that , if a caveat were given noting the aberrational maturity of the 9th concerto, as sophisticated a concerto as any of the later ones, but written 7 years earlier.
Nothing was rushed here. Mozart knew the anticipation that was created by delaying the piano's entrance, and he used it to great effect here. Once Ax joined the group, he created  a central focus, leaving the orchestra as no more than an accompaniment. This was fine for Langrée who was content to follow Ax and produce big sounds only when needed.  There was nothing earth-shattering here, but there needn't be. Mozart had more than enough opportunities to excite and surprise, and that he does.
Unusually, Ax returned to the stage after several curtain calls to perform an encore, a tender rendition of Schumann's first Fantasiestücke, Op.12.
Depending on how you slant it, Mozart wrote between 25 and 50 concert arias: a large body of works, many simply orphans taken out of his operas because they did not suit  the singer. In many cases, the reason they did not suit the singers was due to their stratospheric highs and equally deep lows. This was certainly the case in these two arias written for Mozart's sister-in-law, Alyoshia. With notes reaching well above high C and dropping down several octaves,  Erin Morley made a tremendous effort but was shrill on top and barely audible on the bottom.
The 34th Symphony is unusual for late Mozart in that it is only three movements.  Although he began writing a Minuet for it, he completed only the first 14 measures which Langrée performed half-humorously.  At the sudden end to this fragment, Langrée gave a quick explanation turned around and zipped through the final Allegro Vivace at a tempo considerably faster than the opening Allegro Vivace.
To be able to say that this opening concert held its own against the first season nearly a half century ago would be a presumptuous leap in memory, but that this music still pleases is a tribute to both Mozart and to Mostly Mozart.
Stan Metzger