United Kingdom BBC Prom 59 – Murray Gold, Life Story: Sir David Attenborough (presenter), BBC Concert Orchestra  / Jeremy Holland-Smith (conductor), Royal Albert Hall, London, 30.8.2015. (JPr)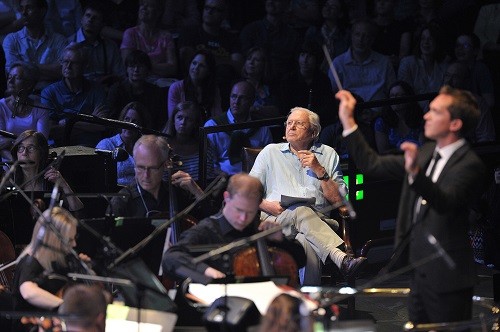 Of course this was the BBC shamelessly 'plugging' another of its products following hot on the heels of the Sherlock Prom (review) and memorable ones in previous seasons celebrating Dr Who. Life Story is the acclaimed natural history television series first aired in 2014 (available, naturally, on DVD) – the Sherlock event was undermined by not having Benedict Cumberbatch there in person whilst this Life Story Prom was enhanced beyond all reasonable ability of mine to express by Sir David Attenborough's presence.
This is an event nearly impossible to review in the ordinary sense and this will just be a reflection on what was clearly a special occasion for me and the packed Royal Albert Hall who had the opportunity to celebrated Sir David Attenborough's own 'Life Story'. He is 89 years young and there was so much 'love' for him in the huge auditorium from the moment he walked on stage to a thunderous ovation … the like of which I'm sure no other individual involved in this year's Proms will receive.  What followed was a series of clips from the various programmes in the series with Murray Gold's music played live by the BBC Concert Orchestra and Sir David's linking narration, as well as contributions from Murray Gold himself and one of the producers, Miles Barton. It was all the better for me because I never followed Life Story so everything we saw – projected on large screens around the Royal Albert Hall – was totally new to me.
The premise of what we saw can be summed up in Sir David's introduction and I can hear his very familiar, calm, warm and reassuring voice saying as I type this up: 'There's a story that unites each of us with every animal on the planet, it's the greatest of all adventures – the journey through life. Animals have just one goal at the end of this journey … to leave offspring. Each begins its life with an irrepressible instinct to survive and overcome the odds. The drive and inventiveness of animals is breathtaking; every aspect of their behaviour – whether it is spectacular, beautiful or simply extraordinary – is their way of meeting the particular challenge they face at each stage of their lives. They'll fight battles, be cunning and ingenious and do whatever it takes to win a mate. Each success leaves an individual one step closer to leaving offspring … the next best thing to immortality. This is Life Story.'
I first saw David Attenborough in person probably about 50 years ago at a Q&A event at London Zoo with him and the Morrises … Desmond and Johnny. Johnny Morris, particularly, was a 'friend' for me on TV and radio when I was growing up with his travelogues and especially Animal Magic which ran from 1962 to 1983. As the 'zoo keeper' he would have a comic dialogue with the animals at Bristol Zoo which he also voiced because he was a natural mimic. However at the end of his TV career he fell foul of the wildlife PC-brigade that didn't want him imposing on animals human characteristics and voices.
Why have I digressed even further from my brief? Well this fashion now seems to have come full circle and it was exactly what Murray Gold's music does for all the animal antics we were shown. He readily admitted this himself in an introduction in the programme: 'One of the first conversations … I had was about "anthropomorphism", a word that is usually used pejoratively to describe the false attribution of human values, feelings and motives to animals, which looking at them coldly and scientifically, as specimens, leaves out everything the camera catches. It is an argument that wilfully denies what the eye sees. If a puffer fish creates a complex, decorated structure on the bed of the ocean and sits inside it waiting for a female puffer fish to find him impressive, how can we think of that as anything other than courtship? If a monogamous albatross waits for its partner of 20 years to return and be reunited on a beach, how can we not think of that as love?' For Gold, 'Each plot played out as a tiny ballet, silent and full of movement.'
Initially, to be truthful, I thought I could do with less music and the animals should have been allowed to 'talk' for themselves. However, by the end of Murray Gold's elegiac accompaniment to an Eastern African herd of elephants seeming to stop and revere the bones of one of their number who had died a long time before, I was won over and had a tear in my eye. Were they genuinely mourning? Who can tell? But it looked like it? Here the music truly enhanced what we were shown. Elsewhere as a devotee of Sherlock and Dr Who much that we heard seemed very familiar and could have underscored the adventures of Holmes and Watson or the threat of the Cybermen and Daleks, just as well as, mantises, hermit crabs, meerkats and chimps etc.
The BBC Concert Orchestra always sound as if they can play anything and were as wonderful as usual. The conductor was Jeremy Holland-Smith who has previously collaborated with Murray Gold and together with his musicians they impeccably accompanied what we saw and this was one of the reasons why the event was such a success. It wouldn't have been the same without Sir David Attenborough either and nor will our own appreciation of the natural world when his own 'Life Story' ends … something – which like for all of us – I hope will not happen before its time.
Jim Pritchard
Hear this and other Proms on the iPlayer for 30 days after the event via the BBC Proms website www.bbc.co.uk/proms or download for 30 days via the free iPlayer Radio app.
 For more information about the 2015 BBC Proms season visit www.bbc.co.uk/proms.