United Kingdom Life in Progress: Sylvie Guillem and dancers (Emanuela Montanari, Brigel Gjoka and Riley Watts) in choreography by Akram Khan, Russell Maliphant, Mats Ek and William Forsythe. London Coliseum, London, 29.7.2015. (JPr)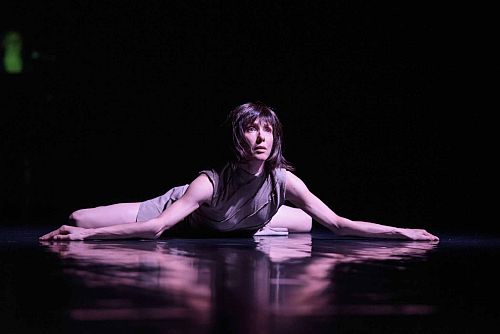 technê – choreographed by Akram Khan to live music by Alies Sluiter and danced by Sylvie Guillem
DUO2015 – choreographed by William Forsythe to recorded music by Thom Willems and danced by Brigel Gjoka and Riley Watts
Here & After – directed and choreographed by Russell Maliphant to recorded music by Andy Cowton and danced by Sylvie Guillem and Emanuela Montanari)
Bye – choreographed by Mats Ek to Ivo Pogorellich's recording of Beethoven's Piano Sonata Op.111, 'Arietta'
As Sylvie Guillem wrote in the programme 'After 39 years of practice, I have decided to take my final bow.' There are so many memories from over recent decades of the great dancer's incredible talent, artistry, charisma and strength of her personality to still celebrate this farewell – despite a very low-key send-off that has Sylvie Guillem standing on her head as one of the audience's last images of her! Her four-choreographer evening, Life in Progress began at Sadler's Wells – and then set off on an international tour that began in Italy in March and will end in Japan in December.
Guillem's meteoric rise at the Paris Opera Ballet under Rudolf Nureyev's tutelage is well documented; at only 23 and already assured of what she could offer the ballet world she left them to begin a memorable 17 years as 'principal guest artist' at the Royal Ballet, as well as guesting internationally and beginning significant collaborations with many diverse artists. Although her involvement with contemporary dance overlapped with ballet Sylvie Guillem has mostly been concentrating on the latter since around 2003. She has been an artistic associate at Sadler's Wells since 2006, and there have been a number of previous collaborations there with Russell Maliphant, Akram Khan, William Forsythe and Mats Ek – all represented in this final programme.
Her farewell coincides with her 50th birthday but in 2015 50 is the new 40 and is no age at all even in the ageist world of ballet. Of course ballet, of all art forms, is a hard taskmaster (or mistress) and many bodies have to be remodelled to carry out movements that joints were not evolved to manage with ease. Historically, women have out-lasted their male equivalents though many ballet companies still seem to sideline its best dancers once they reach 40. Before this happened to Sylvie Guillem she cleverly just moved on and her mystique drew full houses to contemporary dance evenings that without her would probably have had difficulty in filling the smallest theatres.
Truthfully, with her stick-thin physique, long limbs and a technique employing the security and flexibility of the gymnast she was when much younger Guillem's longevity is probably more due to genetics than hard work – but we all know how much of that is involved too. Like her mentor Nureyev her influence on the ballet's technical demands is immense but as William Forsythe has said 'She didn't put her leg up high because she could. It was an idea, an aesthetic choice that she made and she changed dance with it.' So after her unparalleled career spanning almost 35 years of both dancing ballet and contemporary works Sylvie Guillem deemed it time for her final dance programme and although it set her certain challenges there was just a feeling that if she keeps healthy she could perform it just as well as she did here when she reaches 60!
Akram Khan's piece, technê, sees Sylvie Guillem alone on the London Coliseum's vast dark stage with just a stark moonscape and a silver mesh tree. If our abiding memory of Guillem at the end of Life in Progress is her standing on her head then her first appearance is skittering along on her hands and feet possibly like a sort of insect. Her movement to a live accompaniment of percussion, beatbox, violin and voice is suitably otherworldly and mesmeric but I could not make a connection with the work. I have no doubt others will have and the person behind me suggested we might be seeing the Tree of Life in the Garden of Eden. Possibly. However, there is an arresting final image with the tree starting to revolve slowly and seemingly – from my rather distant seat – to change shape as Guillem walked around it reaching up into its branches. Something might have been evolving but I am not sure what. Whilst I am always open-minded you will gather I much prefer a narrative ballet to an abstract modern dance work.
William Forsythe's DUO2015 is a reworked piece from 1996 and was performed by Brigel Gjoka and Riley Watts. The music by Thom Willems is an intermittent drone increasing in pitch and there is a totally bare stage with the dancers in rehearsal clothes. The movement is constant and DUO2015 is supposed to show 'a clock composed of two dancers'. Only occasionally did one of the pair break away seemingly freestyle,  otherwise it was as if the more graceful and lyrical Watts was choreographing something on the more muscular and angular Gjoka.
Emanuela Montanari and Sylvie Guillem followed in Russell Maliphant's new Here & After and there was insufficient variation in choreographic language from a duet with two men to this duet with two women. Nevertheless there was a good connection between the two dancers and Montanari clearly is as thoughtful and eloquent a mover as Guillem. For the rather static start they appeared a little lost on the cavernous stage spotlit in a relatively small pool of light. Gradually Michael Hull provided a tour de force of a lightshow and the movement became more expansive too. At one point the lighting presents a catwalk, then a dance floor that John Travolta would recognise from Saturday Night Fever, then a bright square a bit like the mat for the floor exercise of a gymnastics competition. I understand Maliphant included reminiscences of his past collaborations with Guillem, yet for all the high-octane rushing around it will be the lighting one will remember most. Strangely after some sniffing had been a feature of DUO2015, in Andy Cowton's electronic score for Here & After eventually there is some significant heavy breathing and then – for some reason – yodelling! (Possibly the latter was because one of Sylvie Guillem's 'retirement homes' is in Switzerland.)
Finally Mat Ek's solo, Bye, was danced by Guillem to the last movement of Beethoven's final Piano Sonata Op.111, 'Arietta', in a plangent recording by Ivo Pogorelich. She is frumpily dressed in purple-patterned shirt and mustard yellow skirt but this only seemed to enhance the impact of her movement. There was a variety of geometric shapes of light on the stage floor and it featured wonderfully coordinated interplay with Elia Benxon's 'black and white' videography on a single door-shaped screen. This is a window into another world and perhaps acts like the ghosts in Dickens's A Christmas Carol. Do we see images from the past, the present or of things yet to come? This was the most accessible work of the four in Life in Progress. I might be accused of believing it is more meaningful than Ek intends as I initially thought about the fragmentary memories of dementia and a slightly dotty woman regressing into happier past-times.
There was a poignant ending (in the circumstances) as Guillem withdrew 'through the looking glass' to join 'her' family and the moves seemed to become more youthful and fluent. The near-constant movement (including those headstands) must have been a little strenuous but Sylvie Guillem made it seems effortless and imbued its all-pervading whimsy – as with everything she dances – with genuine conviction, true emotional awareness, and her typical heart and soul.
In her introduction she asks herself 'So why stop?' and answers 'Very simply, because I want to end while I am still happy doing what I do with pride and passion.' She thoroughly deserved a standing ovation from her devotees in the audience for her dedication and artistry over nearly four decades … more than for this rather short and insubstantial evening.
Jim Pritchard
For forthcoming dance events at Sadler's Wells visit http://www.sadlerswells.com/.