United Kingdom Bellini, I Puritani:  (Production Premiere) Soloists, Chorus and Orchestra of Welsh National Opera / Carlo Rizzi (conductor), Wales Millennium Centre, Cardiff, 11.09.2015 (GPu)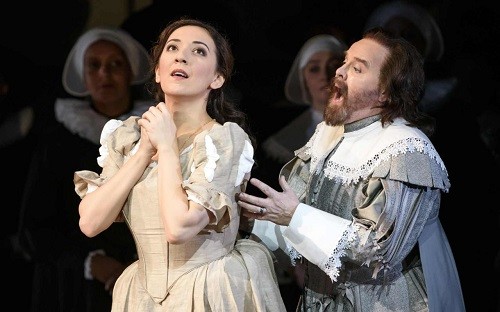 Cast:
Elvira: Rosa Feola
Arturo: Barry Banks
Riccardo Forth: David Kempster
Gualtiero Valton: Aidan Smith
Bruno Robertson: Simon Crosby Buttle
Giorgio Valton: Wotjek Gierlach
Enrichetta: Sian Menhir
Actress: Elena Thomas
 
Production:
Director: Annilese Miskimmon
Designer: Leslie Travers
Lighting Designer: Mark Jonathan
Chorus Master: Alexander Martin
The libretto which Count Carlo Pepoli,  minor poet and exiled Italian patriot whom Bellini met at the Paris salon of Princess Belgioso, prepared for what was to be Bellini's last opera has never had many admirers (Bellini was certainly not one!).  It was based on a play – Têtes rondes et Cavaliers by François Ançelot and Xavier Boniface Santines (1833). This, in turn, was derived from Sir Walter Scott's 1816 novel Old Mortality  As Pepoli worked on the libretto, Bellini offered criticism after criticism, made suggestion after suggestion, request after request. He tried to temper (?) his criticism by advising Pepoli "if you run into difficulties of any kind, come to see your tormentor, who loves you in spite of your pig-headedness". Once the opera had had its first performance, at the Theatre-Italien in Paris, (and been very favourably received by the audience) critics continued to take exception to the libretto. A writer in Le Temps declared "Bellini's music is tender, sweet and expressive" but went on to say "The poem was originally announced with great excitement. There aren't many so versed in Italian poetry that they can admire the verses of Count Pepoli …It would therefore be preferable to consider only the dramatic situations. Now, these situations, taken from Ançelot's vaudeville, appeared to be rather more feeble and confused than otherwise".
Bellini, even after the opera had been written and performed, continued to complain of a libretto in which, he wrote, even the strongest of theatrical situations were repeatedly undermined by "repetitive, commonplace, and sometimes stupid turns of phrase".
Posterity has not thought much better of Pepoli's libretto and there is, undeniably, much in the opera that is implausible and absurd. Many an unfavourable epithet has been showered upon it. Leaving aside Pepoli's poetic infelicities, a fundamental problem is that the whole displays a complete lack of any understanding of the political realities of the historical era in which it is set, being based, as it is, on an already debased version of Scott's highly romanticized view of the Civil War. Produced absolutely 'straight' the opera relies upon the considerable power of Bellini's music, both vocally and (more powerfully than in any of his earlier operas) orchestrally to promote the necessary "suspension of disbelief". In directing this production for WNO, Annilese Miskimmon has adopted a different, somewhat bold strategy. She turns, effectively, Pepoli's text into a work which contains a kind of extended play within the play (opera within the opera?).
Pepoli's much maligned libretto tells us that the set for the opening scene puts before the audience the wide ramparts of a fortress, with watch towers and drawbridges, with a distant view of picturesque mountains (pittoresche montagne) , the foreground peopled by soldiers and sentinels, the whole gradually illuminated by early morning sun. What greeted the audience at this production was a drab church hall, with plastic chairs stacked against its walls, a serving hatch and a small upright piano, illuminated only by electric strip lights and peopled by paramilitaries of the Orange Order. Immediately one was encouraged to think of parallels and analogies between the Civil War of the Seventeenth Century and Northern Ireland in the middle years of the Twentieth Century. Such analogies do exist, but I suspect that they are outweighed by the differences between the two historical situations. Surely Miskimmon is not crediting Pepoli with a kind of political shrewdness that enabled him to find in the particular situation of 'Scott's' story a kind of universal pattern of religious and political division? It seems more likely that the director (who was born near Belfast and was brought up in in Bangor, Co Down), has encountered in Bellini's opera a kind of pre-echo of the circumstances in which she grew up. The analogy, that is, is one that she has brought from her own life to the work, rather than one inherent in it. But no matter. This is a production in which the 'real' world of the opera is set during the Troubles of Northern Ireland and the costumes and characters of the Civil War appear only in Act II as, as it were, the delusional products of Elvira's madness, before Act III returns us to Belfast and the church hall. This has the effect of making what most of us take to be the most powerful passages in the opera, Elvira's extended mad-scene in Act II, seem curiously recessed, especially as the actress Elena Thomas throughout silently plays a kind of sane alter-ego of Elvira watching her 'own' madness from the sidelines (a thankless job she did well).
I failed to discover anything particularly illuminating in this approach (and discovered from conversations with patrons, that those who didn't already know the opera were rather seriously confused by it all). But beyond that (which is surely enough?) Miskinnon's intervention did no great harm. Altogether more questionable was her radical reshaping of the work's conclusion. The work as written ends (and I quote a plot summary from a standard reference work, so as not to prejudice the issue too much) thus: "While a storm rages and sounds of distant gunfire are heard, Arturo enters and hears Elvira singing. Despite the danger from passing groups of soldiers, he takes up the song … The lovers embrace ecstatically. But Elvira's mind darkens once more: she imagines that Arturo is again leaving her, and her screams bring Riccardo, Giorgio and the rest hurrying in. Riccardo announces the [death] sentence passed on Arturo, the word 'death' so shocking Elvira that she recovers her senses. In the face of death the lovers stand united, and even Riccardo is moved to compassion. The Puritan soldiery are demanding summary execution when a messenger arrives: the Civil War is over; the Stuarts have been defeated, and a general pardon is issued". (Only extreme political naivety and historical ignorance could find in Oliver Cromwell an exemplar of the spirit of forgiveness). Though it can hardly be said that Pepoli's libretto (or indeed Bellini's music) does much to prepare us for such a 'happy' ending, or to make its arrival very plausible, it is how the work ends – with the lovers united and with pardon extended to all. Miskimmon chose, rather, to leave Elvira deluded/mad at the end of the work, unaware that Arturo had been executed at the back of the stage, even as she sang of her happiness in being reunited with him. The 'meaning' of the work, or at any rate the shape of its narrative had been altogether overthrown and remoulded. Perhaps Miskimmon felt that her own and her audience's 'modern' sensibilities could not 'take' such a fable of love and forgiveness. (But  – even if that be true – we can, surely, 'believe' in the possibility of recovery from mental illness?) The imposed ending made little sense of all that had gone before and was audibly and visibly fighting against the grain of music and text. A change of this magnitude seems to me effectively to constitute an act of rewriting, and I am not convinced that such 'rewriting' should fall within the responsibilities of a director. Analogies (in reverse, as it were) with Nahum Tate's rewriting of King Lear, complete with happy ending, come to mind.
Musically there was little or nothing to complain about and much to praise. Carlo Rizzi is an acknowledged master of this kind of bel canto opera and his understanding was everywhere evident in his conducting of this the finest of Bellini's scores, orchestrally speaking. The orchestra of WNO, not least the trumpets, woodwinds and percussion, responded impressively to Rizzi's direction, and the orchestral support of the singers was exemplary.
The young Italian soprano Rosa Feola was the undoubted vocal star of the evening. Her coloratura was consistently beautiful and expressive, her vocal technique seemingly flawless. She is a singing-actress too, and she presented (as far as the production allowed) a thoroughly intelligent reading of Elvira, her singing sensitively phrased, passionate without any loss of balance or clarity and always nuanced in its interpretation of textual detail. She made one believe in the character's core of inner strength, for all her vulnerability. Feola has, without being in any way showy or self-regarding, a charismatic stage presence. She has, in short, all the qualities to become a supreme lyric soprano. It was a privilege and a joy to see and hear her at what is still a relatively early stage in her career. Barry Banks seemed to be suffering from vocal problems, especially in Act I, and was, I gather, feeling rather unwell. Certainly the top of his voice was not as impressive or precise as it can be, though things seemed to improve quite a bit in Act III. David Kempster sang with authority and vocal certainty, without ever quite succeeding in bringing Riccardo theatrically alive (no easy task!). I was very favourably impressed by Wojtek Gierlach's psychologically nuanced Giorgio, sung with assurance and an attractive gracefulness of line. Without making any very profound impression, Simon Crosby Buttle, Aidan Smith and Sian Meinir all acquitted themselves more than adequately in their supporting roles. The work of the WNO Chorus was, predictably enough, of a high order.
Save for what she did to the ending, I found Annilese Miskimmon's production interesting and imaginative in its attempt to solve the problems the opera presents to any director. Finally this is a work which, while it contains a good deal of superb music, displays (largely thanks to its librettist) relatively little theatrical flair.
So, musically speaking, a generally admirable evening which in the case of Feola's Elvira was quite superb (her interpretation of Elvira's long mad-scene, 'O rendetemi la speme', will last long in the memory. The director's interesting and imaginative response to an intractable libretto was generally intriguing, though eventually going beyond reasonable limits in its reshaping of the opera's conclusion.
Glyn Pursglove