Canada Bach, Telemann: Chloe Myers (violin), Kris Kawapis (trumpet), Beilang Zhu (cello), Matthew Jennejohn (oboe, recorder), Vincent Lauzer (recorder), Pacific Baroque Orchestra, Alexander Weimann (conductor), Vancouver Playhouse, Vancouver, 18.9.2015. (GN)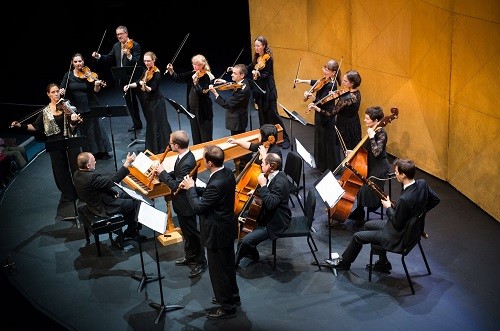 Telemann: Concerto for Trumpet, Violin, Cello and Strings in D major, TWV 53:D5
Concerto for Oboe and Strings in D minor, TWV 51:D1
Concerto for Recorder and Strings, TWV 51:F1
Bach: Brandenburg Concerto No. 2, BWV 1047
Brandenburg Concerto No. 4, BWV 1049
It may be something of an exaggeration to say that the Pacific Baroque Orchestra were in mid-season form for their season opener, but the ensemble certainly came full of energy and ready to play under the direction of Alexander Weimann. Performing two of the Brandenburg Concertos was likely one of the inspirations, but to have such an able group of soloists participating as well must have been another. In any event, a sellout audience witnessed an attractive and varied programme of Bach and Telemann that added up to a very satisfying experience.
Each of the three Telemann concertos had their delights. Telemann always caught a special beauty in the slow movements of his oboe concertos, and the D minor sonata di chiesa performed here was no exception. Matthew Jennejohn had a fine feeling for its poetry in the adagios and a nice sense of dramatic contrast in its allegros, establishing a beguiling line throughout. Vincent Lauzer was as convincing in the F major Recorder Concerto: here it was his sheer virtuosity and control of dynamics which often stole the show. I particularly enjoyed the second slow movement's intriguing cello solo, played admirably by Beiliang Zhu.
The orchestra gave tightly-knit accompaniments to both works but still allowed the variety in their constructions to come out. The bassoon obbligato in both was telling. For the concert's opening D major concerto, it was concertmaster Chloe Myers and virtuoso baroque trumpeter Kris Kwapis who brought great élan to the proceedings, the latter impeccably secure throughout, while the violinist made a strong and sculpted attack on the Italianate virtuoso writing, matching the verve and precision of the ensemble.
Although performances of Bach's Brandenburgs are commonplace, it still is a major event when any 'authentic' ensemble embarks on them. One remembers the excitement and controversy surrounding Nicolaus Harnoncourt's first recordings in the 1960s and this sense of occasion has diminished little as we've moved through Trevor Pinnock, Christopher Hogwood, Andrew Parrott and many others to the more recent offerings from Freiburg Baroque and Concerto Italiano. Perhaps one really wanted to see all six concertos performed together, but hearing two of them gave a fairly clear idea of what to expect.
The more I experience conductor Alexander Weimann, the more I recognize the high standards of discipline that he sets for Pacific Baroque. These imply a concern for resilient, strongly-etched rhythmic accents, a clean symmetry and consistency in articulation across the ensemble and, overall, a manifest seriousness of purpose. This approach paid off very well in many parts of concertos 2 and 4, though at points I sensed the need for less control and a greater sense of fantasy and expression. No. 2 features that terribly forbidding trumpet part, and here the ensemble benefitted tremendously from Kris Kwapis' presence. She wasn't perfect, but she was as close as anybody ever gets. Marked by well-judged tempos, both the first and last movements were undoubted successes; finding the right detail, sinew and energy to bring the music home freshly. It was in the andante, taken quite quickly, that I found the music making not as searching as it might be. The wind playing was exact but did not define much expressive space for itself nor generate much sense of mystery. Perhaps this is a liability, or perhaps I am just too romantically inclined. There are doubtlessly historical grounds for the relatively brisk tempo employed.
The opening allegro of Concerto No. 4 was certainly strongly etched, with brazen sforzandi in the strings and very strong bass accents too. However, the wind soloists did not build a strong lyrical line on top of this, and the end result exhibited some degree of 'choppiness', creating more of a didactic feel than a particularly involving one. The andante also started rather plainly, with Chloe Myers' violin perhaps too tightly articulated to allow much nuance or repose. However, there seemed to be a steady increase in expressive intensity as the movement progressed, and soon the right feeling of involvement was in place. The final presto built upon this and resulted in probably the best Bach playing of the night, capturing the full complexity of the movement and finding exactly the right frisson and density to bring out the joy in the composer's writing.
I think that this was a very impressive showing from Pacific Baroque. Certainly there are bits of sophistication that the ensemble does not yet reveal: for example, I would welcome even more flexibility in dynamics and texture between the string sections, a slightly freer expression in the winds and evidence of the ensemble's ability to set a real pianissimo. Sometimes I would also want it to be tonally warmer. But all of this will doubtlessly come. It was a most enjoyable evening of music making.
Geoffrey Newman
Previously published in a slightly different form on www.vanclassicalmusic.com