Spain Verdi: Il Trovatore (new production): Galicia Symphony Orchestra, Coro Gaos, Keri-Lynn Wilson (conductor), Palacio de la Ópera, La Coruña, 3.9.2015 (JMI)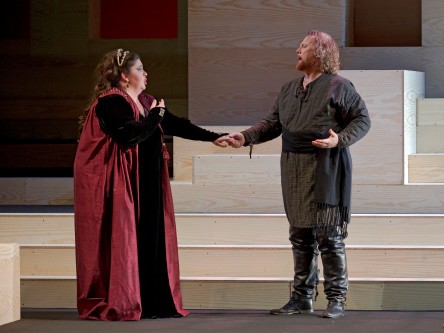 Production:
Direction, Sets and Costumes: Mario Pontiggia
Lighting: Santiago Mañasco
Cast:
Manrico: Gregory Kunde
Leonora: Angela Meade
Count Luna: Juan Jesús Rodríguez
Azucena: Marianne Cornetti
Ferrando: Dmitry Ulyanov
Ruiz: Badel Albelo
Inés: Alba López Trillo
The new opera season at La Coruña has begun with a genuine success. All opera lovers know what Arturo Toscanini said about the need to have the four best singers possible for a performance of Trovatore. I won't say that this is what occurred in La Coruna, but the quartet  ̶  rather, quintet – of protagonists was excellent, and we witnessed a true feast of Verdian singing.
This new production by Mario Pontiggia shows, once again, that it's possible to offer a worthy stage production despite limited means, at least as far as the aesthetics are concerned. The sets consist of a series of columns in light colors, sort of like Legos, that change shapes and locations for the different scenes. The costumes reflect the Middle Ages and are appropriate, but the lighting could be improved.
If aesthetically the staging works reasonably well, I cannot say the same about the direction. The movement of the chorus and extras was virtually nonexistent. As for the actors, I could say the same except that, in this case, the protagonists knew how to solve any problems. There are "original" touches that make very little sense, in particular presenting Ferrando, the captain of the guards, as a monk, although he continues to be the vengeful warrior of the libretto.
The musical direction was in the hands of Keri-Lynn Wilson, whose conducting was quite efficient. To her credit, it should be noted that the orchestral volume was perfectly controlled and never bothered the singers, whose voices always came easily into the auditorium. This is particularly important in an opera like Il Trovatore. The tempos were somewhat irregular, quite slow at times, but there were no problems with lack of coordination between pit and stage. Her conducting in the first act was less convincing to me: it was too bland but improved in Act II. Everything worked better in the final two acts. The orchestra offered a remarkable performance under her baton, better than what we get in most opera houses in Spain. Musically, the dark hole of the performance was the chorus.
The title character was sung by Gregory Kunde, who offered an excellent Manrico. If I'm not mistaken, it is the second time that he has sung this opera, following his debut a year ago at Venice's La Fenice. I attended that debut, and I was not particularly impressed by Mr. Kunde's performance. But things have improved, and in La Coruña his Manrico was much better. He was excellent in the aria "Ah, si ben mio," and quite brilliant in the much-anticipated "Pira," which fell a little short in Venice. The truth is that Gregory Kunde is in a sweet moment, and it is a pleasure to listen to him singing. His belcanto sets a fine example for all the trumpeter tenors who are quite common in this opera.
Ainhoa ​​Arteta had been announced for the part of Leonora, but she cancelled a few weeks ago and was replaced by American soprano Angela Meade. It is often said, and rightly so, that the status of an opera company can be measured by its handling of substitutions, and I must say that this one has been an outstanding  success. No one could miss Ms. Arteta, given that we had on stage one of the most important Verdi sopranos today. Ms. Meade showed great promise when she debuted in Spain three years ago, singing the part of Leonora in Peralada. Today she is magnificent. Her voice is ample, beautiful and very well handled, offering spectacular pianissimos. From her entry on stage singing "Tacea la notte placida," she proved to be a great singer, capping her performance in the last act with a spectacular rendering of "D'amor sull'ali rosee" and the subsequent cabaletta. A superb Leonora from start to finish!
Juan Jesus Rodriguez as Count Luna again proved that he is one of the most important Verdi baritones. There are few voices like his. His elegant singing is not quite at the same exceptional level as his voice, but if it were, he would be the Verdi baritone of reference today.
Marianne Cornetti has always found her warhorse in the character of Azucena, and this time was no exception. From "Stride la vampa" to the final "Sei vendicata, o madre" she was a very intense Azucena and totally convincing. It is true that Azucena, as do Liu or Micaela, always steals the show, and Ms. Cornetti was good.
Finally, Ferrando was played by Russian bass Dmitry Ulyanov, who was an excellent complement to the quartet mentioned above. His voice is powerful, and he can be considered a luxury in this character.
Palacio de la Ópera was fully sold out. The audience showed their enthusiasm for the singers during the performance and at the final bows.
José M. Irurzun