United Kingdom  Foulds, Messiaen: Steven Osborne (piano), Valérie Hartmann-Claverie (ondes martenot), London Symphony Chorus, BBC Philharmonic Orchestra/Juanjo Mena (conductor), Bridgewater Hall, Manchester, Saturday 19.9.2015 (MC)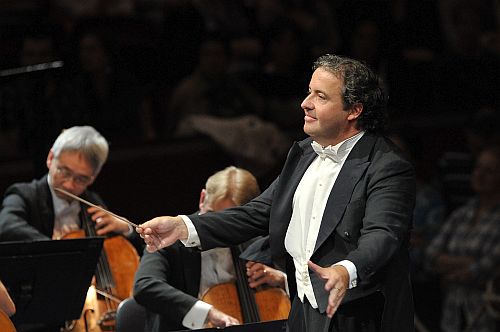 Foulds: Three Mantras (c. 1919/30)
Messiaen: Turangalîla Symphony (1946/48, rev. 1990)
It was gratifying to see John Foulds's Three Mantras being played in the well attended Bridgewater Hall, Manchester a location just a couple of miles or so from the composer's birthplace. Although Three Mantras was recorded on Lyrita in 1988 and for Warner Classics in 2004 it's still a rare sight on concert programmes. Clearly the BBC Philharmonic are championing the score. Only last month  the orchestra under its principal conductor Juanjo Mena performed this same Foulds and Messiaen programme at the BBC Proms.
In fact, this concert of Foulds's Three Mantras and the Messiaen Turangalîla Symphony is typical of the adventurous programming that is currently being undertaken by the BBC Philharmonic. In past seasons, programmes had to complement each another rather like putting together a matching outfit. Now the music selected doesn't have to match in the same way but is generally linked even if the style of the works clash. Tonight's connection between Foulds and Messiaen is a common fascination with the Orient. This season as part of the BBC Philharmonic's 'An American Adventure' series the orchestra is strongly focusing on the life and music of Leonard Bernstein as 2015 marks the quarter century of his death. The association between Bernstein and tonight's work maybe less obvious, which is that he conducted the première of Turangalîla.
Born in the Hulme area of Manchester, Foulds was part of the 'British Musical Renaissance' and was comfortable composing in divergent styles that included light music and progressive works. Written around the period 1919/30 the Three Mantras may have been conceived as preludes to his abandoned mystical Sanskrit opera Avatara, an extremely ambitious project, yet they work marvellously well as an orchestral set. Scored for orchestra and wordless female chorus I've heard the Foulds's Three Mantras on CD but never in concert and the live performance certainly didn't disappoint. Splendidly played both the opening movement 'terrestrial' Mantra I (of Action) and the final movement 'cosmic' Mantra III (of Will) emitted a tremendous force that was marvellously sustained with a sense of powerful jubilance in Mantra I and a ferociously angry, war-like character in Mantra III. Contrastingly the sultry and shimmering central movement Mantra II (of Bliss) with the wordless, female chorus inhabits a calm rather sultry atmospheric world reminding me of early morning sea mist over water which gets slowly burnt away by the rising sun. A gala of whirling rhythms and a wide palette of orchestral sonorities this performance of Turangalîla under Juanjo Mena thrilled and enthralled from first note to last.
Oliver Messiaen's best known orchestral work, his large scale Turangalîla Symphony, was an exotic treat. Conductor Juanjo Mena knows Turangalîla well having recorded the score in 2011 with the Bergen Philharmonic Orchestra for the Hyperion label. A $1,000 commission by Serge Koussevitzky for the Boston Symphony Orchestra Turangalîla was written in 1946/48 mainly in France. As Koussevitzky was ill the work was introduced by the young Bernstein in 1949 at Boston. Inspired by the Tristan and Isolde legend its title is derived from two Sanskrit words 'turanga' and 'lîla' referring to time, creation, joy and love. Messiaen described his twentieth-century masterpiece as "a song of love, a hymn to joy. It's also a vast counterpoint of rhythms."
This substantial, complex and eclectic ten movement score of sincere expression but sometimes sprawling, brash and repetitive was just the sort of work for the BBC Philharmonic to get its teeth into. Requiring a piano, ondes martinot, vibraphone, celeste and keyed glockenspiel, standing out was the large percussion battery and I counted fourteen brass instruments. Favouring brisk tempi, maestro Mena drove his players along and was assured in keeping the wildly opulent, multi-layered orchestral elements together with as clear focus as possible. Striking was the raw power Maestro Mena gave to the two grand climaxes which were of a volume level I didn't previously think possible and thankfully there was not too much compromise of unity. Soft and gentle, sultry and dreamy the perceptively played 'Jardin du Sommeil d'amour' (Garden of Love's Sleep) was an oasis of calm proving that Turangalîla isn't all clamour. Steven Osborne was the expert piano soloist and specialist Valérie Hartmann-Claverie played the ondes martinot a notoriously difficult electronic instrument to balance which sadly for most of the time could barely be heard.
Satisfying and thrilling, despite the compositional excesses, this was one remarkable concert by the BBC Philharmonic.
For those wondering why the BBC Philharmonic utilised women members of the LSO chorus rather than use a local chorus the reason was they already knew the part having performed together at the recent Prom 38 (review).
Michael Cookson