Argentina  An Evening With Ivan Skrt (JSJ)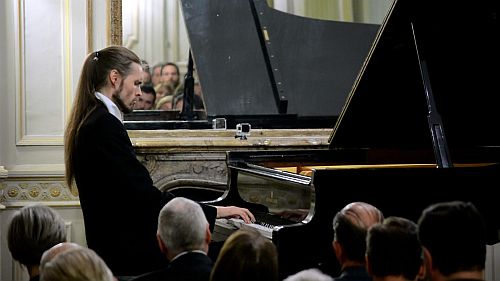 The young Slovenian pianist Ivan Skrt is attracting attention wherever he plays, and at the invitation of the Republic of Slovenia Embassy in Buenos Aires, I was privileged to spend an evening with him, first at his recital and then over dinner with his equally charming wife.
The occasion, Skrt's first appearance in Argentina, indeed his first outside Europe, was the inaugural concert of the annual piano festival of Fundación Chopiniana, which was founded and is presided over by Argentine concert pianist Martha Noguera. And in addition to Buenos Aires, during his 10-day visit he was giving the same programme at the Teatro Argentino in nearby La Plata as well as at the Solis across the river in Montevideo.
Remarkably for a professional musician Skrt eschews an agent and all his engagements arise through Facebook and other connections, he told me. He has played widely in Europe, but the lack of reviews (on a Google search) suggest he is not as well-known as he could be. Not that that fazes him, and he feels "something big" is "around the corner."
Skrt's preferred repertoire is the 19th century onwards and this was reflected in his Buenos Aires recital, with preludes by Chopin and Rachmaninov and three of Granados' Spanish dances. Three Argentine dances by Ginastera and three bagatelles by Kogoj reflected both this and his countries, while the closing works included three bagatelles by Bartok and Ravel's transcription of his La Valse, infrequently performed because of its difficulty. And all presented without an interval.
In stature Skrt is tall and slender with similarly proportioned fingers, and they move effortlessly across the keyboard with expressions from a seemingly featherlight touch to a power that brought to mind the image of Beethoven's broken piano. Accompanying, glistening glissandi with the flat of the hand rather than the fingers – "these weren't easy," he said afterwards, commenting on the "stiffness" of the piano (a Steinway) that was provided.
For rural dwellers as the Skrts are, the pace of Buenos Aires life was clearly daunting, as it can be even for locals, and the open spaces of Patagonia were beckoning. But on this trip at least, they didn't expect to visit, due to the need for practice for the subsequent concerts. And he practices a lot, he told me. "Every time I play I discover something new in the music and my intention is to reflect the score," said Skrt of his approach, which has been likened to a "living piano."
At the close of the evening Skrt presented us with copies of his recent CD set, "Black and White". In addition to two marvellous CDs of playing (including La Valse) – the programme of a March 2014 concert in Paris – a hardcover booklet with sketches by him and photographs by his brother vividly reflects his philosophical approach to life and both the depth and expansiveness of his musicality.
For many in the audience the concert was an emotional occasion, enabling those of Slovenian origin an opportunity to connect with their fatherland. But for all there it was an opportunity to hear a remarkable pianist still very much at the start of his ascendancy who we expect to see and hear a lot more about.
Jonathan Spencer Jones