Switzerland Widmann, Brahms, Scriabin: Lionel Bringuier (conductor), Lisa Batiashvili (violin), Gautier Capuçon (cello), Jörg Widmann (clarinet and Creative Chair)  Tonhalle Orchester, Tonhalle, Zurich   17.9.15  (JR)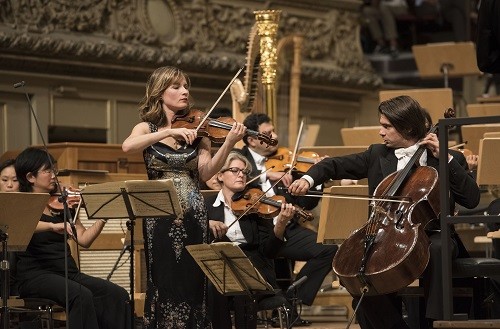 Widmann: Con Brio – Overture
Brahms: Double concerto
Widmann: Elegy for clarinet and orchestra
Scriabin: Poem of Ecstasy
This year's "Creative Chair" with the Tonhalle Orchestra is German composer and clarinettist Jörg Widmann; two of his works were on show in this, the opening concert of the season. Widmann is all the rage at the moment in concert halls hereabouts; no fewer than 15 of his works will be showcased at the Tonhalle during this coming season.
First off the block came "Con brio", a concert overture, full of weird and wondrous noises, the woodwind blowing through their instruments, the timpanist (Christian Hartmann) thwacking the bottom and sides of his kettle drums, flutes shrieking – there was never a dull moment, boisterous and tonal throughout, never unpleasant on the ear. There were interspersed snippets of Beethoven to listen out for – it was all very approachable and the audience appeared to like it.
All of which cannot be said for Widmann's Clarinet Concerto which followed after the interval. This was the Swiss première for the concerto written some 10 years ago in quite a different vein from the overture. I have never actually heard a duck being strangled but at two or three points the music came close to a sonic representation. Widmann writes that when writing this work he was dissatisfied with purely chromatic tone sequences and experimented with half-tones. I am convinced that Widmann is an accomplished clarinettist and the music was fiendishly difficult to play, but for some of the time it made for uncomfortable listening; our ears are just not ready for screeched half-tones. There were, to be fair, some interesting, even delightful passages, the flight of the bumble-bee sound-alike in the central section, lovely chiming from the celesta (Peter Solomon) and a haunting ending. Bringuier held up his hands at the end for a whole minute but the moving ending was not enough to save the day and the work received only polite applause.
In between came a sure-fire hit, Brahms' gorgeous Double Concerto, with two Big Names in attendance, "Artist-In-Residence" Lisa Batiashvili and Gautier Capuçon. They made a splendid couple in every possible way, well-matched in terms of virtuosity and always perfectly together.  It's a pity that the cello tends to steal the limelight in this work with its mellow tone rather than the "thinner" sound of the violin, even if it was Joachim's beautiful Stradivarius. Bringuier accompanied intelligently; his stature and stage confidence are now growing as he enters his second season with the orchestra. The opening was meaty and urgent, the Finale in particular was extremely fast and furious but, when required, he could also let the music breathe.
To close the concert, what better work can there be to open the season than Scriabin's "Poem of Ecstasy"?  I suspect the work is not all that well known in German-speaking countries and requiring large forces and an organ, not that often performed. It's not a piece you can properly appreciate on radio or even hi-fi unless you own a detached mansion and top-end speakers; it's definitely one for the concert hall. There is really only one tune, but it's a thrilling one pelted out by the principal trumpet (a marvellous Philippe Litzler). Wave after wave of music washes over the audience until the final explosion, bringing the rather more saccharine Daphnis and Chloe very much to mind. This is audibly very much Bringuier's favourite sound-world of sensual orchestral colouration and the orchestra gave a splendid account of themselves; this augurs well for the rest of the season. The programming of this concert may be a taste of things to come – challenging music, new and old, but always full of interest.
In front of me sat an ancient couple, one with a Zimmer frame, who have no doubt been going to the Tonhalle for decades. They chatted loudly during the Widmann (perhaps along the lines of "can we please go now dear, I don't like this, and it's disturbing my hearing aid") and off they shuffled before the Scriabin, no doubt for some bedtime cocoa. Next to them sat two teenage girls posting a "selfie" to their friends (no doubt along the lines of "Hey, look at us, we're at the Tonhalle, LOL") but they stayed to the end: I should have asked them what they thought of the Widmann. They probably liked it.
John Rhodes