United States The Secret Garden: Cincinnati Playhouse in the Park, Cincinnati, OH. 11.9.2015 (RDA)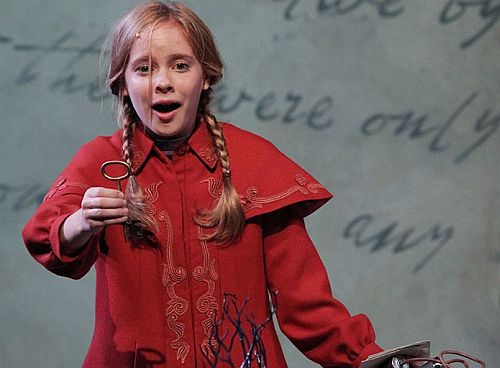 Music: Lucy Simon; Book and lyrics: Marsha Simon.
Principals: Caitlin Cohn, Kevin Earley, Brandi Burkhardt, Charlotte Maltby, Cameron Bartell, Dathan B.Williams, Adam Monley, Gayton Scott, Carlyn Connolly, Anthony Frederickson, Vishal Vaydia, Anita Vasan, Jessica Van Kipp, Dan Beckmann, Timothy McDevitt, Michael Yeshion and Talia Noelle Zoll.
Stage Director: Marcia Milgrom Dodge. Production: Narelle Sissons (set), Leon Wiebers (costumes), Matthew Richards (lighting).
The production of The Secret Garden at Cincinnati Playhouse in the Park is one for the books. The imaginatively written score by Lucy Simon is filled with melodies that tend to linger in the mind, among them "Lily's Eyes," a show-stopping ballad for two big-voiced male singers. Though its authors say The Secret Garden is a musical, its idiom skews closer to chamber opera than to Broadway, and that is just fine for me—and so it seemed to be for a capacity audience that filled the Robert S. Marx Theatre on opening night.
There are also some splendid ensemble numbers throughout: "Quartet" and the choral anthems that bookend Acts I and II come to mind. Marsha Norman's book and lyrics do their job well, avoiding the cloying and the maudlin. Instead she focuses on the life-embracing aspects of the story of Mary Lennox, a young English girl in search of a home and family.
Marcia Milgrom Dodge directs to perfection, paying fastidious attention to period details, body language, and character, and eliciting faultless performances from the cast of seventeen. Working on a thrust stage with evocative scenery by Narelle Sissons and lovely costumes by Leon Wiebers, and bathing her actors in Matthew Richards' mood-setting lighting, Ms. Dodge creates magic with the purest of theatrical means: large puppets, hand puppets, props that morph from beds to desks to benches, mime—even Kathakali dancing. The results are enchanting and reminiscent of eastern theatre practice in which the art of acting encompasses mime, dance, speech, dancing, and singing. Ms. Dodge's sterling cast was up to the challenge, rising to memorable moments of theater again and again.
Sariva Goetz was the able musical director and resourceful arranger of the music, which was played by a seven-member ensemble, with superb work by its woodwind contingent of two, Jennifer King and James Wiederhold. The unseen conductor (thanks to remote TV circuitry) was Michael Sebastian.
The cast projected commitment that makes a performance memorable. A sterling ensemble-within-an-ensemble comprised eight "dreamers": Vishal Vaydia, Anita Vasan, Jessica Van Kipp, Dan Beckmann, Timothy McDevitt, Michael Yeshion, Carlyn Connolly, and Talia Noelle Zoll. They wafted in and out among the denizens of Misselthwaite Manor—a down-at-the-heels manse in turn-of-the-century North Yorkshire—dancing, singing, and interfering with those in the here and now as memories and the dead can do, and at times, turning into living trees, as if yearning for the ineffable life just out of reach.
In a cast filled with outsized talents, Kevin Earley—vocally and dramatically first-rate—stood out in his central role as Mary's reclusive and deformed uncle. Brandi Burkhardt lent her lovely soprano and classic looks to the role of Lily, the ever-present "dreamer" in the minds of everyone. As the serving girl Martha, Charlotte Maltby thrice threatened to unashamedly steal the show, first with her hilarious Yorkshire accent, then with "A Fine White Horse," and finally with "Hold On," a big "11 o'clock number" if ever there were one. Cameron Bartell cut a fine figure and sang gorgeously as Martha's brother Dickon, a farm boy who leads the young Mary down the path of self-discovery, and Ben Weatherstaff, the gardener and keeper of the key to the secret garden, was movingly played with humor and simple charm by Dathan B. Williams. As the manipulative Dr. Craven, Adam Monley was on the money vocally, and so note-perfect that he was good-naturedly booed at curtain calls. Gayton Scott as the ice-cold Mr. Medlock and Carlyn Connolly as the downright sub-zero Mrs. Winthrop—both superb actresses—were characters one loves to hate. The very young and talented Anthony Frederickson played the very young and infirm Colin Craven with an even mix of pathos and humor.
And, finally there is Caitlin Cohn, whom one can surmise (from the printed program) is in her early 20's. Her portrayal of an orphaned little girl in a long quest for parental love is utterly convincing. The young actress plays Mary as an emotionally-damaged, Raj brat who, in the midst of a cholera epidemic loses all her loved ones. She is shipped off to England and sent by train to a gloomy estate in the Yorkshire moors. From then on, Ms. Cohn illuminates Mary's journey—from belated childhood to the brink of female adolescence—in a performance that is nothing short of career-making. Last night, this young singing actress led the opening night audience on a life-affirming tour to a secret garden of the soul.
Rafael de Acha