Sweden Richard Strauss, Der Rosenkavalier: Soloists, The Royal Opera Chorus and Orchestra, Lawrence Renes (conductor), The Royal Opera House, Stockholm, 26.9.2015. Premiere (GF)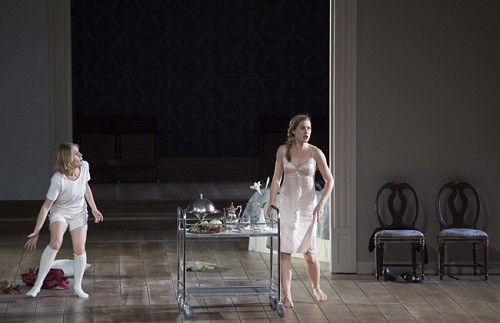 Richard Strauss, Der Rosenkavalier
Production:
Director: Christof Loy
Set designer: Dirk Becker
Costume designer: Barbara Drosihn
Choreographer: Thomas Wilhelm
Lighting design: Olaf Winter
Cast:
Feldmarschallin – Malin Byström
Baron Ochs auf Lerchenau – Christof Fischesser
Octavian – Anna Stéphany
Herr von Faninal – Ola Eliasson
Sophie – Elin Rombo
Marianne Leitmetzerin – Sara Olsson
Valzacchi – Niklas Björling Rygert
Annina – Erika Sax
A singer – Daniel Johansson
A police inspector – Kristian Flor
The Marschallin's Major-Domo – Anders Blom
Faninal's Major-Domo – Jon Nilsson
An inn-keeper – Florian Voss
A notary – Magnus Kyhle
A milliner – Vivianne Holmberg
A vendor of pets – Olof Lilja
Three noble orphans – Christina Nilsson, Linnea Andreassen, Hanna Leonora Hollesen
Leopold – Henrik Hugo
For two generations of Stockholm's operagoers Der Rosenkavalier has been synonymous with Folke Abenius's production from 1971. It was reprised regularly for almost forty years. I first saw it in the autumn of 1971 and again at the premiere of its final run in 2008 (review). The lavish, echt-Wienerisch sets, even more lavish than Alfred Roller's for the Dresden world premiere in 1911, had stood the test of time grandiosely and many a jaded opera enthusiast, I believe, had been looking forward with some trepidation to the replacement. Can Christof Loy's Rosenkavalier stand up against the classic Abenius? My answer is: it can, for the simple reason that it is so different.
Loy declares in the programme book his view and starting point for his production. The title of the opera refers, as everyone knows, to the ceremony in the second act, where Octavian as a go-between presents the bride-to-be a silver rose, something that many have believed is an historical ritual. It isn't it is an invention by Hofmannsthal, the librettist. This indicates, says Loy, that the scene is not laid the Vienna of Maria Theresia but in a fictive place in fictive time, and this has inspired costume designer Barbara Drosihn and set designer Dirk Becker to build an arch from rococo to present-day Stockholm. A further clue to this transportation in time is the music, where Richard Strauss utilizes the waltz in the Johann Strauss II tradition as a kind of Leitmotif, a style that didn't exist in the 18th century and that in the composer's revision clearly refers to the then contemporary.
The hang-up is of course that the libretto is littered with references to Vienna, to the Prater, to God-knows-what – but you have to take the bad with the good. And there are other pitfalls. Octavian, a nobleman, carries a rapier, which in the first act reveals his presence in the Marschallin's bedroom when her Major-Domo discovers it – embarrassing. He uses it in the second act as well when he wounds Ochs. No nobleman in Stockholm 2015 carries a rapier, possibly a stiletto. The problem is a parallel to Wotan's spear, which he stubbornly drags about with, whatever the setting.
These contemplations aside, this is a beautiful production, simple and sparse and very far from the extravagance in the Abenius production. The first act in the chambers of the Feldmarschallin is plain, the bed hidden, out-of-view from the audience and the eroticism only hinted at. The last act in the simple tavern isn't overloaded either. In fact it is the characters that are the props, and throughout, also in the most private and intimate situations there are people around, walking, watching. Who are they? Why are they there? In the society we are living in today, nobody can be private any more. We are watched by cameras, every step we take is registered somewhere. Our existence is Kafka-like.
The second act is spectacular, however. For the ceremony with the silver rose, Faninal has hired the venerable Drottningholm Court Theatre. The rose procedure takes place in front of the beautiful 18th century curtain and Sophie and Octavian are dressed accordingly. When it's time for Ochs to arrive the curtain rises and, Eureka! There is a replica of the Drottningholm stage with its deep perspective and its machinery, and Ochs in a hilarious fancy dress arrives on a cloud, lowered down like a deus ex machina. A visual treat that received a spontaneous round of applause, well deserved.
Der Rosenkavalier is one of the richest, most many-facetted of operas, textually as well as musically – maybe too much so at times. It is a wordy libretto and Strauss's score is so rich that one is sometimes tempted to quote Emperor Joseph's complaint about The Marriage of Figaro: "Too many notes, Mozart!" But they are magical notes – both Mozart's and Strauss's – and one never ceases to be fascinated by the riches and finds new things to admire every time. In Christof Loy's production even the most boisterous scenes with Ochs are so worked through that they open up new insights concerning the character. He is, also here, a rude, selfish boor, but he is also clear-sighted and proud. He has many human sides – for good or bad – and the burlesque side of him is toned down. One can feel sympathy for him and he is rarely ridiculous. He is just the wrong person in the wrong place. Maybe he is the only 'natural' person in a society permeated with commercialism and artificiality. That he isn't the traditional bolstered-up 'fatso' but a slim, fit guy with physical and sexual attraction contributes greatly and Christof Fischesser creates a sterling portrait of him. He stands out even more than usual as the most interesting character in the play, and it was also the intention of Hoffmansthal, until a few months before the premiere, to name it Ochs auf Lerchenau.
The other characters are less complicated, though of course the Feldmarschallin is an enigmatic mix of passion, vulnerability and untouchability. Maybe resignation is a more proper word, at least in the last act when she leaves Sophie and Octavian to themselves. Faninal offers her his arm but she declines and rushes out without looking back. It has also to be said that although the encounter between the two young ones in act two on the surface looks like love at first sight but further on the relation is fairly free from true passion. What will it be next year? Another marriage of convenience? Christof Loy raises questions but he leaves it to the observer to answer them.
He has assembled a superb cast, youngish enough to look their supposed age. Of the veterans Magnus Kyhle is a distinctive personality as the notary. In the previous production he sang every possible character suitable for a tenor at various times. Niklas Björling Rygert is an oily Valzacchi and Sara Olsson is a charismatic Marianne Leitmetzerin. Daniel Johansson's Italianate tone is well suited to the singer's aria at the reception in the first act and Ola Eliasson makes Faninal stand out as a stronger personality than we are used to. He was Faninal also in the last revival of the Abenius production. The three leading ladies are, plainly speaking, world-class. Elin Rombo is a more dramatic soprano than most Sophies are but she fines it down so deliciously and seems untroubled by the high tessitura. British mezzo Anna Stéphany has had a quick rise to stardom the last few years and she manages the tricky balancing to be a young woman who impersonates a young man disguised to a young woman. Malin Byström's touching Desdemona in Otello half a year ago is here followed up by a noble Marschallin. Her long solos in the first act are touching and ravishingly sung and Lawrence Renes followed her like a shadow and fined down the orchestra to nuances unheard of, not to drown her pianissimos. Against this sophistication Christof Fischesser was a determined rural character with complete control of his expressive, colourful voice with all the low notes at his disposal.
This new Rosenkavalier is a marvellous achievement by all concerned. I loved the Abenius production enormously and it is still the epitome of a Viennese spectacular, but by turning the compass 180° Loy and his team have created a present day alternative that could well survive another 40 years.
On my way back to my hotel I ran into a young woman carrying a rose (roses were handed out to everybody when leaving the opera house). We started talking about the performance and she was completely immersed in the experience. She said that she also had a dream: to become a designer. But she added: 'If I one day in the future were asked to design a new Rosenkavalier I would decline. What I have seen tonight can never be bettered.'
I agreed. Different maybe, but never bettered.
Göran Forsling