United Kingdom  Prom 73 – Brahms and Schmidt: Vienna Philharmonic Orchestra, Semyon Bychkov (conductor). Royal Albert Hall, London, 10.9.2015 (MB)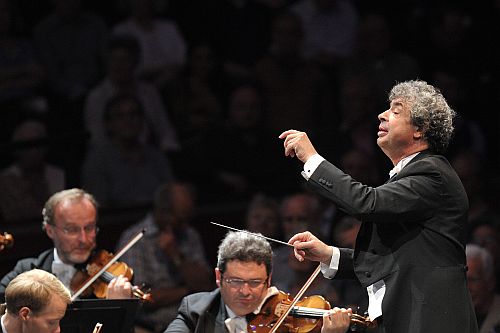 Brahms – Symphony no.3 in F major, op.90
Franz Schmidt – Symphony no.2 in E-flat major
I should have been fascinated to hear the following evening's Vienna Philharmonic Prom, with that orchestra performing The Dream of Gerontius under Sir Simon Rattle, not least since I am always interested to hear non-English orchestras in Elgar. One cannot do everything, however, and I was keen to hear Semyon Bychkov with the VPO in Brahms and intrigued to hear an early-twentieth-century symphony for the first time, whether live or recorded.
Brahms's Third Symphony opened in grand fashion, preparing the way – at least in retrospect – for considerable scaling down and subsiding in a serenade-like second group. Bychkov's tempi were flexible. There was one point at which I wondered whether he was slowing too much, but otherwise I was convinced. The first movement's development section had a real sense of new departure, and an urgent one at that. Reaffirmation in necessarily transformed circumstances was the hallmark of the recapitulation. On the whole, Bychkov emphasised the often-downplayed turbulence and darkness of this work. The opening material of the second movement sounded nicely 'late', even archaic, recalling Brahms's profound study of early music, but Brahmsian method soon informed us in no uncertain terms who was in charge. And how gorgeous those Viennese violins sounded! I liked Bychkov's questing way in the third movement. There were no easy answers in what is perhaps the most obviously 'personal' movement of all. Alas, as in between every movement, we suffered half-hearted applause from a strange few. Please, stop it! The finale also benefited from a notably dark reading, sounding ambivalent even by Brahms's standards. (That is surely one of the respects in which he comes closest to Mozart.) The brass sounded wonderfully resigned. Immediate applause clearly frustrated Bychkov's wishes – and most of the audience's. If one were actually listening to the music, that is the last thing one would want without a moment of reflection.
I am afraid I found myself somewhat nonplussed by Franz Schmidt's Second Symphony. I certainly do not begrudge it a first Proms performance, and, insofar as I could tell from a first hearing, Bychkov and the VPO gave an excellent account of it. However, for the most part, it seemed to me over-extended for the material, which in itself did not grab me as it clearly did many others. Perhaps the fault was mine; I shall give it another try, especially since many people whose judgement I respect, not least Bychkov, think very highly of it. (He describes it as 'magnificent'.) I was a little at sea with respect to how the first movement hung together, not least with an odd intrusion from what sounded like the world of Eric Coates. There were some attractive Straussian sounds in the orchestra. Bychkov likened them to Daphne, which, independently, I had thought too; however, Schmidt's symphony (1911-13) came first. To my ears, the orchestra veered between ravishing and slightly patchy, but I think that might have been an oddity of the acoustic. (It is so difficult to tell in the Albert Hall.) The strange ending: well, perhaps Schmidt fans can explain to me its peremptory nature. The second movement, a theme and variations, offered the VPO woodwind ample opportunity, definitely taken, to excel. It seemed to me more successful, if undeniably conservative, even reactionary. The strings, too, seemed quite at home in what sounded like often treacherous yet always idiomatic writing. (Schmidt was a cellist.) However, the movement went on – and on. Again, I was not sure that I always understood where the third and final movement was going. Sometimes, as indeed earlier, I was put in mind of a slight caricature of Max Reger. Conductor and orchestra clearly relished what they were playing, though. As I said, the problem may well have been mine and I shall try again.
As an encore, which, somehow I guessed, perhaps with the following night's Prom at the back of my mind, we heard 'Nimrod'. I am afraid it made me wish we had heard the Enigma Variations or an Elgar Symphony instead. Here the VPO sounded at its most golden; Bychkov directed its progress subtly, allowing the music, as the cliché has it, to 'speak for itself', which generally takes a great deal of understanding as well as self-control. Maybe I should have been better off with the Elgar Prom after all.
Mark Berry