United Kingdom H.I.F. Biber, Gallus and Bertali: Soloists, His Majesty's Sagbuts and Cornetts,  Altenburg Ensemble of Trumpets and Drums, Monteverdi String Band and Blackdowns Early Music Project Chorus / JanJoost van Elburg (Musical Director), Exeter Cathedral, 31.8.2015 (BK)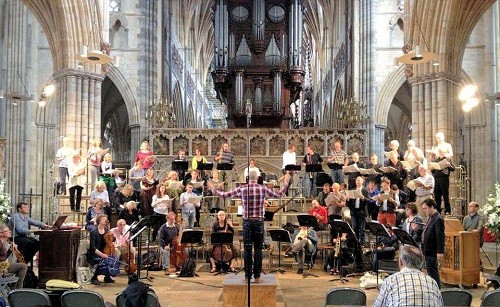 Biber:  Sonata a 7 (1668) Excerpts from the Vesperae à 32 (1674) and  Missa Alleluia (1690)
Jacobus Gallus: Alleluia and Pater Noster (1585)
Antonio Bertali: Sonatas 2 & 4 (1650)
Soloists: Amy Haworth, Sally Dunkley, Hannah Cooke, Paul Phoenix, Mark Dobell, Julian Stocker, Jonathan Arnold, Thomas Flint
Following on from the singular success of  their initial 'Grand Baroque' concert in 2013 (review) Devon's Blackdowns Early Music Project returned to Exeter Cathedral with a new programme devoted to Biber and two lesser known near – contemporaries. In keeping with the established BEMP tradition, all of the performers were first rank early music specialists. 
Every BEMP concert is carefully planned for musical variety, so interludes from the smaller ensembles are usually interwoven into the larger scale pieces. This time the concert was meant to begin with  a rousing performance of Biber's Sonata à 7 for natural trumpets and timpani from the Altenburg Ensemble of Trumpets and Drums. Something was sadly amiss with this usually excellent group however, so that their intended demonstration of expert natural  trumpet playing was gravely flawed.  Odd tunings and split notes, blunted rather too much of the intended drama until later in the concert when the group returned as part of the full ensemble and honour was properly restored.
The Dixit Dominus from Biber's massive 32-part Vespers of 1674 requires five choirs:  four trumpets and timpani, five strings, two cornetts and three sackbuts, eight soloists, an eight part ripieno choir and a continuo of two organs, theorbo and contrabass. Each part requires superb agility from singers and instrumentalists alike and is therefore something of a challenge to conductors. To this reviewer's ear at least, only accustomed to this complex music from a recording and a very brief look through the scores, JanJoost van Elburg held the work together in exemplary fashion.
An interlude from His Majestys Sagbutts and Cornetts, a first modern performance of Antonio Bertali's Sonatas II and IV recently discovered in a library in Uppsala, provided gentle emotional relief from the drama of the Vespers before the performance of the Magnificat. If anything, this movement is even more massive  than the Dixit Dominus and provides even greater opportunities for the solo singers to shine. 'Grand Baroque' seemed exactly the right title for this remarkable work.
The concert's first half concluded fittingly with an arrangement for two a capella choirs, a Pater Noster by Jacobus Gallus. After the storms of the Vespers, the chorus and soloists combined seamlessly to provide a model of quiet and controlled singing wholly in keeping with the peace of Exeter's cathedral and green.
We returned to grandeur in the concert's second half with Biber's Missa Alleluia, a work even larger than the Vespers. In no less than 36 parts, a huge grouping for a late 17th century work, it provides a wealth of combinations of instruments and voices. The score calls for eight soloists and an eight part ripieno choir, five strings, 2 cornetts and 3 sackbuts , 6 trumpets and timpani with a continuo comprising  up to 4 organs, violone and theorbo. Chosen key signatures are always carefully related to the meaning of the text, rather than to definable musical styles.
The work's liturgical structure follows a conventional pattern, Kyrie, Gloria, Credo, Sanctus and Agnus Dei but in this performance – another example of BEMP's keen feeling for mood within major works –  a gentle string interlude,  Biber's own Sonata number 3 in G  minor 'Tam aris, quam aulis servientes'  [Sonata as much for the table as for the altar] was inserted between Gloria and Credo, played by the Monteverdi String Band. Between the Sanctus and Agnus Dei, Biber's only known work for keyboard, a Partita in D served a similar emotional purpose
Space does not permit more detailed examination of this performance, but in terms of planning, vision and execution it must rank with some of the finest period performance music making heard anywhere in the UK within the past few years. If Grand Baroque III were to appear in 2017, booking tickets as soon as they were available would be the only sensible option.
Bill Kenny