United Kingdom  Liszt, Cowton, Pook, Lest We Forget: Artists of English National Ballet, English National Ballet Philharmonic / Gavin Sutherland (conductor), Sadler's Wells, London, 8.9.2015. (JPr)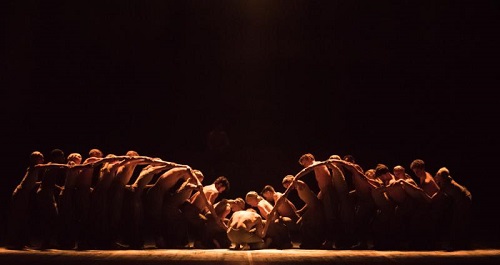 No Man's Land
Choreographed by Liam Scarlett
Music: Franz Liszt (excerpts from Harmonies poétiques et religieuses)
Alina Cojocaru, James Forbat
Erina Takahashi, Fabian Reimair
Crystal Costa, Max Westwell
Second Breath
Choreographed by Russell Maliphant
Music: Andy Cowton
Alina Cojocaru & Junor Souza
Dust
Choreographed by Akram Khan
Music: Jocelyn Pook
Tamara Rojo, James Streeter & Fabian Reimair
In her introduction in the programme English National Ballet's Artistic Director, Tamara Rojo, writes 'Lest We Forget is one of my proudest moments as Artistic Director so far. Commissioning new dance works that push the boundaries of ballet is at the core of our vision. It is always a risk, but the reaction from critics and our audiences has been astounding, humbling and incredibly moving. I couldn't be happier that we are able to bring this programme back.' After its critically acclaimed run at the Barbican early in 2014 Lest We Forget was now revived both shorn of George Williamson's flawed Firebird and slightly at odds now with the current zeitgeist which is all about the effects of modern warfare rather than commemorations of past conflicts. One thing Firebird had to its credit was that it allowed for a little hope for the future to intrude in the otherwise all-pervading doom and gloom.
On a second viewing it did not have quite the impact of that April 2014 première though the current excellence of the English National Ballet under Tamara Rojo's increasingly inspired direction was evident throughout this performance. The problem was that, especially with the Liam Scarlett and Russell Maliphant works, they seem to run out of things to say. Absolved of any criticism is Akram Khan's Dust which is clearly a modern masterpiece and will live on. No Man's Land and Second Breath reminded me of hackneyed Hollywood plot lines where no matter what peril a couple are in there is always time for a physical encounter of a sexual nature along the way. Here after an engrossing preamble from both Scarlett and Maliphant there is a quasi-romantic pas de deux. Akram Khan also has a climactic duet but this seems to have arisen organically from what we had been shown before, whilst for the others it seemed just added on.
Liam Scarlett's No Man's Land brings us images of working women (a recurrent theme of Lest We Forget) at a bench to the rear of Jon Bausor's munitions factory as their men go to fight and die. The music (excerpts from Harmonies poétiques et religieuses) is by Liszt and was arranged and orchestrated by English Ballet Philharmonic's music director and conductor Gavin Sutherland. Truthfully they seemed to take a little time to warm up but were mostly their accomplished selves throughout the remainder of the programme and certainly by the time Julia Richter's solo piano playing brought No Man's Land to a conclusion.
In No Man's Land seven couples begin an exploration of the emotions behind the pain of separation and the longing for reunion. There is a remarkably strong opening which peaks at the arresting sight of the white arms of the women clutching their loved ones from behind as if becoming the straps of the soldiers' knapsacks as they trudge off to war along a La Bayadère-like ramp. There is then much sentimentality, passion and lyricism from ENB's uniformly excellent dancers led by the always compelling to watch Alina Cojocaru partnered by James Forbat. The movement becomes a little repetitive and whether the men the women were dancing with are in their imagination, present, or merely ghosts, was not entirely clear even on a second look.
Russell Maliphant's Second Breath was next and it was the coordination of the 20 dancers that was most impressive. This piece focusses on the experience of those on the frontline and there is lots of swaying, climbing and falling going on in images that allude to soldiers – and possibly even non-combatants – being shot or blown up. It is underscored by Andy Cowton's tense soundscape with its throbbing orchestral music over which there are recordings from the Imperial War Museum where voices in many languages intone the numbers who lost their lives, as well as, the utterances of 'continual bombardment'. The lighting throughout Lest We Forget is very gloomy and possible too sombre here in Second Breath from Michael Hulls. Again after a strong start the 'second half' is an anti-climax. Maliphant's pas de deux – wonderfully impassioned and anguished as it was from Alina Cojocaru and Junor Souza – seemed part of another work entirely. They portrayed a long-parted couple, now reunited and trying to reconnect, but this didn't quite seem to match the intense atmosphere of what we had seen earlier in the piece.
I wrote last time that after seeing Akram Khan's Dust it was 'something that I certainly wanted to see – and hear – again'. I went on to add that 'it was so haunting, dramatic and, yes, actually quite agonising to watch' and how 'It revelled in the power of dance to display raw emotion and make a genuine audience connection with a powerful theme.' There is very little I can – or need – to add to that. Previously the principal male role was performed by the choreographer, Akram Khan, himself. On this occasion the impact of Dust was slightly diluted by splitting it between Fabian Reimair and James Streeter – both superb dancers. It is Reimair who has the opening contorted, writhing and tortured solo, and when he finally seems to uncoil he becomes the centre of two lines of roughly-clothed people linking up for some repeated waves of slinky arm movements that once seen you will never forget. At one point they clap their hands generating the clouds of dust that reflects the title of the piece. Perhaps we are supposed to experience one man's lone struggle but also the understanding that when push comes to shove everyone stands together in times of trouble.
The men leave up the no-man's-land slope of Sander Loonen's evocative – though again darkly-lit (by Fabiana Piccioli) – set and leave the women behind once again as in No Man's Land. Here the portrayal of those left behind on the production line and to keep the home fires burning is much more convincing than what we get from Liam Scarlett. The gut-wrenching tragedy of war and its effect on individuals, couples and even nations can rarely have been better expressed without the use of the spoken word. There are some words in Jocelyn Pook's hauntingly compelling, often percussive, yet sometimes soaring, score; and another thing that will stick in your mind is the disembodied chanting of a First World War soldier repeating 'We're here because we're here because we're here …'. Dust concludes with a deeply touching and highly gymnastic pas de deux for Tamara Rojo and James Streeter which they begin forehead to forehead as if engaged in a duel rather than a duet. They constantly come together and then seem wrenched apart and Rojo frequently embraces him with her legs round his waist as they try to 'reconnect' after a long time apart. This was a theme in Maliphant's Second Breath and Khan makes it much more believable here. I wrote before 'if she (Rojo) has done anything better in this idiom I wish I had been there' and I reconfirm this as my opinion now. She is left alone centre-stage at the end perhaps longing for him to return … but perhaps this time he has gone forever.
Despite some slight reservations about Lest We Forget the company were outstanding and if you have not seen this triple bill I urge you to go and see it at Milton Keynes or Manchester if you have missed it at Sadler's Wells.
Jim Pritchard
For more about the English National Ballet's forthcoming performances www.ballet.org.uk.