United States Puccini: Gianni Schicchi, Grant Gershon (conductor); Leoncavallo: Pagliacci, Plácido Domingo (conductor), LA Opera, Dorothy Chandler Pavilion, Los Angeles, 24.9.2015 (JRo)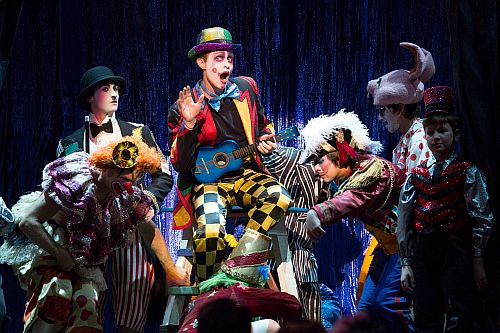 Gianni Schicchi
Cast:
Gianni Schicchi: Plácido Domingo
Rinuccio: Arturo Chacón-Cruz
Lauretta: Andriana Chuchman
Zita: Meredith Arwady
Gherardo: Greg Fedderly
Nella: Stacey Tappan
Simone: Craig Colclough
La Ciesca: Peabody Southwell
Betto di Signa: Philip Cokorinos
Marco: Liam Bonner
Maestro Spinellocio: E. Scott Levin
Ser Amantio di Nicolao: Kihun Yoon
Pinellino: Daniel Armstrong
Guccio: Gabriel Vamvulescu
Gherardino: Isaiah Morgan
Production:
Production: Woody Allen
Director: Kathleen Smith Belcher
Set and Costume Designer: Santo Loquasto
Pagliacci
Cast:
Canio: Marco Berti
Canio: Yusif Eyvazov on October 3
Nedda: Ana Maria Martinez
Tonio: George Gagnidze
Silvio: Liam Bonner
Beppe: Brenton Ryan
Production:
Production/Set Designer: Franco Zeffirelli
Director: Stefano Trespidi
Costume Designer: Raimonda Gaetani
Lighting Designer: York Kennedy
Love and greed are the passions at work in the LA Opera's double bill of Gianni Schicchi and Pagliacci. In Puccini's comedy, we have the grasping relatives of Buoso Donati scheming to change his will as his corpse lies prostrate before them. Love enters the picture by way of Buoso's young cousin, Rinuccio, who hopes for an inheritance so he can marry his sweetheart, Lauretta. Leoncavallo's Pagliacci speaks of another kind of greed. Greedy for the love of his wife, Canio will do anything to keep her from running away with her lover, even if it means murder.
It's an intriguing opera pairing, made even more satisfying by the Italian cityscapes gracing both sets. Although on the surface a Woody Allen-conceived production of Gianni Schicchi might seem light years away from a Zeffirelli extravaganza, they have a film quality in common. They are also united in this revival of both operas (Allen's from 2008, Zeffirelli's from 1996) by the undiminished enthusiasm and talents of LAO's general director, Plácido Domingo, who sings the title role of Schicchi and then moves into the pit to conduct Pagliacci. It's certainly a singular way to celebrate the 30th anniversary of Los Angeles Opera, a relatively young but thriving company and the fourth largest in the country.
In the hands of Woody Allen, Puccini's opera has enough slapstick and sly innuendo to keep the action rolling. The production opens with a giant film screen emblazoned with production and cast credits – illustrious stars of cinema such as Vitello Tonnato and Cesare Insalata. We're off to the races and primed for laughs as we enter a muted, neo-realist, black-and-white cinema world of the late 1940s.
Feigning grief, the nine members of the Donati family anguish over their patriarch's will. Rumor has it that he has left all his wealth to a monastery, and the family searches the house, turning it upside down until at last Rinuccio, Donati's 24-year-old cousin, finds the document. Before handing it over he extracts a promise from Zita, his bossy aunt, that he may marry Lauretta, the daughter of Gianni Schicchi. Sure enough, the will leaves all the dead man's assets to the monks. What to do? Rinuccio sends for the wily Schicchi, who conceives a solution: cart away the dead man, pretend he is still alive, replace his body with the living Schicchi, and rewrite the will. All agree, and while the clan contrives to deceive the doctor and notary, Rinuccio and Lauretta sing of love and marriage.
The only puzzle in this entertaining production  ̶  conducted by Grant Gershon, who brought out the piquancy and sweep of the score  ̶  is the interior of the Donati residence. Why does a wealthy Florentine live in a ramshackle home with laundry hanging overhead and pasta boiling on the stove? The family scorns Schicchi who, from their perspective, is low born, yet why are most of the Donati men dressed like thugs and the women like housewives? It is the grandeur of a black-and-white cinematic backdrop of Florence that saves the set and adds a sense of place appropriate to the opera.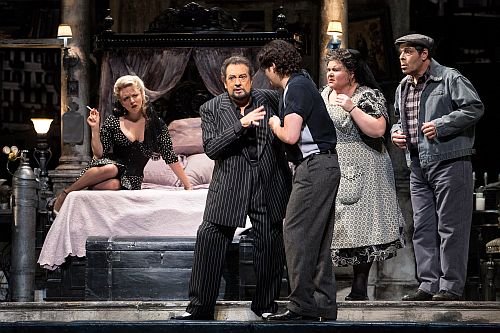 Domingo, singing the title role and famously making a career change from tenor to baritone parts, is deliciously cunning as Schicchi. He draws us into an intimate relationship with his character, and we feel like flies on the wall, spying on his every move and gesture. The cast is uniformly adept from the smallest role to the grandest. As Zita, Meredith Arwady has a megawatt presence and a potent contralto, rich and nuanced. Andriana Churchman as Lauretta delights with her shimmering soprano and her beautiful rendering of the famous "O Mio Bambino Caro." As her lover, Rinuccio, Arturo Chacón-Cruz sings with expressive warmth, creating a believable character who risks all for love.
Zeffirelli's sumptuous productions were a treat in their day, beautifully conceived, but featuring the singers front and center never seemed a priority for him. In an intimate story such as Pagliacci, one loses focus time and again, distracted by a packed stage replete with acrobats, jugglers, a stilt walker, clowns on unicycles, flashing lights, and enthusiastic townspeople who often cavort about in scenes where one would prefer stillness. That said, all the stage business entertains as we enter a world set in a vague time period somewhere between the 1950s and today. The female chorus is clothed in everything from drab '50s housecoats to modern denim mini skirts, while the men wear a cross section of styles, from '50s street attire to contemporary biker leather.
Nothing, however, can distract from the passionate music of Leoncavallo, and Maestro Domingo leads with a sure hand, from the brisk exuberance of the opening to the stirring, climactic moments. Marco Berti's Canio has its problems and its successes. Though he's believable as the jealous husband, his acting is all rage and vengeance. We never see a tender side, and so our sympathies lie almost exclusively with his wife, Nedda, and her lover, Silvio. Berti sings the thrilling "Vesti la giubba" with commitment and ardor, and this is the only time we empathize with the character.
Ana Maria Martinez is a convincing Nedda and, in the impassioned duet of Act I, she and Liam Bonner's Silvio envelop us in their love and desperation, singing with a soaring lyricism. Bonner, whose talent and charisma elevate any production, performs double duty as Marco in Gianni Schicchi and as the doomed lover in Pagliacci.
The robust-voiced George Gagnidze is an ominous presence as Tonio, the spurned suitor for Nedda's affection whose spying precipitates the violence. Brenton Ryan proves a tender Beppe, singing with a bright, pleasing tenor.
All in all, it's a fun-filled night of opera, and with just two performances left, grab a pair of tickets for a vacation in Italy, airfare included.
Jane Rosenberg