Canada New Energy in Early Music in the Pacific Northwest: An Interview with Matthew White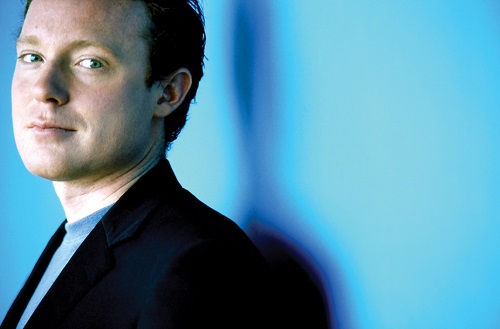 Over the past two decades, 42-year-old Matthew White has been one of Canada's most celebrated counter-tenors, singing at Glyndebourne, the Boston Early Music Festival, and the New York City Opera, and appearing with the Boston Baroque, Les Violons du Roy, and Tafelmusik. His more than 20 CDs are highlighted by collaborations with Phillipe Herreweghe, Dorothee Mields, and many other distinguished artists, and include his own Montreal-based ensemble, Les Voix Baroques, which he directed from 1999- 2014. His recording Elegeia won a 2004 Cannes Classical Award for the best new early music solo recording.
Starting in 2011, the singer began restricting his engagements and moved with increased passion into administration. He assumed the position of Artistic Director of Early Music Vancouver in 2013, succeeding José Verstappen, who had led the organization with distinction for 35 years. Matthew White has all the youthful energy that one could want, and we were interested to find out how his art in singing could be transferred to an administrative calling. I caught up with him after a very successful 2015 Vancouver Summer Early Music Festival; this interview reveals the unflagging work he has done to make early music more vibrant and integrated in the Northwest, and identifies some of the important economic challenges in doing so.  
Geoffrey Newman: You have been one of Canada's stellar counter-tenors, with strong connections to the leading international specialists in historically-informed performance. What prompted your switch to arts administration, especially at such a young age?
Matthew White: I stopped singing about four years ago simply because I felt my vocal resources were becoming compromised. I had a very bad cold one year – three months of chest infection that wouldn't go away – and I damaged my vocal cords a bit. Although it got better, it never felt the same, and combined with all of the issues involved with being a 'travelling' singer (away from home nine months of the year, always in high pressure circumstances), I guess the career just ceased to be attractive to me. From my experience, the lifespan of countertenors is usually shorter than for other male voices since you are always using your falsetto, and the very highest parts of that too. Just as sopranos' voices get lower over time, so do men's, and your vocal mechanism becomes less flexible in this range. What was so frustrating for me is that I was developing what I thought was a heightened artistic sensibility at the same time I was suffering a diminished physiological response. I just thought: I love this music too much to not sing it well!  That was fundamental to my decision to retire.
GN: It is unusual for a relatively young artist to move into a key executive position with a long-standing music organization. What started you in this direction?
MW: I had always enjoyed the production side of the business, and loving the repertoire as much as I do, I knew that I did not want to stray very far. About four years ago, an opportunity to work for Stephen Stubbs opened up in Seattle because he needed some administrative support in his new company, Pacific MusicWorks. I actually sang in a few of the early Pacific Music productions, but then I quickly realized that to properly run an arts organization is not a part-time job – it's a 60-hour-a-week job. The opportunity with Stephen was especially important since he was starting his company from scratch: it meant that I was able to see how you build things from the ground up. When I lived in Montreal, I had also done some work for my own group, Les Voix Baroques, producing recordings, constructing tours, and things like that.  So I did have earlier experience as a singer/administrator.
GN: Have you acquired the new skills you need?
MW: I had learned how to make a concert production budget before, but that is obviously only one of the many things one has to know. I'm now learning (quickly) everything else – in particular, what arts marketing is all about. I have definitely discovered that hiring professional people to market your events is worth it, and am also learning about development and fundraising. I had spent a lot of time writing grant proposals for particular projects, but not nurturing and developing a fundraising base and a local base of supporters. I really enjoy figuring out ways to match people's enthusiasm with our interests. One big objective is to convince some of those people who go to the symphony and other more visible concert series that the quality of our productions is equally high, even though a slightly different musical/ aesthetic language is involved. So far, I think we have been successful: over the past year and a half, our attendance at the big-scale Early Music Vancouver events at the Chan Centre are at least 30% higher, and we seem to be retaining a lot of our patrons too.
GN: Your previous career must an asset when evaluating talent and inviting performers.
MW: As Leila Getz of the Vancouver Recital Society has shown us for many years, there are two very important skills that a concert presenter must have: business acumen and an ear for talent. I have fortunately been able to hear, and often perform with, pretty well everybody connected with early music at the highest international level for the last 15 or 20 years. That experience makes things much easier, especially when you have a network of personal acquaintances to rely on. At this point, I think I have a good sense of what world-class artistry is, and good instincts for who plays well in the sandbox – which artists will come and work well together.
GN: Early Music Vancouver in the 21st century is a very different animal than when the organization started 45 years ago. Can you reconstruct what things might have been like in the early days?
MW: This society incorporated in 1970, and the guild was formed in 1975. Similar guilds appeared in all the larger West Coast cities at that time. The 'early music' movement was mainly inspired by people interested in exploring music history, attempting to figure out what instruments were actually used, what sort of pitch was involved, and what sort of performance 'spaces' were  employed. A lot of this was academic in spirit, so it did attract people interested in scholarship. One critical feature of all the guilds is that they involved many amateur musicians, starting with those who just wanted to form recorder clubs or learn to play the gamba. The recorder society was huge here – and elsewhere too. It was a really big social scene: a new culture of discovery and social engagement. What happened, of course, is that when you had all these people interested in the instruments, some got very skilled at playing them. Suddenly, it was possible to hear a concert of gambas that was really, really good! No longer were we hearing people who were just learning the instruments, but truly virtuoso musicians who had mastered them in a way that would have been traditionally reserved for, say, the piano or violin. And that is how we got to today. I am sad that is in the past now, and little of our operation involves amateur musicians at all. I would love to revive this focus again.
GN: So the earliest concerts involved largely local musicians?
MW: Yes, there were musicians like lutenist Ray Nurse, a wonderful artist and now a really gifted lute builder. Suzy LeBlanc and Suzy Napper were here, and quite a few others – all united by the spirit of discovery. There was hardly a long tradition of sackbut players or gamba players to refer to! People were discovering these instruments, often actually building them for the first time. It's incredible when you think about it. They were putting all the pieces together, and what has changed now is that we have moved through two or three generations of musicians who have been playing these instruments, and they don't have to do the research that the pioneers did. The book on the Baroque oboe is now incredibly thick, and includes all the information you will ever need. You also have endless copies of every instrument that has ever been found.
When you listen to some of Gustav Leonhardt's early recordings of the Bach cantatas or Christmas Oratorio, you can feel how much this was a truly pioneering adventure. I remember Bruce Haynes, one of the fathers of the modern Baroque oboe, telling me stories of recording the Christmas Oratorio with no one knowing how the oboe caccia worked until two days before. It was not like you were hearing fully finished performances then, but you were hearing the first steps of people walking on the moon! I still find these recordings full of life, discovery, and joy. What is both strange and wonderful is that these musicians had such a profound effect on the whole early music scene: 35 years later and within this three-city area, it's possible to assemble an 'authentic' orchestra that sounds absolutely professional and accomplished.
GN: When José Verstappen took over the reins of EMV in the late 1970's, it was a true blessing, since he had a direct link to all the Dutch pioneers and other European instrumentalists.
MW: Yes, José had a great knowledge of, and relationship with, many of the supreme Dutch instrumentalists. He had great taste and invited them all here – Leonhardt, Frans Bruggen, Jaap ter Linden – so we had really amazing performances for years. Even the concertmaster of the Pacific Baroque Orchestra until last year, Marc Destrubé, was part of that tradition, studying in Holland, and then becoming the first violin for Frans Brüggen's Orchestra of the Eighteenth Century, a position he still holds. Monica Huggett also appeared many times, but perhaps that is true everywhere, since it is difficult to think of a Baroque orchestra that she has not had an association with. José  had an immense talent for blending these international 'stars' with homegrown talent to provide concert seasons of just the right variety.
GN: It must have been quite an honour for you to take over the organization from José in 2013. Do you think you have the same vision that he did?
MW: First off, I should say that even though José retired at 74, he still has an unbelievable amount of energy. I think he saw a like-minded spirit in me. Although we had different viewpoints on a number of things, he knew that I really cared about early music as much as he did. He also knew that even if I changed the direction of the organization a bit, I wouldn't let it flag. I am fully aware that Early Music Vancouver would not have succeeded for more than four decades without his immense input and leadership. One thing that I've learned about small and mid-sized organizations is that without key people in the key positions, they don't go anywhere. For example, visualize the Vancouver Recital Society without Leila Getz! She is sheer energy, takes on risks, and is always visible – and that is what you need to propel an organization forward. She thinks about the organization's progress day and night, and loves it. Let me assure you that no one is making money in any of this; we're here because we believe in the music and because we believe that everybody deserves to hear the music.
GN: How exactly has your relationship with Stephen Stubbs helped you in constructing the road forward for Early Music Vancouver?
MW: Stephen does have a big network, and he's been a tremendously energetic force here on the West Coast since he came back from Germany. There's no doubt that the bigger and more exciting projects are now happening here. What he's got going at the University of Washington with Pacific MusicWorks as the Ensemble-in-Residence is amazing. They put on a production of Semele last year with a student and professional hybrid that was extraordinarily exciting and original. They have four more big productions this year. We're collaborating with them on the Monteverdi Vespers. Steven is one of my favourite people to work with because his instinct is to say 'yes' all the time; at the same time, he sometimes needs to be advised by somebody who says 'you need to pay for it'.  But he's also the type of person who would say, 'So what do you want to do?' And when you throw out some ideas that at first seem implausible, he'll eventually say, 'Yeah, let's do it!' He's so relentlessly positive that, even if something turns out imperfect artistically, it doesn't get him down. He just keeps moving – and I love that.
GN: The recent appointment of conductor Alexander Weimann as music director of both the Pacific Baroque Orchestra and the Seattle Baroque Orchestra really opens up something new for the Northwest. Did you originally get to know Alex through Stephen?
MW: Yes, Stephen introduced us in Amsterdam about 15 years ago, after one of his initial concerts with Tragicomedia. Alex was originally from Munich but lived in Montreal for many years before settling in Vancouver last year. I had heard about him from many people because he really was one of the most gifted harpsichordists of his generation. Stephen and Alex were a continuo team with Paul O'Dette for many years and I've never heard concerts that I've enjoyed more. They were unbelievable, absolutely free in expression – like jazz musicians. Stephen and Paul are very different people, and they are very different lutenists, but they get along so well and respect each other enormously. They are, of course, co-directors of the celebrated Boston Early Music Festival. When they play together, you see the smiles all over their faces, and they're just like two high school students in a garage band. It's great to have that informality, even though they are both artists of the very highest standard. Alex is also quite a jazz pianist, and I was amazed when I heard him play for the first time recently.
GN: So, at this point, can you identify the real challenges facing Vancouver Early Music as it moves forward?
MW: Our main goal, understandably, is to bring repertoire to our communities in a way that creates performance synergy at the highest level. But there is another concern: providing for an emerging community of first-rate regional artists who now live here. The question is: What is a cost-effective way to do this? The cost structure facing us is really different than in the past. Not that many years ago, we would get phone calls from esteemed foreign touring groups who wanted to come and perform big works such as the St. John's Passion or whatever at a subsidized rate. These great ensembles would organize international tours – funded by their governments – and offer them to you at a price that was not prohibitive. This has largely ceased to be the case, and it would now be almost impossible to afford them. We really had to figure out a way of putting on some of these events ourselves.
The good news is that, in the last five years or so, we've got a critical mass of talented, historically-informed musicians here, so it is feasible to put on this repertoire at a high level without having to put too many people in hotel rooms and on planes. If, for instance, you looked at EMV's budgets from the past without knowing what we were exactly about, you might think that what we supported was not music but Air Canada or the hotel business. You see what I'm getting at? We have lots of great people here now, and we could spend that money on them instead. I thought it was great to build strong musical roots in our own locality, and I got really excited about this idea as a way of building 'community' over time.  I also saw that the audience was getting smaller and smaller for classical music, and I thought, 'How do you interest people in coming to these concerts?' A critical part of it is involving people that a community recognizes and cares about, who can establish further relationships with interested parties. At least, that's a bit of what was going through my mind.
GN: But the big Baroque choral works are still expensive to put on. Wouldn't cost-effectiveness suggest that you reduced the number of these events?
MW: Not really, since the bigger-scale choral pieces and famous works like the Brandenburg Concertos and The Four Seasons are the ambassadors for repertoire that people know less well. The real secret in putting on the big works is to have co-productions, where each work is performed with the same artists in different cities, say, Vancouver, Victoria, and Seattle. This is often done in opera so costs can be effectively shared. We're currently talking about different models of how we can make co-productions work, but what seems attractive is to let each presenter market the event in any way they want as long as everyone puts similar resources into making the product. All of a sudden, something that seemed impossible and ridiculously expensive is financially attractive.
I can say to Stephen Stubbs, 'Here are my needs, what are yours in terms of artistic personnel, and other production requirements?' He's absolutely open-minded about it, and really understands what is needed to make the project workable and 'special'. Stephen can then brand the production any way that he wants to in Seattle and of course make it look like Pacific MusicWorks is putting on some huge shows! This allows him to get donors behind it and everything.  Meanwhile, they really are only coming up with a half (or a third, if we present in three cities) of the financial and administrative resources needed to make it happen. In Seattle, the co-production can be billed 'Seattle Pacific MusicWorks presents Monteverdi's Vespers in collaboration with EMV'.  In Vancouver, it will be the other way round.
GN: But presumably soloists must be imported to make the productions world-class?
MW: Yes, the principal singers and some guest instrumental soloists will still have to be brought in from elsewhere. But the orchestral players are local to the West Coast, and a number of them are among the best. For example, Linda Melsted was one of the top players in Tafelmusik, and she moved out to Seattle and now plays with both Pacific MusicWorks and the Pacific Baroque Orchestra. Chloe Meyers is Alex Weimann's wife, a really fine violinist, and is now one of the (rotating) concertmasters for Pacific Baroque. There are many more that could be mentioned.
GN: There must be some real advantages in having Alex Weimann head both Pacific Baroque and Seattle Baroque.
MW: Yes, two strong allies in Seattle helps us set up multiple concert productions more easily.  We can say, 'Okay, we'll do the St. Matthew Passion, and we know we've got Seattle and Vancouver for sure. Then, it's a question of convincing Victoria'. It is not clear where this will lead eventually: perhaps we will be able to construct a 'super' orchestra from all the musicians in the area. If so, they could invite guests and do a regular tour of all 3 cities and maybe more.  At least such an ensemble would get the benefit of doing many repeated performances, which would sharpen artistic identity. This is almost impossible to achieve if performances are one-off. I think Alex's musical presence on the West Coast is already making a huge difference to the standards we are able to achieve. I am really eager to support him over the coming years.
GN: How have the large-scale joint productions worked so far?
MW: In the past year, we have put on Handel's Triumph of Time, a big Christmas Oratorio tour, Handel's Theodora, Purcell's Dido and Aeneas, along with Vivaldi's Four Seasons. This fall we have the Monteverdi Vespers. Doing so many big projects is in principle risky, but it has worked out very well and given our organization a 'calling card'. We also did Dido in Ottawa. We must thank our public relations company for increasing our local exposure and ticket sales dramatically – it's been a very good investment for us.
GN: For all your emphasis on local productions, the same model would seem to work similarly for sponsoring the greatest international ensembles on a cost-sharing basis, would it not? I see that you are having Collegium Vocale Ghent with Philippe Herreweghe this year.
MW: Yes, that is true in certain circumstances. We are sponsoring Concerto Palatino with Bruce Dickey, and Charles Daniels is coming again. We are all sharing the (high) costs of these. In the case of Herreweghe, that CD of the Lagrime di San Pietro is simply one of my favourites. It is unbelievably gorgeous music, and I know how amazing he is in that repertoire. I just thought, ' I would love to see that piece here'. I phoned all the other presenters and told them what their share of the cost would be. It turned out to be affordable because the Belgians still do give some amount of money for touring, especially for small groups. Enough people said yes that it's going to work. We got Victoria to come on board, Vancouver, and maybe Calgary. It will be one night after the other for the concerts.
GN: This sounds like a great plan, but it seems that if too much is 'shared', you must be cutting down the musical variety that each city has.
MW: I agree that you don't want to see too much similarity in the programmes in each city. I'm not advocating that, but a few times a year, for the really big projects, if you can get on the same page with other presenters, then you can get a great deal on great music. It's as simple as that. Each city can go its own way for its many smaller projects.
GN: How does Portland fit into all this?
MW: True, I'm thinking mainly about Seattle, Vancouver, and Victoria, because that fills the three weekend concert slots. The Portland Baroque Orchestra under Monica Huggett has been a really well-run organization for a long time. Ton Koopman was their original executive director and did incredible work. Over the past 10 years, they've turned into a really stable, thriving arts organization. (In the not-for-profit world, not losing money and managing to balance the budget is 'thriving'!) But I would want to have them up here often: Monica Huggett is a force of nature who just has to be seen! She has visited with the orchestra in the past two seasons and, in 2016-2017, she's here for a big project with Bruce Dickey, Stephen, Alex, and the amazing young Czech soprano, Hana Blažíková.
GN: From your experiences so far, can you give us some of your more general feelings on presenting 'authentic' performance in this era?
MW: For those committed to historically-informed performance, it is tempting to lay down a pretty stiff set of rules for what performances should look like. Yet I think one has to be very practical and compromising. I would not present, say, Bach's Brandenburg Concertos in a 2500-seat hall, but if someone decided to do that, I would not be against it so long as the spirit and expression of the music were there. From a practical viewpoint, I might also condone the use of modern instruments – so that the instruments could be heard! Practicality is also a pressing issue when one presents long operas or oratorios. Everybody prizes themselves on performing 'complete' versions these days, but sometimes union regulations really make it difficult to buy the time for this. I know that I will not get a following here, but I actually think that it's okay to cut a little bit of some of Handel's oratorios, and we in fact did this for Theodora. These works were often cut historically, and sometimes, if something wasn't selling well, even Handel might have thrown in an organ concerto instead, or an extra soprano aria right in the middle of the show! 'Authentic' orchestra size is another issue on which one has to be practical. The only reason we didn't have a full Baroque orchestra for Dido was because we didn't have enough money in the summer festival budget.
My essential concern is with the spirit and expression of early music, no matter how it might be presented. I think the idea of full authenticity is impossible to reach, and we've moved on from any pretence of this to just working with the information and research at our disposal to come up with the best music experience possible. There's still a lot more learning to do, especially in terms of repertoire, and who knows where it will go. Did you read the book The End of Early Music? It's full of controversial and fun ideas. Bruce Haynes wrote it in the last years of his life, and he suggested that the next logical step for people who are into this music is to start composing in a neo-Early Music way. This now seems to be a coming thing and I would love to see more Baroque music composed in the 21st century!
GN: In closing, perhaps you could give us your thoughts on early music education, and what you are doing in this area. What do think are some of the important issues?
MW: If you go onto our website (earlymusic.bc.ca), you'll see all the things that we do in the community – a tremendous amount of outreach actually. If you want to hear a free concert from Early Music Vancouver, all you've got to do is go on the website and look for it there. We're doing many things at Douglas College this year, four free concerts at Green College, and the Baroque Orchestra Mentorship Programme at UBC.
Developing community engagement initiatives is something you now have to do in order to get government grant money. This sometimes frustrates me, because you can't expect an early music presentation company to also provide the needed music education for a whole generation of young people. Our prime focus must be on presenting and producing high-quality music for the public at large. That is quite a different function in the community than giving kids recorder lessons, and I think it's important that everybody recognizes this difference. The government can't just say, 'Oh look, these groups are now doing the education, so we don't need to fund music education in schools anymore'.  I want to make it clear that just can't happen: if they continue to pull music funding from the schools, in 50 years there will be nobody who's heard of J. S. Bach. And then we're sunk.
I think making cuts to the arts and to music education is a fatal flaw. This is true of continuing attempts to dismantle the CBC too. It can only weaken our social fabric irretrievably. The CBC was a source of national pride, and it was a way of providing a shared platform for dialogue and certainly access to high quality music. I am disturbed by increasing attempts to restrict dialogue and dumb things down, and will continue to advocate for the societal value of high quality music of all kinds.
Geoffrey Newman
Previously published in a slightly altered form on www.vanclassicalmusic.com