Germany Mascagni, Cavalleria Rusticana; Leoncavallo, Pagliacci: Soloists, Chor der Deutschen Oper Berlin, Kinderchor der Deutschen Oper Berlin, Orchester der Deutschen Oper Berlin/Ivan Repušić (conductor), Deutsche Oper Berlin, 13.9.2015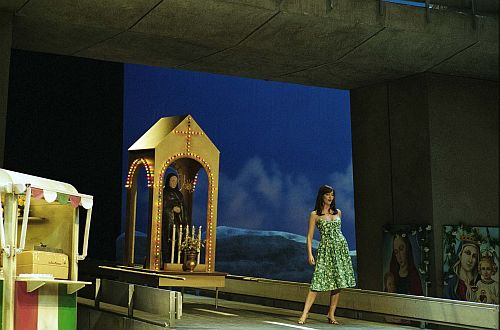 Cavalleria Rusticana
Cast:
Santuzza: Daniela Barcellona
Turiddu: Russell Thomas
Mamma Lucia: Ronnita Miller
Alfio: Samuel Youn
Lola: Irene Roberts
Pagliacci
Cast:
Canio: Vladimir Galouzine
Nedda: Guanqun Yu
Tonio: Samuel Youn
Beppo: Álvaro Zambrano
Silvio: John Chest
Zwei Bauern: Max-Uwe Stieren, Frank Wentzel
Chorus Chor der Deutschen Oper Berlin, Kinderchor der Deutschen Oper Berlin, Orchestra Orchester der Deutschen Oper Berlin/Ivan Repušić (conductor)
Production:
Director: David Pountney
Stage design & Costume design: Robert Innes Hopkins
Choreographer: Silke Sense
Chorus Master: William Spaulding
Childrens Chorus: Christian Lindhorst
Receiving their world premières in 1890 and 1892 respectively it seems remarkable that Cavalleria Rusticana and Pagliacci (Cav & Pag) weren't staged at the Deutsche Oper Berlin until 2005. But they were, and now that David Pountney's production is receiving its revival I suppose my views are going to mirror much of what was written at the time. It was certainly a game of two halves for these verisimo masterpieces. Cavalleria Rusticana is entirely memorable for its excellence and Pagliacci (known in Germany as Der Bajazzo) is a confusing and incoherent mess-up, having seen Grischa Asagaroff's production of Cav and Pag from the Zurich Opera House in 2009, with the magnificent José Cura as Turiddu and Canio, which is now my benchmark.
Pountney's Cavalleria Rusticana contained all the necessary elements to provide the steamy claustrophobic atmosphere of this strong and passionate tale of love, lust, betrayal and revenge resulting in murder all set in a Sicilian village. The focus of the action was a mobile transport cafe run by Mamma Lucia, which acted as a benevolent institution handing out copious amounts of wine without ever asking for payment. Above the cafe and dominating the scene was a road bridge. For the crucial Easter religious festivals instead of a church the roads were used for the crucial Easter Sunday procession scenes. Right from the overture in the opening scene I was engaged by the couple's clandestine night meeting on the bridge and the very gradual sunrise in the background as Mamma Lucia slowly opened up the cafe.
An actress of compelling stage presence with a forceful and attractive vocal, Italian mezzo-soprano Daniela Barcellona excelled in the role of Santuzza a fallen woman. Barcellona's emotional turmoil was palpable and at the core of the opera her affecting duet No, no, Turiddu, rimani ancora with her lover Turiddu was a real highlight. Giving his all to the part tenor Russell Thomas acted well as the drink soaked love-rat Turiddu whose life is in turmoil. Singing incisively although not exactly plush the American tenor revealed impressive tone quality. As Alfio unflappable Korean bass-baritone Samuel Youn, a respectable enough actor, displayed a moderately dark, well focused voice of considerable penetration with a noticeable vibrato that never really intruded. In the supporting roles mezzo-sopranos Irene Roberts as Lola took the eye as did Ronnita Miller as Mamma Lucia; such a natural actress.
A work of intense passions Pagliacci centres on jealousy and unfaithfulness that leads to tragic consequences. Pountney and stage designer Robert Innes Hopkins connected Cavalleria Rusticana to Pagliacci by some stage action that ran from one opera to the other and even commenced with the same Cavalleria Rusticana set. As the Pagliacci action progressed the layout of the set was constantly rearranged with its replica concrete blocks and supporting scaffolding viewed as though from back-stage. The protagonists were originally intended to be a commedia troupe that were predominantly portrayed as clowns as in the Asagaroff/Cura, Zurich production, touring the villages of southern Italy. This production created considerable discussion amongst my party as to what Canio's troupe were supposed to be, dressing more like gangsters, wearing black suits and dark glasses all travelling in a black limousine.
Worthy of praise as Canio was passionate Russian tenor Vladimir Galouzine revealing a dramatic yet reasonably smooth projection whilst remaining expressive with good diction. In the context of this confusing production Canio's Vesti la giubba although well sung had a reduced impact. The convincing Guanqun Yu from China played Nedda and I relished her lovely attractive soprano with a noticeably smooth and fluid projection, especially comfortable in her top register. Nedda's enchanting aria Qual fiamma avea nel guardo was beautifully rendered whilst for some reason she was handing out dark glasses to the local children. Stepping up to the plate for his second role of the evening assured bass-baritone Samuel Youn made a persuasive Tonio giving a splendid rendition of his aria Un nido di memorie. Involved considerably in Pagliacci the chorus sang wonderfully under William Spaulding's coaching although they were required to undertake lots of tiresome arm waving, clapping, swaying in unison and at one point wearing novelty eye masks. Despite some occasionally unconvincing tempi Ivan Repušić did a commendable job of conducting the Orchester der Deutschen Oper. Repušić seemed unsure whether to stop or continue for the set-piece arias, which seemed messy.
Generating considerable emotional intensity Pountney hit the spot with his captivating production of Cavalleria Rusticana that had been extremely well cast. Pagliacci was well cast too, but had I been unfamiliar with the Pagliacci scenario I'd have left the Deutsche Oper completely flummoxed by this disjointed production. A marvellous opportunity had been lost to show Leoncavallo's masterpiece at its very finest. As the curtain fell the initial booing was counteracted by cheering which can't have been for anything other than the excellence of the individual performances and Leoncavallo's stunning music.
Michael Cookson