Puccini, Turandot : Soloists, Orchester and Chor der Deutschen Oper Berlin / Alexander Joel (conductor), Deutsche Oper, Berlin 12.9.2015. (MC)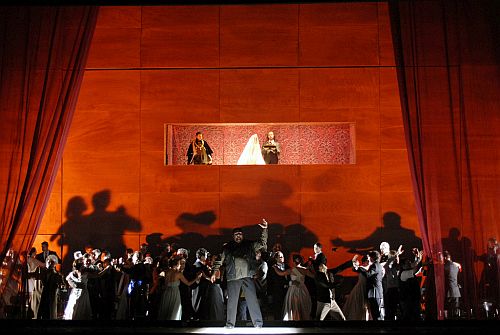 Cast :
Turandot: Catherine Foster
Altoum: Peter Maus
Calaf: Stefano La Colla
Liù: Elena Tsallagova
Timur: Dong-Hwan Lee
Ping: Mikheil Kiria
Pang: Gideon Poppe
Pong: Attilio Glaser
Mandarin: Andrew Harris
Production :
Direction: Lorenzo Fioroni
Stage design and Video: Paul Zoller
Costume designer: Katherina Gault horus: William Spaulding
Having seen a marvellous Deutsche Oper production of Pelléas et Mélisande the other evening my expectations were high. As the curtain to Turandot opened my heart dropped at what my eyes were seeing. I can't remember a stage design as tired looking and slipshod. Talk about a budget production, it had all the class of an end-of season-sale!
Director Lorenzo Fioroni and stage designer Paul Zoller have collaborated on what seems to be a vision of an undefined communist state – maybe East Germany under Soviet control. Basically as plain as possible the set is constructed of large, light brown panelled walls from top to bottom with a rectangular aperture cut out about two-thirds of the way up to use as a private observation box for decrepit dignitaries and body guards. In front of the wall is an area containing rows of a large number of stackable seats for the people. The next set is a scaffolding tower with stairs and a platform at the top. Zoller's film footage shot across the set at certain points was disappointing and none of my group could agree on its full intention.
Originally set in ancient Peking, Puccini uses numerous oriental themes in his score yet Fioroni's conception removed virtually all such elements apart from a few oriental looking fans held by some of the people. At the commencement of act 3 I'm still unsure what the point was of the large section of wall panel toppling to the ground with a thud revealing its strengthening bars at the rear. Clearly costume designer Katherina Gault didn't have to think too hard to come up with a hotchpotch of everyday clothes from say the 1950s.
British soprano Catherine Foster, who has sung Brünnhilde at Bayreuth, made an unpleasant, unfeeling and rather arrogant Princess Turandot bordering on the evil, a portrayal that increasingly grew on me. Giving a fine dramatic performance Foster's vocal soon became steady and well projected. Shame about her unflattering wedding dress, the frumpiest I've ever seen and unbecoming for a Princess. A marked example of Regietheater liberties, in a final flurry of activity to close the opera, both Turandot and Calaf killed their fathers before walking off under the stars hand in hand. Turin born Stefano La Colla has already sung Prince Calaf under Riccardo Chailly at La Scala. Quietly assured La Colla did a sterling job displaying a brightly focused tenor giving a most acceptable account of Nessun dorma . Having to rely on his vocal prowess the Italian tenor offered little by way of stage presence.
Stealing the show as the girl Liù was Russian Elena Tsallagova who received the loudest audience ovation. A diminutive figure on the stage the soprano has big heart and impressive vocal to match. Providing suitable intensity Tsallagova's fluidly attractive vocal added to her overall artistry and her suicide scene was well acted. Of the supporting cast I felt Dong-Hwan Lee as Timur, who at the conclusion was down at heel, swigging alcohol from a bottle and carrying a white plastic carrier bag, made the most of his role. Ping, Pang and Pong sang acceptably and as comedy characters were often made to look ridiculous. Conductor Alexander Joel gained an acceptable response from his players although it did seem slightly jaded and I expected better. Under William Spaulding's coaching the chorus sounded impressive, unified in ensemble and dramatic.
Thankfully Puccini's magnificent score shines through the obscuring murk like a beacon.
Michael Cookson