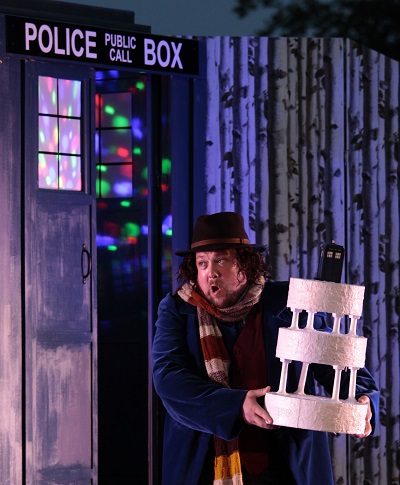 United Kingdom Antonio Salieri, Trofonio's Cave (La Grotta di Trofonio): Soloists and chorus of Bampton Classical Opera and CHROMA conducted by Paul Wingfield. St John's Smith Square, London, 15.9.2015 (JPr)
Libretto by Giambattista Casti
English Translation by Gilly French and Jeremy Gray
Cast:
Aristone: James Harrison (baritone)
Dori: Aolfe O'Sullivan (soprano)
Ofelia: Catherine Backhouse (mezzo-soprano) – role acted by Marieke Bernard-Berkel
Artemidoro: Christopher Turner (tenor)
Plistene: Nicholas Merryweather (baritone)
Trofonio: Matthew Stiff (bass)
Ladies' Maid: Triona Adams
Production:
Director/Designer: Jeremy Gray
Assistant Director: Triona Adams
Costumes: Vikki Medhurst
Répétiteur: Marek Ruszczynski
This rare outing of Salieri's 1785 opera – probably the first time it has been heard in the UK as the composer himself would recognise it – raised so many questions that cannot be answered adequately by me. The most important of these – on this evidence – is why is Mozart so revered whilst Salieri is mostly forgotten and remembered only as the younger composer's nemesis as depicted in Peter Shaffer's Amadeus play (and subsequent film version) which was based on historical fact … up to a point. That point was whether Salieri, court composer in the Vienna of Mozart's day, internationally renowned, a prominent teacher and someone universally respected had poisoned him to eliminate the competition.
As my esteemed colleague Roger Jones wrote in his review (of an earlier performance at Bampton) Salieri's work 'pre-dates Figaro, Così, Don Giovanni and The Magic Flute, and one can't help feeling that the younger composer must have drawn inspiration from Salieri's story line and music. In his opera characters embark on a journey involving transformations which ultimately lead them to a better understanding of themselves. Does this sound familiar?' Indeed it does and I couldn't put it better myself and won't try!
In a brief introduction in the programme the plot is outlined beginning with how 'Aristone is sympathetic to the marriage plans of two very different daughters. The studious Ofelia will marry the philosophy-loving Artemidoro, whilst the vivacious Dori has chosen lively Plistene: all will be content.' As we are very familiar from similar tales a lot can – and will happen – before there is a happy ending. Throw into this plot 'the mysterious cave of the magician Trofonio', some 'transformed personalities' and an undercurrent of some striving for enlightenment … and much fun will be had by all. Significantly in the programme this was headed Resumé – or 'Into the woods' and began with a quote from Shakespeare's A Midsummer Night's Dream – clearly a major influence on Giambattista Casti's libretto. For those who love that play like I do Trofonio is Oberon, Aristone is Egeus, and Dori/Ofelia/Artemidoro/Plistene are revisions of Helena/Hermia/Lysander and Demetrius.
My wife and I are devotees of BBC Four's foreign drama series often a Saturday night staple for us. By now we have got so used to all those subtitles that as we read them it is almost as if the actors are speaking in English rather than their own language. It was something like this for this supremely entertaining performance at St John's Smith Square as the original Ofelia, Anna Starushkevych, was stuck in the Ukraine unable to get permission to sing in the UK and her role was split between mezzo-soprano, Catherine Backhouse, singing from the platform, and the role acted by Marieke Bernard-Berkel, assistant stage manager for this production. It was a little distracting initially but – as with the subtitles – I soon began to imagine it was Ms Bernard-Berkel singing and I could immerse myself in all the high jinks of Jeremy Gray's simple but extremely amusing staging.
Jeremy Gray was the founder – with Gilly French – of Bampton Classical Opera in 1993 and this is their 23rd season. It is a great pity I have – to my shame – never heard about them and I must have missed so many similarly interesting rarities in all those years. If they have ever done anything as wonderful as this Trofonio's Cave then I wish I had been there. Salieri seems to have been an expert craftsman capable of writing music that not only appealed to the tastes of his day but – unlike that of some other eighteenth-century composers – appears to have something to say to us today. It was all aided and abetted by a very witty – contemporary and singer-friendly – translation from Gilly French and Jeremy Gray, and the sensitive support and accomplished musicianship of CHROMA under their conductor, Paul Wingfield, who conducted with suppleness and with obvious affection for the score. With the ensemble performing behind the singers the tricky balancing act between them and the orchestra was not always perfect. Because of this – and St John's troublesome acoustics – the soloists were occasionally swamped and some of the words lost, but it never spoilt my enjoyment of what I was watching.
Vikki Medhurst's costume designs initially brought a little bit of Downton Abbey to the proceedings but the 'serious' Dori soon 'transforms' and wears a brightly patterned mini shift dress from the early 1970s and the straight-laced Artemidoro turns into a semi-hippie rock god! The real coup de théâtre for me was having Trofonio's cave represented by the Tardis and the magician himself appearing as Tom Baker's Fourth Doctor complete with scarf and packets of jelly babies! Yes you've guessed it – if I am not reporting for Seen and Heard or watching Nordic Noir on BBC Four I can be found watching Dr Who religiously and have done for over 50 years! There are lots of lively arias, duets, trios, and quartets for the singers and there is also a chorus of unseen spirits. The cast Bampton Classical Opera assembled were never less than fully committed and highly accomplished and we clearly understood a sisters' rivalry, their love for a caring father and all the zany mishaps along the way to true love. I don't want to particularly single anyone out as they were all so integral to the success of this exhumation of a too-long forgotten operatic gem. If special mention has to be made it would be for Catherine Backhouse stepping in at the last-minute as an intense and vibrant sounding Ofelia and Matthew Stiff as the mysterious, mercurial and roguish Trofonio (Tom Baker would be proud) which was warmly and commandingly sung.
Jim Pritchard
For more news about Bampton Classical Opera go to http://www.bamptonopera.org/