United States  Sondheim, Sweeney Todd: Soloists, chorus and orchestra of San Francisco Opera, Patrick Summers (conductor), War Memorial Opera House, San Francisco. 18.9.2015 (HS)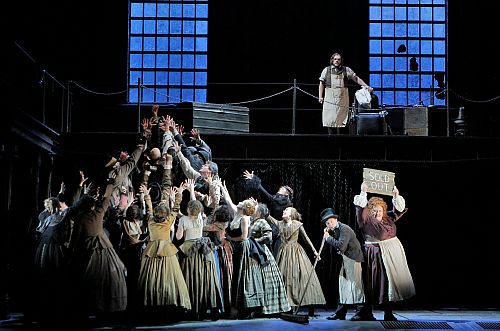 Cast
Sweeney Todd: Brian Mulligan
Mrs. Lovtt: Stephanie Blythe
Anthony Hope: Elliot Madore
Beggar Woman: Elizabeth Futral
Johanna: Heidi Stober
Tobias: Matthew Grills
Adolfo Pirelli: David Curry
Beadle Bamford: Al Glueckert
Judge Turpin: Wayne Tigges
Production:
Director: Lee Blakely
Sets and costumes: Tanya McCallin
Lighting: Rick Fisher
Sound: Tod Nixon
In 1979 my colleague at the San Francisco Examiner, the music critic Michael Walsh, dropped an LP album on my desk. "This," he said, "is the best American opera since Porgy and Bess." Emblazoned on the cover in blood red was the title, Sweeney Todd: The Demon Barber of Fleet Street, with a caricature of the title character wielding a cleaver and his sidekick Mrs. Lovett with a rolling pin.
The composer, Stephen Sondheim, had already written both music and lyrics to several extraordinary Broadway shows, including Company, Follies and Pacific Overtures, plus additional songs for a revival of Bernstein's Candide and a remarkable score to the film Stavisky. But an opera? Even Sondheim himself resisted the characterization, enunciating a personal dislike for the genre.
It took only five years, however, before the piece reached the stage of an opera house: both Houston Grand Opera and New York City Opera mounted productions in 1984. In today's opera companies, Sweeney is among the most-performed pieces by an American composer, exceeded only by Amahl and the Night Visitors, Porgy and Bess, Susannah, and Candide.
The musical rewards from an accomplished cast of operatically trained singers and full orchestra are legion, however. Anyone who has heard the operatic bass-baritone Bryn Terfel as Sweeney, singing this music in front of the New York Philharmonic, can attest to that.
David Gockley, who programmed that 1984 Houston production when he was managing director there, waited until his final season as general director in San Francisco to present it here, collaborating with Theatre Chatelet in Paris, which debuted it in 2011, and Houston, which did it earlier this year.
It's a dark setting: a grand guignol tale of a barber bent on revenge, who puts his razor in league with a bakery owner to provide the flesh of his victims for her pies. The unit set consists mostly of scaffolding, a brick wall and industrial windows. It calls to mind the original production at the Uris Theater in New York, with key elements rolling apart and fitting together to make instantaneous scene changes.
On Thursday in the third of eight performances, most of the key assignments in the cast were debuts, including the two principals. Bass-baritone Brian Mulligan stepped into the title role for Mark Delavan in May, with less than three months to learn the part—and pretty much looked and sounded like he'd been performing it for years. Mezzo-soprano Stephanie Blythe displayed juicy comedic timing along with a resplendent low range, plus an ability to draw every ounce from the character's words and music. Together, they made an unstoppable team.
Mulligan's Sweeney is more spooky than scary, the menace lurking below the surface as he cocks his head at an angle and wears an expression of ill-concealed madness. When the spurts of blood finally come, it's all the more shocking, though inevitable. Sondheim's music for Sweeney calls to mind Britten's for Claggart (in Billy Budd), a role Mulligan has also sung impressively here. His rich baritone infused the words with portents. "My Friends" was a warm love song to his razors, and "Epiphany" became a vivid representation of Sweeney's twisted psychology. "Pretty Women," an unsettling duet with Judge Turpin, who stole Sweeney's wife and daughter and sent the young barber away for life, carried just the right undertones of forced camaraderie and menace.
Blythe wields all of her expressiveness in her irresistible opener, "The Worst Pies in London," then floats her voice insinuatingly in the opening measures of "A Little Priest," in which she first suggests the idea of using the spoils for meat pies, and later summons up a music-hall lightness for "By the Sea." Her voice seems capable of anything.
As the evil judge Turpin, bass-baritone Wayne Tigges delivered a searing "Johanna," the disturbing scene cut from the original production though included on the cast album. He managed to create the worst villain of the bunch, in a cast full of characters who could qualify for that title (including Mrs. Lovett and Sweeney himself).
There were also vivid turns from tenor David Curry as Pirelli, a tenor with a phony Italian accent who has a set piece reminiscent of Dulcamara's in Elisir d'Amore, and tenor Al Glueckert as Beadle Bamford, Turpin's weaselly minion. Glueckert managed to sing beautifully and still annoy, as he crooned parlor songs while waiting to investigate a complaint against Mrs. Lovett.
As Tobias, tenor Matthew Grills brought sweetness and warmth to his big song, "Not While I'm Around," if not quite the clarion quality needed for the crowd-calling introductions to Pirelli's tonsorial show or "More Pies," which opens Act II.
Among all this there still has to be a pair of lovers, who were voiced with ardor by high baritone Elliot Madore as Anthony Hope, a sailor who befriends Sweeney, and Heidi Stober as Johanna, Turpin's ward. Madore delivered "There's No Place Like London" with commendable bravado and his somewhat unsettling love song "Johanna" with long legato lines, but Stober's soprano had a bit too much richness and vibrato for the teenage Johanna. "Green Finch and Linnet Bird" is not quite lilt. And Elizabeth Futral came off as loopy, rather than lost, as the Beggar Woman.
One of the jewels of this score is how Sondheim differentiates members of the chorus, splitting them off into trios and quintets at specific points. Often it's with a different verse of "The Ballad of Sweeney Todd," such as the quintet of singers who echo the letter Sweeney writes to entice Turpin into his shop one last time. These were sung with enviable precision and flair.
Conductor Patrick Summers pulled all this together with tremendous energy, unflaggingly pushing tempos, and getting colorful timbres and rhythms from all hands.
And that brings up the one troublesome aspect of mounting a show written for the Broadway stage in an opera house. Sondheim's music and Jonathan Tunick's orchestrations are geared to a 1,000-seat house (rather than a 3,000-seat opera space). Singers require amplification so that dialogue and more thickly scored moments can be heard clearly. This is a tradeoff in the best of circumstances, but problems with the sound design here made it less than ideal. Some voices seemed to come from a place other than from the singers, a problem in ensemble scenes. And the quality, at times, was tinnier than this excellent cast deserved.
Harvey Steiman