United Kingdom BBC Prom 67 – Bernstein, Stage and Screen: with singers including Louise Dearman (vocalist), Lucy Schaufer (mezzo-soprano), Scarlett Strallen (vocalist) and  Julian Ovenden (vocalist), Maida Vale Singers, John Wilson Orchestra / John Wilson (conductor),  Royal Albert Hall, London, 5.9.2015. (JPr)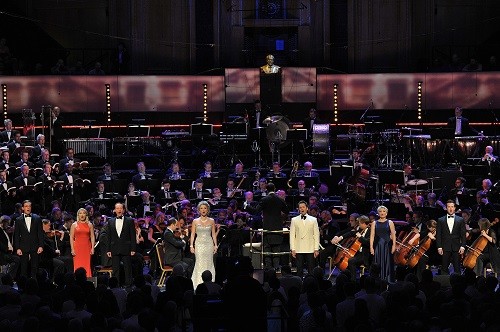 Music from Leonard Bernstein's film and musical-theatre scores: On the Town, 1600 Pennsylvania Avenue, Wonderful Town, On the Waterfront, Candide, West Side Story, Trouble in Tahiti and Peter Pan
After the interesting and imaginative Proms this season showcasing BBC TV's Sherlock and Sir David Attenborough's natural history series Life Story audience favourite John Wilson and his orchestra celebrated the legendary Leonard Bernstein in an albeit entertaining – but disconcertingly unimaginative – way. Bernstein has been considered as a twentieth-century Renaissance man and David Gutman's profile in the programme described him as 'a celebrated educator, writer, broadcaster and, in earlier years, a formidable pianist, he pursued an on-off career as a composer like his idol Gustav Mahler, blurring the boundaries between high and popular culture in a personal mix of Mahler with Copland, Stravinsky and elements drawn from Broadway and specifically Jewish traditions.'
Throw in the influence of blues, swing and jazz – which was also evident from what we heard in this Prom – and it supports Gutman's assertion of the 'rampant eclecticism' in Leonard Bernstein's music. Perhaps the finest – among many fine moments – for John Wilson and his orchestra was the On the Waterfront – symphonic suite and when the opening theme on French horn returned as a remorseful off-stage elegy it was pure Mahler – and reminds the listener of the posthorn in his Third Symphony (third movement). The four French horns had their bells raised as the music reached a dramatic climax and also reminded me of Mahler whilst the timpanist pounded away with Brucknerian relish. Sadly I have never seen On the Waterfront (1954) for which Bernstein composed his only film score so I cannot comment on how much this related to its story, but it actually sounded like the Finale to a symphony – Bernstein wrote three of them – rather than film music.
If much was indeed right about this concert then what was wrong? Firstly that the sell-out Royal Albert Hall – many of whom were paying premium West End prices for the privilege – was more than ever just there to provide atmosphere to the live radio broadcast and the delayed transmission of this concert on BBC 4. Worse was that nobody said anything apart from a little dialogue for On the Town at the start until the very end when Mark Meadows as Dr Pangloss in Candide asks 'Any Questions?' Well these are my questions: how many people were familiar enough with Bernstein oeuvre that they knew what they were hearing without buying the programme? How many do they think would usually buy the programme? Looking around me it was not many.  When – oh when – will we get surtitles at the Royal Albert Hall?  I was not that far back but some of the words from the singers were indistinct. Nothing will matter when this Prom gets to TV because it will no doubt have a complete introduction, subtitles and the singer's faces will be clearly seen but I wonder what enjoyment someone sitting on the back row of the circle high up near the roof of the Royal Albert Hall could get from this concert. (If you were up there, please write to me). Also most of those I could see who were there seemed quite elderly and this is despite the Proms Extra Family events (for families and children aged 7 to 16). So what are the BBC Proms trying to do about this as I didn't see many genuinely young people (which is different to those young-at-heart like me) at this concert?
Despite all these reservations there was still much to enjoy not least from the sight of the immaculately attired John Wilson on the podium imitating any number of twentieth-century band leaders such as Victor Sylvester or Mantovani … to name just two. There was lots of good singing starting with Robert Winslade-Anderson's resonant bass voice as a workman in the opening scene to On the Town Bernstein's first musical in 1944. Louise Dearman proved herself adroit at depicting feisty heroines with her wonderfully comic 'A Hundred Easy Ways to Lose a Man' from Wonderful Town (1948). Scarlett Strallen was simply sensational in Cunegonde's 'Glitter and Be Gay' from Candide (1956) a role she sang recently for London's Menier Chocolate Factory. This song is a pastiche of a Viennese operetta coloratura aria and has some stratospheric high notes that Miss Strallen cast off imperiously whilst acting up a storm and revealing how her cheerful façade of a foolish romantic hid the pain within. Julian Ovenden's heartfelt 'Maria' from West Side Story (1957) was another highlight whilst Lucy Schaufer's 'Island Magic' from the almost forgotten Trouble in Tahiti (1952) was another comic tour de force as she recounted the 'terrible, awful movie' she had been to. Everyone came together to give this Bernstein tribute a wonderful apotheosis with the haunting and plaintive 'Make Our Garden Grow' from Candide.
That not everything Leonard Bernstein wrote was first class could be heard from his 1976 1600 Pennsylvania Avenue that seems to have been a patriotic flag-waving piece written to celebrate the bicentenary of the declaration of US independence, and on this evidence it was a surprise it got to seven performances before it closed on Broadway! But such blips in a stellar career can be forgiven when we could be sent out of the Royal Albert Hall smiling broadly: John Wilson and his orchestra excelled in the quasi-Puerto Rican rhythms of their 'America' encore and Alexandra Siber and Gina Beck gave a suitably high-spirited and bouncy rendition of that wonderful West Side Story number.
Jim Pritchard
Hear this and other Proms on the iPlayer for 30 days after the event via the BBC Proms website www.bbc.co.uk/proms or download for 30 days via the free iPlayer Radio app.
For more information about the 2015 BBC Proms season visit www.bbc.co.uk/proms.