Germany Wyschnegradsky, Haas, Schoenberg: Klaus Steffes-Holländer, Matan Porat, Florian Hoelscher, Julia Vogelsänger, Akiko Okabe, Christoph Grund (pianos), SWR Sinfonieorchester Baden-Baden und Freiburg/François-Xavier Roth, Berlin Musikfest 2015, Philharmonie, Berlin 7.9.2015 (MC)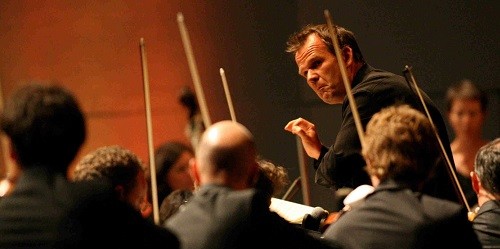 Ivan Wyschnegradsky: 'Arc-en-ciel' for six micro-tonally tuned pianos, Op. 37/Op. 52a (1956/58)
Georg Friedrich Haas: 'Limited approximations' for six micro-tonally tuned pianos and orchestra [2010]
Arnold Schoenberg: 'Pelleas and Melisande' symphonic poem after Maurice Maeterlinck, Op. 5 (1902/03)
As soon as conductor François-Xavier Roth opened his scores on a music stand large enough to be a draughtsman's drawing board one knew there was some highly technical, modern music to be played.
The disappointing turnout at the Philharmonie came as no great surprise for a concert comprising of modern works together with an accessible work by Schoenberg, Pelleas and Melisande, whose name alone is enough to send shivers down the spine of traditional concert goers. Nevertheless the Musikfest Berlin has a tradition of programming contemporary music such as Limited approximations by Haas or music that has fallen out of the repertoire such as Wyschnegradsky's Arc-en-ciel. In addition it is typical of radio orchestras such as the SWR Sinfonieorchester Baden-Baden und Freiburg to play programmes of contemporary works as their income is not generated solely by box office takings and commercial sponsorship.
Russian microtonal composer Ivan Wyschnegradsky wrote his Arc-en-ciel for six micro-tonally tuned pianos, Op. 37/Op. 52a in 1956/58 and had to wait until 1988 at Graz before it received its première. In this twelve-tone work the six pianos Wyschnegradsky required were tuned a twelfth of a tone apart together with the six pianists working technically and accurately together, unwaveringly as a team. A tough work, highly percussive throughout and full of unusual sounds of a rather monochrome quality and of a precision that felt as if they could have been computer generated.
It was Wyschnegradsky's Arc-en-ciel that inspired the Austrian born Georg Friedrich Haas to write his Limited approximations half a century later in 2010. Lasting around thirty-two minutes in performance, this was a complex work scored for six micro-tonally tuned pianos in twelve-tone intervals and orchestra. Compared to Arc-en-ciel the inclusion of a traditionally sized orchestra, without percussion, added greatly to the colouration and to the interest. Hass described "contrasting elements alternate with each other – moments of smoothness and friction." With remarkable harmonic effects the writing was continually fluctuating and developing. Providing a stark contrast to the bank of markedly percussive pianos was the ingenious and stimulating writing for the strings and brass. Although having the general feel of an advanced mathematical exercise, Haas has created a strikingly innovative sound world out of which I relished the exploration of the potential between consonance and dissonance. About two-thirds of the way through the constant repetitions became wearingly monotonous, especially the seemingly relentless, almost unbearable glissandi effects.
Talk about switching compositional styles! Off the top of my head I can't think of anyone as influential who changed as drastically and as quickly as Arnold Schoenberg. His early period around 1894/1907 concentrated on extending the compositional styles of the late-Romantic composers rooted in the Austro/German tradition, as demonstrated by his symphonic poem Pelleas und Melisande and the massive cantata Gurrelieder. Schoenberg's Pelleas und Melisande, Op. 5 was completed in 1903 and premièred by the composer two years later in Vienna. Employing a large orchestra the score is cast in a single continuous movement with numerous interconnected sections. Schoenberg based the work on Maurice Maeterlinck's dramatic play Pelléas and Mélisande (1892). It traces the forbidden love of the title characters and is destined to end in tragedy. In many respects the story is not dissimilar to that of Tristan and Isolde. So lushly orchestrated, Schoenberg's score can appear saturated with notes but Maestro Roth had full measure of this gorgeous wash of rich and colourful sound that quickly shifts from one dramatic climax to the next; sometimes ecstatic, sometimes thunderous. Roth's players clearly relished the way that Schoenberg gives all sections of the orchestra the opportunity to shine or at least be reasonably involved. I especially enjoyed hearing the final section for the impressive way the players increased the weight and intensity of sound and its dark colouring representing the death of Melisande.
Considerable thanks were due to the six pianists and to the players of the SWR Sinfonieorchester Baden-Baden und Freiburg for their unerring concentration and sterling endeavours with the immensely challenging music in the first half. Schoenberg's Pelléas and Mélisande one of the last great examples of Romanticism under maestro Roth's direction was a luscious treat that the audience devoured.
Michael Cookson