Germany Debussy, Pelléas et Mélisande: Soloists, Orchester und Chor der Deutschen Oper Berlin/Donald Runnicles (conductor), Berlin 9.9.2015 (MC)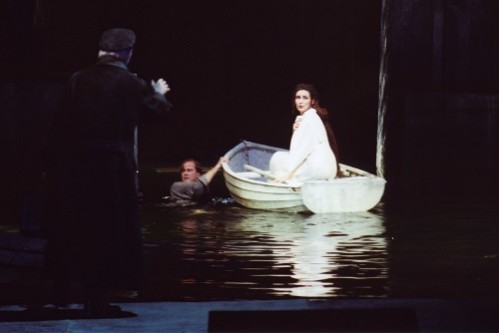 Debussy, Pelléas et Mélisande: Sung in French with German and English surtitles
Cast:
Arkel: Stephen Bronk
Geneviève: Ronnita Miller
Pelléas: Thomas Blondelle
Golaud: Josef Wagner
Mélisande: Jana Kurucová
Yniold: Alexandra Hutton
Doctor: Thomas Lehman
Production:
Libretto: Maurice Maeterlinck
Production, Set and Lighting design: Marco Arturo Marelli
Direction: Jasmin Solfaghari
Costume designer: Dagmar Niefind
Chorus-Conductor: Thomas Richter
It is hard to imagine today that the lyric drama Pelléas et Mélisande completed and premièred in 1902 established Claude Debussy's reputation as a pioneer of modern musical theatre. There is certainly nothing too challenging in this eminently accessible opera with its compellingly attractive music score.
For Maeterlinck's dreamy yet disturbing story, director Marco Arturo Marelli's vision of Pelléas et Mélisande centres around the eerily atmospheric grey/blue set of a secluded creek complete with hanging sea mist. The outstanding lighting design creates reflections on the water pool and sometimes shimmering light falling on the cliff walls of the creek. A constant feature is the prominent rowing boat which serves a number of functions mainly as a rendezvous as well as its obvious one. Debussy wrote a number of interludes to cover scene changes so my only real problem with the staging was the several unexpected scene changes with gaps long enough for the audience to become slightly restless.
It can't be easy for anyone who follows a soprano as renowned as, say, Véronique Gens in the role as Mélisande, almost inevitably dressed in white. Despite her bravest endeavours, Jana Kurucová just couldn't find the artistry and vocal quality to come even close to Gens. Accolades are in order for bass-baritone Josef Wagner who made a suitably disagreeable Golaud. Frequently brooding and often hostile, Wagner's robust and clear vocal projected strongly through the house. His unpleasant character and deeds were so persuasively drawn that I felt like booing when the leather jacketed Golaud appeared on the stage.
Slight disappointing as Pelléas was the duffle-coated Thomas Blondelle who sang and acted satisfactorily but lacked individuality and the stage presence for this crucial role. Bass-baritone Stephen Bronk as the blind Arkel, who spent virtually all the time in his wheelchair, could (I feel) have made more of his vocal. Extremely promising as Yniold was soprano Alexandra Hutton whom I look forward to seeing in a grander role. Making her mark as Geneviève was mezzo-soprano Ronnita Miller in quite splendid voice.
It almost goes without saying that the conducting of Donald Runnicles, Deutche Oper's artistic director, with his high music values couldn't be anything other than top-drawer, stylishly expressive and warmly sympathetic. Responding with great élan the Berlin orchestra was in its element with Debussy's gorgeous score.
Michael Cookson