Second Day of Festival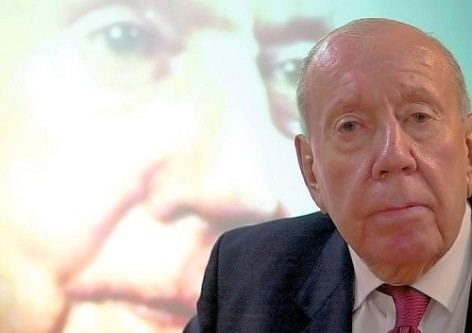 (1) Arnold: A Gesture of Friendship
Talk given by Festival Director Paul Harris, Royal & Derngate, Northampton,  18.10.2015 (RB) 
The first session of day 2 was in the Derngate basement (known as 'Underground 1 and 2') and this time it was a little cooler than yesterday. Paul Harris with charm and subtlety talked us through the many people who had contributed to the Festival over the last ten years (130 concerts, 230 or so Arnold works) and to the Arnold biography he had written with Arthur Meredith. Arnold too had accrued many friends and one group of them (the dedicatees of the many concertos) were presented in a photomontage. The session was illuminated with slides, sound clips and at the end Paul presented to us his own extremely adept playing of the very early Arnold piano miniature The Enchanted Garden: a lovely innocent blossom, not a million miles away from the gentler miniatures of Billy Mayerl or Greville Cooke.
(2) Midday Orchestral Concert
Arnold. Northamptonshire County Youth Orchestra, Paul Truman (conductor), Andy Kirkwood (conductor), Royal & Derngate, Northampton,  18.10.2015 (RB)
Arnold Overture, from the film Roots of Heaven
Arnold Four Cornish Dances
Arnold Tam O'Shanter – overture
Arnold Symphony No 2 Op 40
The NCYO's Sunday morning concert has become something of a fixture in this festival of festivals and a welcome one too. The Roots of Heaven was an Errol Flynn film – very appropriate given that Northampton was Flynn's base when he worked at the nearby Royal Theatre in the mid-1930s before Hollywood beckoned. The Derngate's filmhouse bears his name. Arnold's overture is wide-screen sumptuous and the NCYO brass in particular acquitted themselves with whooping exhilaration. The strings were less opulent than the material demanded but satisfying nonetheless. The Cornish Dances were just superbly done and that includes the testingly subtle, often pianissimo-eerie second dance – very much a tone poem in miniature – all ruined tin-mine wheelhouses and fog. Tam O'Shanter had plenty of boozy wallow and a Rabelaisian flush – by now the orchestra was well up working temperature. It speaks good things about the young orchestra and its conductors that they can produce results like this. This continued into the Second Symphony where music which can sound dense and smeared here rang true with striking transparency and emotional impact. A great deal of work must have gone into producing such a classy and confident result. Kudos all round. 
(3) Afternoon Presentation 
Arnold. The Forgotten Films part 2,  Presenter: John Griff, Royal & Derngate, Northampton, 18.10.2015 (RB)
After lunch attendees returned to the Derngate basement for a fascinating two hour presentation by John Griff on Arnold's Forgotten Films part 2. Part 1 was at last year's festival. This was very copiously illustrated with clips – often lengthy – from some dozen films picked from among his 140 scores. People know the big name scores such as Bridge on the River Kwai, Inn of the Sixth Happiness, Whistle Down the Wind and Dunkirk but how about these? John Griff included The Deep Blue Sea, It Started in Paradise, I am a Camera, A Hill in Korea and David Copperfield alongside seven others. I checked and many of these can be viewed in rather pallid copies on YouTube, if you are curious.
Apart from a reminder about the punishing schedule Arnold subjected himself to – often under the organising hand of Muir Mathieson – the clips also reminded us that Arnold as a true professional could turn his hand to many styles: pastiches, pop songs, night club music, faux-folk, latino as well as the big epic production numbers. Several of the extracts reminded us how closely and in an apposite way he married his music to the stage action and psychological dimensions of the on-screen action. His main titles music stands tall alongside that of Korngold. There was much here that was memorable alongside the more workaday and ephemeral. The music for David Copperfield – his last film, from 1970 – impressed me strongly as did that for The Sea Shall Not Have Them.
At the end John announced his hopes, and more perhaps, for a green plaque for the building that now occupies the site of Malcolm's Northampton home. (There will be a progress report next year.) The town already has a Malcolm Arnold Academy and a Malcolm Arnold primary free school. Plaques, statues and even themed walks would complement what the Festival continues to achieve. It certainly brought this writer to Northampton and I expect to return.
(4) Chamber Concert 
Arnold: The three Sinfoniettas: Chamber Orchestra conducted by  Hilary Davan Wetton,  Royal & Derngate, Northampton, 18.10.2015 (RB)
These three Sinfoniettas are vintage Arnold yet had not figured in any of the Arnold Festivals until now. The three works date from 1954-64. I had heard them before but only in recordings and then not recently. The diminutive of the title and duration had led me, in a simple-minded way, to expect something in the nature of suite and serenade material. Although there are glimmers of writing of that character these works – even the earliest one are shot through with and even dominated by shadows (as Hilary Davan Wetton explained) especially the last two. The hand-picked unnamed orchestra were good at catching the subtleties of mood. This succinctly expressed music is often macabre and melancholy. The second movement of the Sinfonietta No. 2 stopped me in my tracks. This music was uncannily close to the sort of strikingly autumnal regretful and lichen-hung music that another great film composer, Bernard Herrmann, was adept at producing. Where else could one hear in a single concert all three Arnold Sinfoniettas one after the other. A privilege.
( 5) Concert by Norwegian Brass Ensemble 
Arnold:  Brasskompaniet / Mark Harrison (conductor) Royal & Derngate, Northampton, 18.10.2015. (RB)
Arnold: The Belles of St Trinians
Arnold: English Dance No 5
Arnold: Brass Quintet op 73
Arnold: Little Suite for Brass – Siciliano
Arnold: Symphony for Brass op 123
This concert by the young ten-piece brass ensemble from Norwegian brass ensemble, Brasskompaniet was the most impressive event of the weekend. The playing was nothing short of world class. Tone production, virtuoso feats, artistic insight and uncanny ensemble were matched with Mark Harrison's relaxed and relaxing spoken introductions. That the group performed as well as they did in the very warm and crowded basement 'space' makes what we heard all the more astonishing. After the classic and accessible English Dance No 5 (as arranged by Mark Harrison), the Brass Quintet and the endearingly cool Siciliano came the third and final Arnold symphony of the weekend. The Symphony for Brass has more in common with the anger, grittiness and moody downbeat of the Seventh than the dominant upbeat of the Second although the finale did take us into more joyous directions. The Symphony was written just five years after No. 7 at first for the Philip Jones Brass Ensemble whose recording made a distinctive contribution to the Decca label. I do ponder why Arnold did not admit it into the numbered canon though you could say the same thing of the Toy Symphony and the Symphony for Strings. This astonishingly gifted ensemble deserve to catch the attention of one of the major labels: a CD from Bis would be a natural.
Final Concert
Arnold, Carwithen, Gershwin, Dvorak:  Jess Gillam (saxophone), Martin James Bartlett (piano), Worthing Symphony Orchestra (The Malcolm Arnold Festival Orchestra) / John Gibbons (conductor, Royal & Derngate, Northampton, 18.10. 2015. (RB)
Arnold: Four Scottish Dances Op 59
Arnold: Saxophone Concerto
Doreen Carwithen: Overture: ODTAA
Gershwin: Rhapsody in Blue
Alwyn: March: True Glory
Arnold: Commonwealth Christmas Overture
Dvorak: Symphony No 9 From the New World
Apart from musical alarums and excursions of the most welcome kind the Sunday evening concert was spared the previous night's ruck and rumble around audience noise. By the way I should have added, about that, that there must have been something in the air on Saturday because at the end of the first movement of Arnold's Seventh Symphony an audience member shouted out 'Thank God!' This was clearly not offered-up as an expression of praise; rather relief that the music was finished. Mind you there were still two movements to come.
The conductor John Gibbons brought his professional Worthing orchestra to Northampton with a gloriously Arnold-inflected programme. I could have done without the Dvorak 9 in this context and would gladly have 'settled' for Arnold's First or Eighth to end with, but that's just me. In any event the orchestra are no strangers to the Festival having performed Arnold's Ninth in 2011 and John Gibbons directed his Ealing Symphony Orchestra that year in the Arnold's Sixth. By the way John is now the conductor of the Northampton Orchestra.
The programme began delightfully with the crackling electricity and luminous poetry of the Four Scottish Dances each of which attracted spontaneous applause. The poetic third is a favourite of mine and this performance lingered on what is a world class melody and treatment. The whooping horn section distinguished themselves assertively in the two outer dances.
It's part of this conductor's stock-in-trade often to announce the music in his concerts. This he does in an engaging way, pulling off the tricky balance between education and entertainment. I think he was too cautious about the 11 minute three movement Arnold Saxophone Concerto – a transcription by David Ellis of a piano sonata from the 1940s. It's not that tough. Arnold had started the transcription himself but it remained incomplete on his death. It was a good listen – ranking in delight points not far below the Arnold Oboe Concerto. Its only real demerit lies in the slight and very brief finale – not that this should rule out the world hearing this truly attractive work. The exceptionally gifted young saxophonist, Jess Gillam, swung and troubadoured this smiling and catchy miniature for all it's worth. She really should take it into the recording studio. Gillam is a lively player and physically in constant motion onstage following the momentum and swing of the orchestra even when her saxophone is silent. Her quiet playing is remarkably controlled and damask-smooth. I hope that the concert world will not lose her to the jazz world which lays competing claim to her talents and gifts (lots of clips on YouTube). She won me over with a work I love last year when she played the Glazunov Saxophone Concerto in Worthing. Let's hear more from her please – how about Nyman's Where the Bee Dances and the Maurice Johnstone Ballade?
The spectacular Martin James Bartlett was the pianist in Gershwin's Rhapsody in Blue which ended Part 1 of the concert in breathtaking form. This was very much Mr Bartlett centre-stage in what felt like authentic Gershwin style complete with crossing of hands and extravagant arm and hand gestures. It went down a storm – as well it might.
In Part 2 we heard Arnold's Commonwealth Christmas Overture in another echo of the festival's world-encompassing gestures of friendship. This work was given the no-holds barred treatment. It was typically upbeat and full of the composer's rhythmic ebullience. True to the title this lengthy 'fantasy overture' also spoke in more poetic as well as 'exotic' voices. After the start, the music settled into an Antipodean nonchalantly lolloping gait – one could almost see Chips Rafferty strolling along. Add to this Caribbean and Latin-American episodes. Arnold was to make use of the former again in his Fourth Symphony dating from 1958, just one year after the overture.
The music of Mr and Mrs William Alwyn put in an appearance too. Doreen Carwithen's ODTAA overture, inspired (in what way I am not sure) by the now rather unfashionable John Masefield novel of the same name, was an extended resolute and then pastoral tone poem. It was very green and very English and in its vigorous pages reminded me of Moeran's Overture to a Masque and Rhapsody No. 2. The more ecstatic-poetic pages recalled the writing of Arnold's teacher (one the young Arnold never warmed to), Patrick Hadley. Those very same pages also carried a redolence of the sea and salt spray – never a static moment. Perhaps next year we will hear her other overture The Bishop Rock. John Gibbons has already championed the Carwithen Piano Concerto in Worthing.
Rubbra, that third Northampton composer, whose choral The Revival was another Walter Hussey commission for the town's St  Matthew's parish church, had no music in this year's Arnold festival. However John Gibbons and Worthing are including his ineffably beautiful and heroic Fourth Symphony in Worthing on Sunday 6 March 2016 (booking: 01903 206 206). Things are well and truly looking up. Why are we not hearing more live performances of this crowning work?
By the way I was delighted to hear from Andrew Knowles that there is to be a fourth Chandos CD of Alwyn's film music as well as a Somm CD of four of his 12 early unnumbered string quartets heard at the recent Alwyn Festival. Come the day when we can hear his massive choral-orchestral work, the Blake-based Marriage of Heaven and Hell. He orchestrated only Part 1 (of 2) but I am sure a suitable and enthusiastic professional can make good the omission.
Perhaps the rumoured performance of a very rare arrangement by Arnold of a piece by Albeniz was heard at the end of the concert. Regrettably I had to leave just before the Dvorak Ninth which concluded Part 2 of the Festival.
Paul Harris, whose work was recognised by the Malcolm Arnold Society with a gift, shows no sign of losing vision or energy. We can hope for yet more next year when the Friendship theme continues.
Rob Barnett
For further details see http://www.malcolmarnoldfestival.com/ and S&H Preview: https://seenandheard-international.com/2015/10/a-gesture-of-friendship-heralds-the-10th-malcolm-arnold-festival/