Saturday 17th – Sunday 18th October 2015, Royal & Derngate, Northampton)
A Gesture of Friendship Heralds the 10th Malcolm Arnold Festival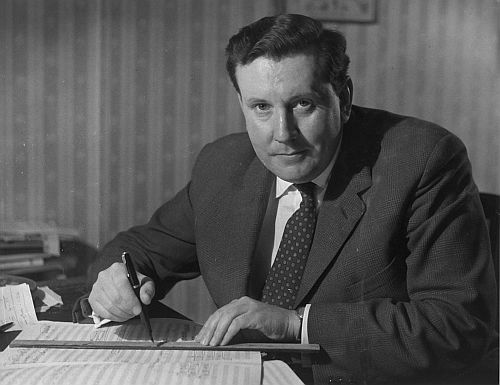 Northampton was blessed during the last century with being the birthplace of three of the UK's finest composers: William Alwyn (1905–1985); Malcolm Arnold (1921–2006) and Edmund Rubbra (1901–1986) – between them the composers of 25 numbered symphonies. It's quite a record for a county town with a population of only 212,000. Only one of them (Arnold) has, to date, achieved an annual festival in his birthplace although there have been occasional Alwyn Festivals in East Anglia; indeed there is one taking place now (7-10 October 2015). Malcolm Arnold was something of a champion of Rubbra having conducted Rubbra's Symphonies 3 and 4 with the BBC Northern Orchestra in the 1960s. These two broadcasts really should be commercially issued. I am not aware of other links between Arnold and Alwyn except that each contributed munificently to the world of film music.
The Malcolm Arnold Festival takes place again in the composer's birthplace, Northampton, on Saturday 17th and Sunday 18th October 2015 at Royal & Derngate NN1 1DP. Jjust one concert – on 18 October at 1400 is at St Matthew's Church Northampton NN1 4RY with two major concerts with the BBC Concert Orchestra and Worthing Symphony Orchestra to celebrate the Festival's 10th anniversary. The guest artists include pianists Peter Donohoe and Martin James Bartlett, and conductors Martin Yates, John Gibbons and Hilary Davan Wetton.  This Tenth Festival will be launched by multi-talented musical stalwart and Arnold fan, Sir Tim Rice.
Over the last decade, the event has been a showcase for the composer, featuring his prolific music for stage and screen with classic movie soundtracks such as 'The Bridge on the River Kwai', 'Inn of the Sixth Happiness', 'Hobson's Choice', and 'David Copperfield', music for the ballet, works for orchestra, including the ever-popular 'Dances', chamber ensemble, brass, and instrumental pieces as well as rare performances of the operas, many of the concertos, and the composer's symphonies which together form one of the most significant symphony cycles of the 20th century.  "The Festival has given us scope for a wide-ranging and very colourful and varied collection of events", said Festival Director, Paul Harris.  "So we've had a real mix of Arnold, straddling many of those different genres he loved and contributed to so effectively.  "True to form, one can find every aspect of Sir Malcolm's many-dimensional personality in these works…he is truly a multi-faceted composer."
"On the evening of Saturday 17th October we have a hugely notable landmark in the history of the Malcolm Arnold Festival", explains Paul Harris, "This is our first BBC performance and broadcast to be given by the BBC Concert Orchestra conducted by Martin Yates in four show-stopping Arnold works: the Fair Field Overture, the Philharmonic Concerto, the John Field Fantasy (played by legendary pianist Peter Donohoe), and the towering Symphony No.7.  It will be a uniquely powerful and unmissable occasion." The programme largely replicates a recently issued and invaluable Dutton Epoch CD. The mighty Seventh is something of a psychological pilgrimage with some fairly grim encounters along the way – a tour de force for the orchestra and an exhilarating experience for the listener, it features a riotous Irish reel with pounding rhythms, cowbell, tubular bells and ghostly harp. Arnold called his Fantasy on a theme of John Field "a piano concerto in one movement" in which Field's seventh Nocturne for piano is subjected to a variety of contrasting treatments, at times with electrifying energy, wit and bravado. The composer promised that the three-movement 'Philharmonic Concerto' would offer "the glorious sound of a symphony orchestra" and it is also full of Arnold's high-octane multi-coloured invention.
"Sunday 18th October is our special 'Gesture of Friendship' day which I've called after Sir Malcolm's own delightful explanation of what music is all about", explains Paul Harris.  "We will be inviting musicians all over the world to play music as a gesture of friendship." Sunday evening's Gala Concert, entitled 'Reaching around the Globe', will feature the Commonwealth Overture, and two performances by BBC Young Musicians of the Year: Jess Gillam as soloist in the Saxophone Concerto and Martin James Bartlett as pianist in Gershwin's Rhapsody in Blue.  Jess Gillam is something of a star in the musical firmament. I heard her in the rumbustious and seductively romantic Glazunov Saxophone Concerto in Worthing with John Gibbons. It will be a privilege to hear her in the rarely encountered Arnold Saxophone Concerto. I do hope that she will also take up the Coates Saxo-Rhapsody and the Maurice Johnstone Ballade. Another audience favourite, the Scottish Dances will be included, and a very rare arrangement by Arnold of a piece by Albeniz. Conductor John Gibbons will be bringing the esteemed Worthing Symphony Orchestra to round off what promises to be a spectacular end to the weekend.
The packed Festival programme also includes a chance to see and hear some of Arnold's less well-known work for the silver screen, performances of the three sinfoniettas conducted by the inspiring and adventurous Hilary Davan Wetton, and the grimly serious Symphony for Brass, performed by Scandinavian Brass Ensemble, Brasskompaniet.
Other highlights include a performance from regular visitors to the Festival, The Northampton County Youth Orchestra, who will play the Symphony No. 2 and the ever-popular Cornish Dances as well as the Roots of Heaven Overture.  Doyen of the double bass world, David Heyes, will perform the world premiere of the Fantasy for Double Bass – a tantalising work that remained unfinished but has now been sympathetically completed by composer, Matthew Taylor.
Other performances taking place include the Double Violin Concerto, Psalm 150, and the rarely performed John Clare Cantata in a new arrangement for choir and string orchestra with orchestral players from Birmingham Conservatoire conducted by Alex Davan Wetton,
A rare performance of Arnold's song cycle Contrasts (in a version for tenor and piano) will be sung by the young award-winning tenor James Bowers, and Jenny Dyson leads a programme of instrumental music including the Suite Bourgeoise, Divertimento, Fantasy for flute, and a sparkling newly created ballet to accompany the composer's Grand Fantasia, performed by dancers from Cecilia Macfarlane's Dance School.
The Festival, to be launched in style by lyricist and author, Sir Tim Rice, will feature Arnold's Hoffnung Fanfare for 36 trumpets.  "Actually, I'm hoping we'll have nearer 100!", says Paul Harris (Arnold's biographer), "and I'm delighted that the work will be conducted by Ben Hoffnung, the son of the dedicatee himself."  There will also be a performance of one of Arnold's most enduring favourites, The Padstow Lifeboat, performed by the Northampton County Youth Brass Band who will also accompany the massed choirs of Northampton in a performance of the Song of Freedom.  Echoes of Alan Bush there, I wonder.
Sir Tim Rice has a further Arnold connection. He was approached by Sir Malcolm Arnold's estate to write lyrics to the composer's Peterloo Overture, which commemorated the horrific St Peter's Fields Massacre and maiming of men, women and children at a meeting in Manchester in August 1819. The work was premiered at the Royal Albert Hall in London at 'The Last Night of the Proms' on 13th September 2014 and broadcast on BBC television.
"I receive so many extremely enthusiastic responses from members of the audience to festival performances, says Paul Harris.  "It seems that listeners simply respond to the vitality of the music and it's hard not to, something which would have delighted Sir Malcolm."
It is hoped that MWI Seen and Heard International will carry a review of all eleven of the Festival's concerts. The last Arnold Festival we wrote up was in 2006 – an extraordinary marathon which presented all nine of the symphonies. These were reviewed by MWI's Founder and Webmaster Dr Len Mullenger.
For more information on The Malcolm Arnold Festival and to book tickets: www.malcolmarnoldfestival.com
Rob Barnett
Box Office: Royal & Derngate, Guildhall Road, Northampton NN1 1DP
tel: 01604 624 811 e-mail: boxoffice@royalandderngate.co.uk
www.royalandderngate.co.uk
Trains run frequently from Euston to Northampton (journey time: 50 mins)
Sir Malcolm Arnold (1921-2006)
A fascinating insight into Symphony No. 7
Sir Malcolm Arnold – an obituary
Toward the Unknown Region – a film by Tony Palmer
Further information on artists taking part:
Paul Harris, Director: www.paulharristeaching.co.uk
BBC Concert Orchestra: www.bbc.co.uk/concertorchestra
Martin Yates: www.hazardchase.co.uk/artists/martin-yates
Peter Donohoe: www.peter-donohoe.com/en/home
Worthing Symphony Orchestra: www.worthingsymphony.co.uk
John Gibbons: www.johnsgibbons.com
Martin James Bartlett: www. martinjamesbartlett.com
Jess Gillam: www.jessgillamsax.co.uk
Hilary Davan Wetton: www.hilarydavanwetton.co.uk
Brasskompaniet: w