Canada Monteverdi: Vespers of 1610, Jolie Greenleaf and Catherine Webster (sopranos), Laura Pudwell (alto), Reginald L. Mobley (alto), Charles Daniels, Zachary Wilder and Ross Hauck (tenors), Douglas Williams and Charles Robert Williams (bass-baritones), Vancouver Chamber Choir, Pacific MusicWorks, Stephen Stubbs (conductor and lute), Chan Centre, Vancouver, 23.10.2015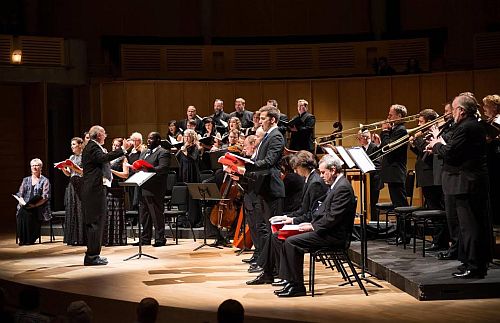 There has been such an upsurge of interest in Monteverdi's Vespers of 1610 over the past two decades – and such a quest for sophistication and innovation in performance – that sometimes one almost forgets the simple inspiration of the music. This performance seldom sought extremes or aimed for exceptional vocal brilliance, but it patiently and unassumingly exposed the work's spiritual reach. Stephen Stubbs paced the proceedings with supreme care and devotion, allowing its balance of energy and repose to flow forth in a fully natural and redeeming way. Since the pieces of the Vespers were not generally intended for performance together, achieving cohesion and a true sense of occasion over the work's span is not a small feat.
One basic component was the sheer quality of the instrumentalists, ranging from Tekla Cunningham on violin to Bruce Dickey on cornetto, who brought insight every step of the way. There was a lovely fluidity and assurance in this playing, Stubbs coaxing everything from the musicians from an incisive strength to a beguiling dance-like gait. The Vancouver Chamber Choir (co-sponsors of the event with Early Music Vancouver) also brought a strong and distinctively-blended response, even if their numbers were a little large by contemporary standards. Their size perhaps made this Vespers have an affinity with the grander Messiah or Mass in B minor, though there was an intimate side as well. The result was generally warm textures, always clean and elegant, but having fewer sharp edges than are observed sometimes.
The integration and balance in the tonal fabric could be gleaned right away, the 'Domine ad adiuvandum' suitably rousing, but with the trombones ('sackbuts') and cornetti slightly more recessed than usual. There was a freshness of inspiration in the 'Dixit Dominus', the soloists light and feathery and the instrumental textures refined, always with a sureness of line and a nice mix of intimacy and feeling. Tenor Charles Daniels perhaps set the dramatic tone here and later on, his singing wonderfully shaped and subtle in dynamics and enunciation. The 'concertos' benefited greatly from Stephen Stubbs' lute accompaniment: he opened up the right expressive space for the singing, and time and time again brought emphasis to the more contemplative, searching, and even rustic elements in the music.
The vocal ensemble work was generally admirable in balance, though I might have wished for a bit more projection and virtuosity when a large number of soloists were involved. Nonetheless, the three bigger Psalms were all held together with concentration by both the conductor's astute control of motion and his balancing of sinew with lyrical warmth, as anchored by the solidity of the choral textures. The sense of nobility achieved in 'Lauda Jerusalem' was also impressive. I have had qualifications about tenor Zachary Wilder, but he used his distinctive tonal fabric to good dramatic ends in 'Audi Coelum', purer in expression and more decisive than he has sometimes been. The two sopranos Jolie Greenleaf and Catherine Webster were attractive enough, though there were occasional balance issues between them. As always, it was refreshing to hear Reginald L. Mobley's distinctive alto tones.
It is never an easy task to integrate all the variety in the 'Magnificat', but I think this came pretty close. The instrumental contribution was excellent, the cornetti in particular luminous and virtuosic, combined with singing of strong commitment. The coordinating force was the underlying flow that the conductor established, which allowed the right sense of inevitability to emerge. The music sometimes takes us to more mysterious places – echo effects and the like – but the shape and affirmative power of the ending put a seal on it all. Sometimes one comes away from a performance admiring all that has been put in place, yet somehow one does not feel the sheer 'love' of the conductor and the performers. Well, here I felt the love!
Geoffrey Newman
Previously published in a slightly different form on http://www.vanclassicalmusic.com