United Kingdom Dallapiccola: Il Prigioniero; Bartók: Bluebeard's Castle, Capitole Orchestra and Chorus, Tito Ceccherini (conductor), Théâtre du Capitole, Toulouse, 4.10.2015 (JMI)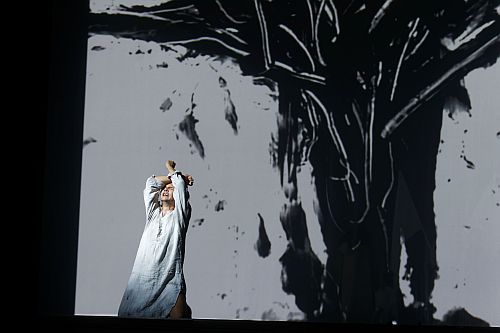 New Production:
Direction: Aurélien Bory
Sets: Aurélien Bory and Pierre Dequivre
Costumes: Sylvie Marcucci
Lighting: Arno Veyrat
Plastic Artist: Vincent Fortemps
Casts:
Il Prigioniero:
Il Prigioniero: Levent Bakirci
His Mother: Tanja Ariane Baumgarten
Jailer/Inquisitor: Gilles Ragon
Bluebeard's Castle:
Bluebeard: Balin Szabo
Judith: Tanja Ariane Baumgarte
The seldom-performed Il Prigioniero (premiered in Turin in 1949) and the better-known Bluebeard's Castle (premiered in Budapest in 1918) were paired to open the Toulouse opera season. Many people strive to find a common thread for operas that make up a double bill, but I don't always share that concern. What really matters is the artistic result of each.
Il Prigioniero has never enjoyed great popularity, and it's usually offered as a kind of appetizer for a more important opera. This happened in Spain, both at Barcelona's Liceu and Madrid's Teatro Real. And it has now occurred in Toulouse, where the second part of the program featured Bluebeard's Castle, a true gem. This work is becoming increasingly common in opera houses, with good reason, and the Capitole was no exception. The performance here was a remarkable success in every aspect.
The staging for the Dallapiccola was interesting. There were no real sets, just a curtain in the center where rather abstract images, well suited to the opera's atmosphere, were projected. The costumes were timeless, with the mother and the jailer in dark colors and the protagonist in a long white shirt. The weakest point of the production was not to have made the mother appear older  ̶   she seemed more like his sister.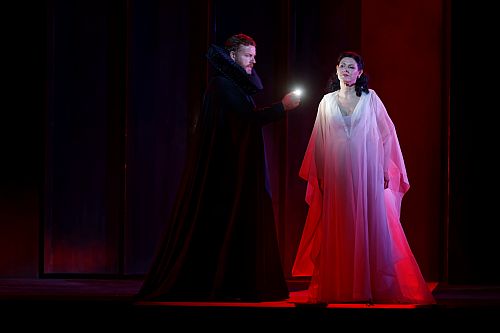 In Bluebeard's Castle, there's a large door in the middle of the stage with various elements that represent additional doors. All of these move independently, turning on themselves. The dark environment, as in Il Prigioniero, allowed for excellent lighting. The stage direction is quite good, with a superb performance by the two protagonists.
In the pit we had Tito Ceccherini, whose career is very focused on modern and contemporary operas. His conducting of the Dallapiccola was fine, although there was some abuse of orchestral volume at times, especially considering the voices on stage. But in Bluebeard, Mr. Ceccherini was outstanding. His reading was tense and energetic, and it brought out all the beauty of the score. He drew a splendid performance from the excellent Orchestre National du Capitole.
Il Prigioniero was sung by baritone Levent Bakir who did well in the role, though his voice is somewhat modest and whitish at the top. Tanja Ariane Baumgarten, a great singing actress, gave a fine performance as the mother. Tenor Gilles Ragon was well-suited to the Jailer and Inquisitor.
Bluebeard was played by Hungarian bass Balin Szabo, and he gave a convincing portrayal. His voice is attractive although not very powerful, and he dominated the character from beginning to end. The interpretation of Judith by German mezzo soprano Tanja Ariane Baumgarten was outstanding. She was very intense, as she always is: a great artist.
José M. Irurzun