United Kingdom  The Michael Kennedy Memorial Concert – Verdi, Bizet, Mozart, Mahler, Wagner, Vaughan Williams, Britten, Wood, Elgar, R Strauss: Soloists, Hallé & BBC Philharmonic Orchestras/Sir Mark Elder & Sir Andrew Davis (conductors), Royal Northern College of Music Concert Hall, Manchester, 5.10.15 (RJW)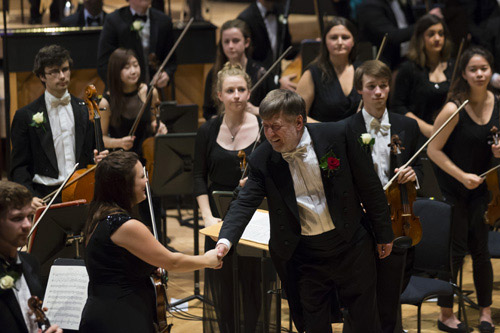 Soloists: Lee Bisset, Susan Bickley, Susan Bullock, Alice Coote, Rebecca Evans, Marie McLaughlin, Felicity Lott, Kathleen Rudge, Kathleen Smales, Wendy Dawn Thompson, Paul Nilon, Jeffrey Lloyd Roberts, Philip Smith, Richard Berkeley Steele, John Tomlinson, Christopher Turner, Roderick Williams.
It was a rare occasion that so many talented singers and musicians were gathered at the Royal Northern College of Music for a tribute concert in memory of this well-known and well-loved music critic, reviewer and biographer. A warm welcome was given by Principal, Prof. Linda Merrick, who explained Michael's long-serving association with the College as both member of the board and founder of a Kennedy Strauss Prize for young musicians. She then introduced the evening's compère, Petroc Trelawny, who provided interesting, unscripted links between the musical items. Speeches throughout the evening were delivered with sincerity, without notes, and revealed treasured recollections about this extraordinary man who showed much interest towards the work of younger colleagues.
Michael Kennedy grew up in Manchester and worked his way to the top of the Daily Telegraph to become Northern Editor. Their deadline time for sending to press was 30 mins later than the London presses started rolling: as a result he was always pleased to have a fresh important story appear in the Northern Edition a day before it was carried by London. When an eventual amalgamation of the editions was inevitable he chose to remain in Manchester rather than redeploy to Fleet Street so turned his attention exclusively to reporting about and writing on music and the arts. it was appropriate that this event took place in Manchester rather than London.
Core to the RNCM concert was the 78-strong orchestra, an amalgamation of the Hallé and BBC Philharmonic, which played under the batons of Sir Andrew Davis and Sir Mark Elder. (Andrew Davis came over from Chicago where he had been conducting a première of La Cenerentola the previous day.) The RNCM Orchestra of 71 players took the centre section of the programme with four pieces conducted by Sir Andrew Davis and Harish Shankar. An interesting and appropriate addition to the programme provided by the college's artistic director, Michelle Castelletti, was her orchestration of the traditional Irish melody, the charming Last Rose of Summer, first arranged for piano by John A. Stevenson.
The line-up of top-class British singers was staggering: they had all known Michael Kennedy personally, and as we heard from Michael's widow Joyce Kennedy in her speech at the end, a few replacements were necessary at short notice. One such replacement was Felicity Lott who stepped in at the very last minute while John Tomlinson had flown in from Frankfurt where he was performing and needed to return the following morning for that evening's performance. The soloists had appeared at their own expense to honour this auspicious occasion. All are magnificent international singers and sang with perfection: additionally, many acted out their roles as well. Of these, the audience was particularly appreciative of the acting of John Tomlinson's "Wahn! Wahn! Überall wahn!" from Die Meistersinger von Nüremberg.
One particular item that made this historic college event memorable was Vaughan William's Serenade to Music (written for Sir Henry Wood in 1938) with a version set for 16 voices. To have a line-up of such extraordinary singing talent for this piece was sublime. Richard Strauss was a favourite composer of Michael Kennedy and the famous Trio from Der Rosenkavalier was delightfully appropriate to give a spectacular finale to the evening. Our only disappointment was that Michael Kennedy was not present to witness this glowing tribute.
Raymond J Walker