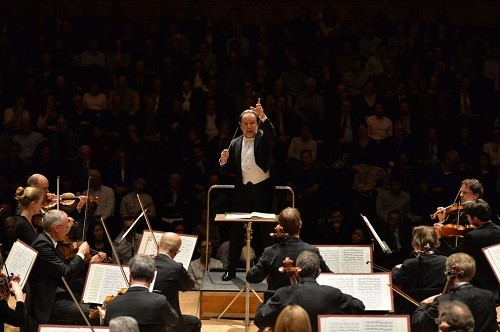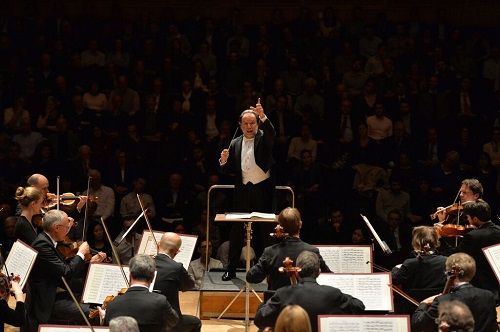 United Kingdom Mozart, Strauss: Martin Fröst (basset clarinet), Gewandhausorchester Leipzig/Riccardo Chailly (conductor), Barbican Hall, London, 23.10.2015 (AS)  
Strauss – Tod und Verklärung, Op. 24
Mozart – Clarinet Concerto in A, K622
Strauss – Metamorphosen
Strauss – Till Eulenspiegels lustige Streiche, Op. 28
This was the third of three Strauss/Mozart concerts given by Chailly and the Gewandhausorchester Leipzig as part of its five-day Autumn residency at the Barbican. Those of us who had attended the previous evening's concert (there will also been those who were lucky enough to be hear all three) will probably have had high expectations of this final programme. For this listener, at least, all expectations were entirely fulfilled.
Firstly the Leipzig orchestra is a magnificent instrument. Not only is it of the highest calibre technically in all departments, but as an ensemble it has the most wonderfully warm, deep-toned sound quality. Such characteristics are of course ideally suited to the music of Richard Strauss. It would no doubt be fanciful to imagine that some kind of Strauss tradition has been passed down from generation to generation since the days when the composer himself had close associations with the orchestra, but possibly some kind of resonances remain.
None of this would be of any account were it not for the presence of the right guiding hand, but in Riccardo Chailly, the orchestra's present Kapellmeister, Strauss has an ideal exponent. Perhaps he has studied Strauss's own recordings, but in any event he shows similar qualities to those of the composer/conductor. There is an aristocratic dignity in the way he shapes the music; not even the most tempting climax is exaggerated or vulgarised, and there is a continual onward flow and sense of line in the way he presents the musical argument. The presentation is clear and balanced.
In Tod und Verklärung, for instance, progress in the long, restrained opening of the work can sometimes congeal, but Chailly maintained the slow pulse with great intensity, so that the sudden change to an allegro became a logical development, and not a relief-providing escape from a tedious prelude. The way he paced and fitted the work's contrasted, dramatic episodes together was thrilling and masterly, and he evoked the emotions of the unnamed hero of the piece as he struggles and then becomes reconciled with death in a most moving, heart-easing fashion.
In his Clarinet Concerto Mozart conveys strong emotions, perhaps about his own mortality, but in a more restrained, gentler fashion than Strauss. On this occasion what might be called the original version of the work, with the solo part written for basset horn (a form of tenor clarinet), was played. Martin Fröst's performance was such as to convince one, temporarily at least, that this was the only true way for the work to be played. It wasn't just the minor differences in the solo part (what the programme note writer described as "a few deliciously chocolately lower notes here and there"), but the lovely liquid tone quality in Fröst's playing that made the difference. Aided by Chailly's acutely sensitive, alert conducting, it was both an effortlessly virtuoso account of the solo part, and one that had great beauty of phrase and engaging warmth and freshness.
Metamorphosen remains a problematic work for some Strauss admirers, and much has been written to try and explain its complex, somewhat elusive nature. Despite it having been originally created in response to a commission from Paul Sacher it was no doubt a work that Strauss had to write in order to expunge his feelings of grief and despair at the destruction of the old, pre-Nazi German culture in which he had grown up, and with it that period's architectural legacy, much of it now reduced to rubble. A conductor of this work for 23 solo strings (cast in one slow movement lasting almost half an hour), must keep the musical argument moving forward, and bring out the various instrumental strands as best he can. That is exactly what Chailly did, and to very good effect.
Finally a change of mood with the full orchestra back on stage for Till Eulenspiegel. This was given an open-hearted, joyous performance, with some very distinguished solo brass and wind contributions and high virtuosity from all concerned. It was a very uplifting end to the evening and a fitting ending to the Gewandhausorchester's Barbican residency.
Alan Sanders