United States Mozart, The Marriage of Figaro: Lyric Opera of Chicago Orchestra & Chorus, Henrik Nánási (conductor), Michael Black (chorus master), Civic Opera House, Chicago, Illinois, 26.9.2015 (DP)
Cast:
Figaro: Adam Plachetka
Susanna: Christiane Karg
Bartolo: Brindley Sherratt
Marcellina: Katharine Goeldner
Cherubino: Rachel Frenkel
Count Almaviva: Luca Pisaroni
Basilio: Keith Jameson
Countess Almaviva: Amanda Majeski
Antonio: Bradley Smoak
Curzio: Jonathan Johnson
Barnarina: Hlengiwe Mkhwanazi
Peasant Girls: Laura Wilde, Lindsay Metzger
Production:
Director: Barbara Gaines
Sets: James Noone
Costumes: Susan Mickey
Lighting: Robert Wierzel
Choreographer: Harrison McEldowney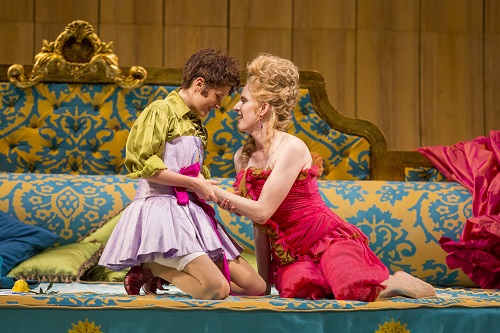 Last year, Lyric Opera of Chicago opened its 60th-anniversary season with a new production of Mozart's Don Giovanni directed by the Goodman Theatre's Robert Falls. This year, the company began with a new version of The Marriage of Figaro directed by Chicago Shakespeare Theater's Barbara Gaines. The contrast could not have been more striking: Gaines's Figaro is as bright and frothy as Falls's Giovanni was dark and brooding.
Gaines is relatively new to directing opera—her sole outing was Verdi's Macbeth, five years ago at Lyric—and she admitted that her previous opera exposure was being "dragged" to the old Met as a young girl by her grandmother. Gaines didn't even know that Verdi had written an operatic adaptation of Macbeth before being asked to direct it. Without knowing Italian, or how to read a score, she learned the work from recordings. Nonetheless, that production was a marvel, in part because of how much of the Bard she was able to bring to it.
With all of the Shakespeare-sourced operas out there, Gaines might well have had a second career directing them, but she has instead remained faithful to Chicago Shakespeare Theater, which she founded 28 years ago.
Thus, returning to opera minus the Bard is a daring move for Gaines, to be sure, particularly taking on Figaro for the same company and house where the last new production was done nearly thirty years ago by Sir Peter Hall, no less. His iconic interpretation was endlessly repeated at Lyric and at other venues across the globe.
As is typical of Gaines's Shakespeare productions, the proceedings begin with characters entering from the back of the house, in this case the Count (Italian bass-baritone Luca Pisaroni) chasing a servant during the final strains of the overture.
Risqué by 18th-century standards, more than half of Figaro is set in bedrooms. Gaines adds a 1960s free-love spin by setting Act II not merely in the bedroom of the Countess (Illinois soprano Amanda Majeski), but on the bed of the Countess—a rather garish and active bed at that. Thus, the usually poignant lament of her husband's neglect comes off as rather disingenuous, given that the Countess is flirting and sleeping around nearly as much as the Count. This may augment the opera buffa aspects but blunts the opera seria components, which leaves things rather off-balance, a far cry from the familiar perfection of the work itself.
Of course, given the prevalence of psychedelic colors and outlandish costumes, perhaps this is intended as some sort of pop art fantasy world. Yet the opera's farce and irony lose some potency when we leave the specific 18th-century milieu of servants and aristocrats, where the former can outwit the latter in delightful comeuppance.
There were a number of Lyric debuts in the cast. In what was also her American debut, German soprano Christiane Karg was the standout of the evening; her Susanna excelled both vocally and dramatically. Czech bass-baritone Adam Plachetka's Figaro blended well with her, as did Israeli mezzo-soprano Rachel Frenkel's irrepressible Cherubino.
Another admirable first appearance was British bass Brindley Sherratt, who made much more of Bartolo than the caricature approach usually offered. Also making his debut was Hungarian conductor Henrik Nánási, who kept balances even and tempos energized, and was even brought into the action at the start of Act III.
That Gaines is clearly on to something is obvious: individual characters have rarely been more clearly delineated, and the opera's narrative structure has seldom been more transparent. There is even a brief food fight during the Act II ensemble finale, and other slapstick and earthy touches that Mozart—down-to-Earth demigod that he was—would likely appreciate. Happily, all of these remain respectful of the music itself.
Dennis Polkow