United States Met Live's 10th Season – Verdi, Il trovatore: Soloists, Chorus and Orchestra of the Metropolitan Opera, New York / Marco Armiliato (conductor). Broadcast to the Empire Cinema, Basildon, Essex, 3.10.2015. (JPr)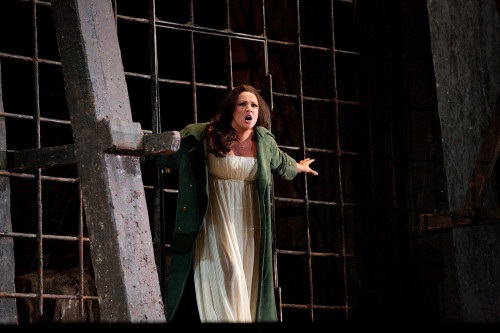 Cast:
Ferrando: Štefan Kocán
Ines: Maria Zifchak
Leonora: Anna Netrebko
Count di Luna: Dmitri Hvorostovsky
Manrico: Yonghoon Lee
Azucena: Dolora Zajick
A Gypsy: Edward Albert
A Messenger: David Lowe
Ruiz: Raúl Melo
Production:
Director: Sir David McVicar
Set Designer: Charles Edwards
Costume Designer: Brigitte Reiffenstuel
Lighting Designer: Jennifer Tipton
Choreographer: Leah Hausman
Live in HD host: Susan Graham
Live in HD director: Gary Halvarson
Many of my fellow reviewers – whether in printed media or online – are rather dismissive of these opera broadcasts. In part I can understand their main argument that although the broadcast is live – or claiming to be live – they can never fully recreate the experience of human voices and an orchestra at full throttle in the theatre. However, they should go just to be present at performances like this that hark back to a 'Golden Age' of singing and reminds all those listening about what is so special about 'A Night at the Opera'. The excitement of those in the audience was palpable and all the major arias, duets, choruses etc. 'brought the house down' and ensured that what we heard through the speakers in HD must have approximated what was experienced by those at the Met.
Everyone at the Met knew they were hearing something special and this came out through the screen to those watching in Basildon's Empire Cinema. I have had an idea of what good singing is from all my opera-going in Britain and Europe for about four decades but many other colleagues seem to praise mediocrity much too often and need to hear things such as this Il trovatore. On show were three phenomenal voices – Anna Netrebko, Dmitri Hvorostovsky and Yonghoon Lee – with the Met showing a great strength in depth of talent through its supporting cast of singers (including a commanding Ferrando from Štefan Kocán) and a wonderful chorus.
I have always had a soft spot for Il trovatore since I first saw it at a young age in Vienna in the 1970s and later that decade with the magnificent Rita Hunter as Leonora for English National Opera. In the I980s I saw a number of performances beginning with José Carreras and Katia Ricciarelli in the leading roles and later Manricos were Plácido Domingo and – my favourite – Franco Bonisolli famous for interpolating 'high Cs' whenever possible. I suspect my interest in the opera actually stems from its pivotal role in the classic Marx Brothers' 1935 film 'A Night at the Opera' … and for me it remains – when sung like this Met performance – the epitome of a great night at the opera!
A special occasion was guaranteed as soon as Dmitri Hvorostovsky, reprising the role of the scheming and lascivious Count di Luna which he first sang at the Met in 2009, announced he was suspending treatment in London for a brain tumour to sing three performances in the opening weeks of the Met's new season. At his  first entrance – and before opening his mouth to sing – the crowd burst into a spontaneous ovation that was so long and loud that Hvorostovsky could do little other than smile and bow before everything quietened and the opera could continue … in fact it sounded like the scene restarted! The great baritone has not always, for me, shown the engagement with his singing some others do but I was not able to accuse him of this now. He told Live in HD Host Susan Graham that he was 'getting better and soon I'm going to be recovered' and he looked as well as anybody having cancer treatment possibly could. Perhaps the scare has changed his outlook on life and his art because not only was his voice as burnished and imposing as usual – he was always the Verdian stylist par excellence – but his performance on stage seemed more nuanced, emotional and real than before.
No one goes to Verdi's 1853 potboiler for its story (lots of nonsense about a gypsy burned as a witch, her vengeful daughter, infants switched at birth, mortal enemies who are brothers but do not know it) but for some wonderful 'tunes'. Dolora Zajick who sang Azucena told cinema audiences the anecdote how 'There's a little restaurant in Italy that has a very rare wine' and offers a bottle as a prize to anyone able to explain the plot of Il trovatore. According to her 'the bottle is still there.' For the redoubtable Dolora Zajick this was the 25th anniversary of her debut at the Met in the same role which she remembered as a 'scary, scary night … I was singing with Pavarotti … I survived!' She seemed to be sleepwalking through the opening acts before becoming more dramatically convincing as the increasingly demented gypsy in Act IV.
For Sir David McVicar's 2006 production from Chicago – which was first seen at the Met in 2009 – the action is updated (assisted by Brigitte Reiffenstuel's costumes) from the Spain of 1409 to that of the Spanish War of Independence, fought against Napoleon and familiar from the nightmare imagery of Goya's 'Desastres de la Guerra' (The Disasters of War) etchings. Charles Edwards's rotating set is rather dark and austere representing alternately a towering castle wall with steep stairs, rocky cliffs as the backdrop to the gypsy encampment with some desolate burnt crucifixes and tree trunks, the cloisters and a dungeon. The idea is to keep the action (such as it is) of Verdi's ridiculous romantic melodrama moving forward with the minimum of scene changes and only one interval and it allows that to happen supremely well. Gary Halvarson's direction for this Live in HD broadcast was often typically in close-up and didn't show the sets always at their best.
Yonghoon Lee was a fine Manrico without dispelling the memories of those I had seen before but is likely to be as good as can be heard today and the Met audience took him to their hearts. There was some warmly impassioned singing throughout that climaxed with an emotional 'Ah si, ben mio' and a barnstorming 'Di quella pira'. I was not entirely sure whether it was a high C or a B at the end; whatever it was it was could not quell (sorry!) the excitement of such full-throated heroic tenor singing. Not the most expressive of actors nevertheless his love for Leonora, impetuosity and anguish was more convincing than shown by some more famous tenors in the past.
The choreographer Leah Hausman is credited as making some of the crowd scenes more interesting than they sometimes are and the splendidly committed chorus helped those scenes from dragging. In the Act II gypsy camp, the well-known 'Anvil Chorus' saw bare-torsoed men rhythmically swinging their hammers on supposed anvils but something must have gone wrong because there was no real clanking – as I thought there should be – but a dull thudding more familiar from the 'blows of fate' in Mahler's Sixth Symphony. Marco Armiliato conducted the fine Met orchestra in what seemed to be an energetic, expressive and flexible account of the score with his focus being mainly on not messing it up for his star singers. Nevertheless, when required he created quite a frisson with some hauntingly dark textures and some gravely solemn moments.
I'll leave the best till last and I do not have the words to express how wonderful Anna Netrebko was as Leonora … but I'll try. She seems to be such an instinctive and musically honest singer capable of gloriously soaring phrases and pin-sharp coloratura. Almost perfection with her 'Tacea la notte placida' in Act I she just got better and better (were that possible). Leonora, is a Spanish noblewoman who falls in love with a the gypsy troubadour, Manrico, and it was Netrebko's outstanding Act IV that convinced me she could be someone willing to die to save the man she loves. At one point she was singing whilst clambering up the metal grill of the dungeon. Here pianissimos in 'D'amor sull'ali rosee' were like shafts of moonlight in the pervading gloom and the ensuing 'Miserere' was like a truly heartfelt cry of despair. She fleshed out her role by singing all of the usually curtailed cabaletta 'Tu vedrai che amore in terra' which was radiantly sung. Leonora takes a long time dying of self-administered poison to save her from a fate worse than death at the hands of the Count di Luna and Anna Netrebko's voice faded on gossamer-like threads of sound as her character's life ebbed away. I doubt I will hear a finer Leonora – simply stunning! 
Jim Pritchard
Check out your local cinema listings for details of the Metropolitan Opera's Live in HD 2015-16 season.