United States Rossini, Cenerentola: Soloists, Lyric Opera of Chicago, Sir Andrew Davis (conductor), Civic Opera House, Chicago. 10.10.2015 (JLZ)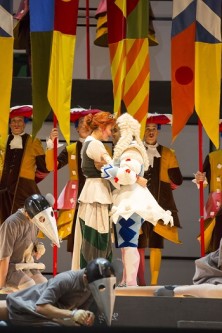 Rossini, Cenerentola
Cast:
Angelina (Cinderella): Isabel Leonard
Prince Ramiro:  Lawrence Brownlee
Don Magnifico: Alessandro Corbelli
Dandini: Vito Priante
Alidoro:  Christian Van Horn
Clorinda: Diana Newman
Tisbe: Annie Rosen
Production:
Director: Joan Font
Designer: Joan Guillen
Lighting Designer: Albert Faura
Choreographer: Xevi Dorca
Chorus Master: Michael Black
Conductor: Sir Andrew Davis
With Cinderella, the second opera of the 2015–2016 season, Lyric offers a stunning production that is well cast and executed with finesse. The sets, costumes, and staging celebrate the victory of Cinderella and her Prince with unabashed beauty and incredible singing. If the twenty-five-year-old Rossini chose to set this fairy tale without supernatural elements, his exuberant music contributes the sonic magic.
As Cinderella and Prince Ramiro, Isabel Leonard and Lawrence Brownlee demonstrate their virtuosity in their first meeting ("Un soave non so che"), allowing the music to build as their attraction grows. Brownlee's impressive, ringing tones gave shape to the brief melodic fragments at the beginning of the duet. By the end, the audience heard his full voice as he declared his love for Angelina. The humorous touches—dropping items on the stage or bumping into each other—also helped to bring out the characters' lovestruck state.  But as striking as he is in the first act, Brownlee shows his absolute command in the second, and essentially stops the opera with aria "Si, ritrovarla io guiro" with breathtaking agility and filigree ornamentation. Whether in the intensely measured passages or the soaring cadenzas, Brownlee's attention to detail kept the audience on edge to hear what he would do next, and he delivered it all with ease and grace.
Leonard was similarly notable, as her voice warmed to the role—her distinctive and engaging style evident in her first ensemble, "Cenerentola, vien qua."  Leonard easily moved between the parlando passages and the soaring melismas. While she sometimes appeared demure when acting the household servant, she gave full voice to her character at the end of the first act, especially when declaring that her lover must have honor and virtue, rather than rank and wealth. In modulating her voice, Leonard a transformation, and she gave the final "Nacqui all'affanno / Non piu mesta" a distinctive and persuasive tone. And her performance was even more moving in this performance than the opening, with distinct nuances of color, dynamics, and tempo.
The other principals were evenly matched, strong performers all around. Bass-baritone Christian van Horn made Alidoro a powerful force through his exceptionally resonant voice and stage presence. His first-act aria "Là del ciel nel arcano profondo" was a tour-de-force, with rich, ringing tones and impeccable articulation, capable of convincing the most disbelieving Cinderella with his long, elegant phrases. Likewise, Vito Priante made the valet Dandini convincing vocally and dramatically, with a memorable first-act aria "Come un'ape ne' giorni d'aprile." As Don Magnifico, Allesandro Corbelli's phrasing sometimes challenged Rossini's vocal line, as in his opening "Miei rampolli femminini." His ensemble work was effective, especially with Diana Newman and Annie Rosen, who gave fine voice to his daughters.
Lyric's chorus was exceptional, showing both vocal precision and stylish tone. Likewise Sir Andrew Davis gave this score fine pacing. The orchestral balance and dynamic ranges were always appropriate, with the sound shaped well to support the vocal line. For the instrumental passages, Davis brought out the sound with style, and earned the hearty applause—both from the audience and from the principals.
Shared between Houston Grand Opera, Welsh National Opera, the Gran Teatro del Liceu, and the Grand Théâtre de Genève, the production is designed by Joan Font, whose program notes are useful in sharing his staging concepts. He succeeds in creating a surreal atmosphere, with images that at time echo the bright primary colors of Walt Disney's animated feature. The hommage to Disney exists in other ways, too, including the larger-than-life acrobatic rats, which enter into the staging subtly in the opening scene and gradually become more deeply involved in the second act. Font adds stylized court costumes and titanic wigs to create a vivid production.
Yet the one false note is the ending, which leaves Cinderella alone on stage sweeping the ashes, as if the entire story had been a dream. If Font had provided some earlier cues, this might have been more satisfactory. Nevertheless, the exquisite vocal work contributing much of the magic this story needs.
James L. Zychowicz